Agha Nasir: Beyond broadcasting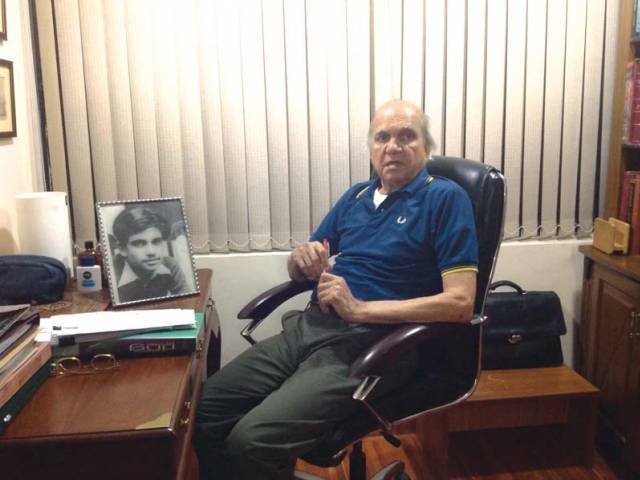 ISLAMABAD: One evening, the legendary broadcaster ZA Bokhari pulled up outside the radio building and sent for three of his producers to come jump in the car for a joyride on the, nearly empty and wider than now, streets of Karachi. One of those three was Agha Nasir.
Before slipping in, he politely requested if another senior colleague of theirs could accompany them. Bokhari denied permission. In his book Nasir narrated that Bokhari would approve of only the person who possessed four attributes: "khush shakl, khush atwar, khush awaz and khush zauq." (Good looking, well-mannered, eloquent and tasteful.) Needless to say Nasir possessed all four of them.
Some time ago, for an official assignment, I texted him, requesting him for an audience. There was no reply. I wasn't surprised. People of his generation mostly use this ubiquitous 'cell phone' for making and receiving calls only. I called him and he told me to show up a couple of days later at his residence located in Sector F- 7, Islamabad.
At the appointed time I rang the doorbell. It was a wintry evening. A tall man donning a grey woolen hat and a longish coat peered out of the entrance door and with slight motion of his head beckoned me to enter.
With little cautious steps, his feet producing a slight dragging sound, he walked ahead of me. He led me to a room that adorned a portrait of his and some calligraphy by Sadequain.
Having been seated, I ventured to ask my set of questions. With his cap and coat tossed aside, he toed and froed the crowded memory lane, reclining in his sofa chair. His grogginess vanished as he regaled me with endless stories from his professional life and recited poems of Faiz Ahmed Faiz.
The interview initially scheduled for 40 minutes went on for over three hours. His wife, a little concerned, entered the room and said, "Hasn't the interview gone a bit longer?" Nasir looked obligingly toward her but didn't say anything.
The first thing that struck you about him was his handsomeness. Tall, fair and blue-eyed (literally), he looked you straight in the eyes as if evaluating whether or not you are a 'TV type' (a term he introduced to select people for TV). A person might have every conceivable quality in him yet he could not be a TV type, he pointed out, looking at me for any traces of incredulity. This entirely subjective and overriding consideration on his part may have dashed the dreams of many to-be-television professionals, I wondered. Sensing my troubled thought, he started counting names of producers, actors and writers, selected by him, who made a name for themselves. They were too many to count.
Born in 1937, Nasir graduated from Karachi University. Prior to formally joining radio in 1956, he was already writing plays for it. And before moving over to TV, he had around 10 years of broadcasting experience under his belt. He was part of the team that launched television in Pakistan.
Unlike many, he successfully transitioned from radio to television. From being a programme producer to the coveted director programmes to general manager to the all-powerful managing director, he seemed to have had a smooth sail. At intervals, he also served as Pakistan National Council of the Arts director general and National Film Development Corporation managing director.
Having rich literary taste and a way with words, Nasir fondly recollected the general managers' quarterly meetings where they would discuss the progress made in the previous quarter and even suggest titles of various programmes. "90% of the titles were given by me," he said, recalling how one of his titles Mantorama created quite a buzz and later even a book was published with the same name.
Looking at the number of popular plays he had directed and produced, including the unforgettable Alif Noon and the hilarious and thought-provoking Taleem-e-Baalghan, it did not sound strange when he said drama was his first and last love.
In recognition of his services to the broadcast industry he was awarded Pride of Performance award in 1994 and Sitara-e-Imtiaz in 2012.
The untiring and amiable septuagenarian was a living encyclopedia on the broadcast history of this country. He had been associated with it for nearly half a century and helped it become what it is today.
A master storyteller, he gleaned events from memory and put them on paper in cascading prose; such is the impression you get after reading his one English and four Urdu books.
His first book Gumshuda Log (1999) is a collection of pen-sketches of people who he came across in his personal and professional life. ZA Bokhari, Khawaja Moeenuddin, Sadequain, Maslehuddin, Riaz Farshori, Saleem Ahmed, Ather Ai and Ghafari Begum (his mother) are beautifully sketched. The narrative is so powerful it can make a reader laugh and cry at will.
Another book Gulshan-e-Yaad (2005) focuses on key events from his professional life. Two of its chapters again are brief character sketches of people who he knew closely and admired for their distinct qualities.
In 2008 he deviated, which he can be excused for, from his usual subject by writing Hum Jeetay Ji Masroof Rahey. As the name indicates, it focuses on the poetry of Faiz. Nasir knew Faiz from his university days in Karachi and with time, grew very close to him. He could recite most of his poetry from memory, so much so that "in poetry recitals whenever Faiz would forget a line he would look towards me for a clue," said Nasir.
Nasir had fond memories of General Yahya Khan. One full- moon evening, the president, in his not-so sober mood, phoned him to play the song Kal Chaudween ki Raat Thi by Nighat Akbar straight after the news bulletin. He obliged. "Dhaka fell within a week of this incident," he added.
In politician Syeda Abida Hussain's words, Nasir was "the most outstanding professional of his time".
Huseyn Shaheed Suhrawardy onward, Agha Nasir had said, all the presidents and prime ministers knew and called him by name. When I asked how he felt about it, the answer was: "It's a fact though. I feel humbled."
Source:
http://tribune.com.pk/story/1140193/agha-nasir-beyond-broadcasting/
Comments
comments