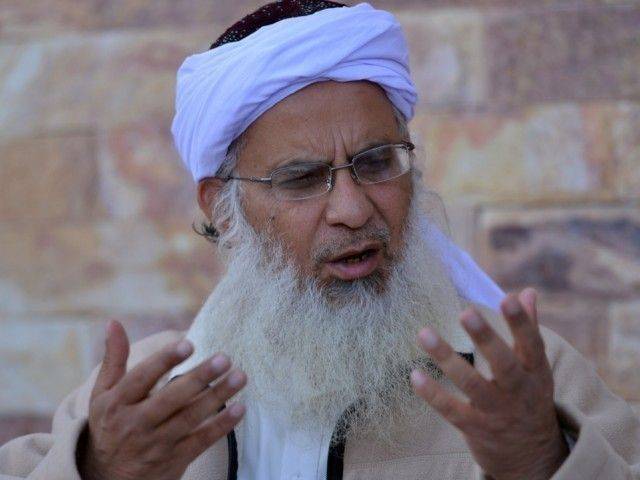 ISLAMABAD: Representatives of the interior ministry on Wednesday got an earful from a high court judge for failing to submit a reply on a petition seeking court intervention to register a case against Lal Masjid cleric Abdul Aziz.
Petitioner Jibran Nasir had approached IHC requesting that it set aside the order of a district court and direct the respondents to register an FIR against Aziz, his wife, and students of Jamia Hafsa for pledging allegiance to Daish.
While expressing extreme displeasure over the "poor performance" and "childish behaviour" of the interior ministry, IHC judge Mohsin Akhtar Kayani granted Interior Deputy Secretary Asghar Amin Chaudhry one "last opportunity" to submit a written reply which clarifies the ministry's stance on the issue.
Meanwhile, the court directed the state's counsel to ask the advocate general of Islamabad to appear before the court in the next hearing to assist the bench in handling officials who waste the court's time.
"I am astonished by the childish conduct of the ministry's representatives. I don't know how they are running affairs of the state when they are unable to submit a reply on an application for so many hearings," Justice Kayani remarked. "Very poor performance," he added.
The judge asked the ministry's official if the ministry has finally penned its opinion in the case. The secretary's reply — that "the ministry endorses the reply of the police" — did not satisfy the judge.
He remarked, "Tell me something concrete. I know what the police said".
Incidentally, the police had taken the stance that they would do whatever the federation recommended, he said.
Chaudhry received a further reprimand when he informed the court that the case relates to the cyber crime wing of the Federal Investigation Agency (FIA). "Doesn't [the FIA] operate under the Ministry of Interior," the judge asked, while quipping that the cyber crime wing doesn't fall under some foreign state.
"I don't know what you are afraid of," Justice Kayani remarked, "Clearly state, in writing, if the ministry does not know where it stands on these issues. We will send the issue to commerce ministry and seek their opinion if a case could be registered or not," he angrily remarked.
When asked about the reply from the law ministry, the official said they also agreed to endorse the interior ministry's decision.
"You sought time from court to seek the law ministry's opinion but have not yet informed the court about their reply for the last two hearings," Justice Kayani noted. He warned the officials not to manipulate delays the case as an adverse order would land many in hot water.
The judge then reminded the secretary to submit a written reply, even if the ministry can't do anything in the case, and adjourned till September 28.
Source:
http://tribune.com.pk/story/1141432/fir-abdul-aziz-interior-ministry-gets-earful-court/