Khurram Zaki – A tribute from a friend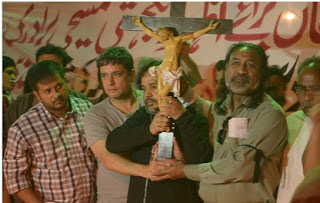 Syed Khurram Zaki was born on 26th March 1976 in Karachi, Pakistan. He was brought up like any other child in a traditional Muslim family in the Karachi of 1980s. However, his mother narrates that since childhood he had a knack for reading books and many a times when children his age would be playing around their house the young Zaki would be found sitting in some corner with a book in his hand. He would always be reading and had an inquisitive nature since a very tender age.
While still in his teens and living with his parents, he would often visit the neighbourhood mosque which happened to be the regional headquarters of the banned radical organization Sipah-e-Sahaba Pakistan (SSP) also known as Ahl-e-Sunnat Wal Jamaat (ASWJ).
It was in this very mosque where he came across the infamous cleric, Azam Tariq, frequently propagating against other Muslim sects & declaring them 'infidels'. Although Khurram Zaki was much younger at that point in time, however, he had already developed the fearless streak of challenging the  conventionally held thoughts and beliefs, and so it happened that one fine day he went straight up to the cleric and questioned him about that which he was preaching.
It is notable that back then, Khurram Zaki and that cleric shared the same school of thought. It is also pertinent to highlight that dialogue in religious circles is not very welcome in this part of the world, and is unimaginable within such conservative religious organizations. In most cases these clerics deliver fiery speeches against whomsoever they wish without being questioned by their followers and being totally overlooked by the State. It is ironic that amongst almost all segments of the society, whether rich or poor, so-called educated or not so privileged classes, faith based questions are generally discouraged. This discouragement does not just stem from the clergy, but also from parents, teachers, family elders etc. Therefore, questioning a man of that stature, especially in public, is considered not only a disrespect but also a challenge to authority. The reason why I am mentioning this point is to highlight to the reader, how daring Khurram Zaki was even in his teens when he defied all the norms of the society and challenged the status quo by going right up to the leader of an organization that instills fear in people. So much fear that judges avoid hearing their cases, police is reluctant to register complaints against them and powerful politicians refrain from naming them in public.
But this was a teenager from an ordinary family who had the audacity to challenge the powerful cleric on his own turf.  Hence, this was no ordinary act. Anyhow, after numerous debates with Azam Tariq and his followers in which they could not come up with logical responses, Khurram Zaki was finally banished from that mosque. Nevertheless, this was the beginning of the eventful journey involving debates, discourses and activism which would ultimately lead Khurram Zaki to his martyrdom.
Amongst his friends, acquaintances and innumerable admirers, Khurram Zaki was popularly known as 'Khurram Bhai'. The word 'bhai' means brother in Urdu and is added after the first name commonly in Pakistan, as a mark of respect as well as to express closeness.
Khurram Bhai was a known blogger, journalist, social worker and a civil rights activist. Nonetheless, one aspect of this man unbeknown to many, was his awesome knowledge & ability to debate with facts & ready references. He could go on elaborating about  genetics, philosophy, laws of physics, or various theories of different social scientists and so on.
But his favourite topic was religion. He was an expert  on comparative religion, moreover, his knowledge of religious scriptures was unmatched. This was the reason why traditional clerics didn't like him. He could leave them confounded in debates. He would question the very basics and challenge the prevalent beliefs and conventional practices. He approached religion with logic and the lack of pragmatism toward faith amongst the masses as well as the clergy frustrated him. He wanted people to be realistic and tried very hard to inculcate the habit of questioning without fear in his listeners, friends & social circles.
The will to reform the society was so firm that he would directly approach members of various radical religious groups & try to persuade them with logic & rationality to quit the extremist approach. He was always open to discussion and welcomed even the strongest criticism of his own faith and beliefs with patience, which is a unique quality. When asked why he risked his life by exposing himself to such groups, he would respond by saying that these people are brainwashed and ignorant of the other perspective of religion and society, hence, somebody should connect with these boys to enlighten them. He strongly argued that these people cannot be excluded from the society and propagated that dialogue was one of the main solutions to the cancer of extremism penetrating into the very fabric of the Muslim society.
His friends and close associates had realized long ago that Khurram Bhai's time was limited in a city like Karachi. He was constantly receiving death threats directly and indirectly and was even warned by various state agencies on multiple occasions about the impending danger.
Of course, he would be confronted every now & then by his well-wishers asking him to slow down and be more watchful. But he had other plans, he believed in martyrdom, and knew that what he was doing was the need of the hour. He would often say "somebody has to do it". Many a times he would leave those questioning him speechless by exclaiming "what is the alternative of raising voice against the oppressors? Should I not approach the courts? Should we not raise our voice on social media? Should we not go out on the streets? Should we not oppose the oppressors and support the oppressed? Should we not remove the veils of hypocrisy from their faces?" He was openly condemning & protesting against the taliban and their cronies for attacks on Christians, Ahmedis, Barelwis & Shias.
Those questioning his approach knew deep down that that the other alternative was basically turning a blind eye toward it. Just by writing articles or donating funds or condemning genocide on social media we are not doing enough. Of course, it is meaningful, however the struggle for the oppressed does not just need our resources, but more importantly, it necessitates our physical presence in many instances. It requires for us to come to the forefront while facing off with the oppressors because an air of fear is spreading through the society where nobody wants to name the perpetrators or benefactors of gruesome crimes. The mainstream media is fraught with taliban apologists and those who speak up or get down on the ground to challenge the status quo are brutally assassinated while the nation watches as silent spectators.
We do not have to go back too far to take a look at the silenced liberal voices if we observe what happened to Parveen Rahman, Dr. Shakeel Auj and Sabeen Mahmud only in the last three years.
Parveen Rahman was a social activist fearlessly working for the downtrodden segments of the society & connected to various welfare organizations. She was martyred in Karachi on 13th March 2013.
Dr. Shakil Auj authored more than a dozen books and published more than hundred research  articles with regards to improvement of society in relation to religion. He was a reformer, a researcher and a teacher who was making efforts to remove radicalism from the society. He was martyred in Karachi on 18th September 2014.
The most recent attack on a liberal voice before the martyrdom of Khurram Zaki was on Sabeen Mahmud who boldly challenged the systematic discrimination & injustice meted out to various segments of the society. She was a proponent of critical thinking and initiated the much needed forum for intellectual discourses under the title of T2F. The forces of darkness martyred her in Karachi on 24th April 2015.
It is evident that whosoever treads the dangerous path of freedom & reform in Pakistan is met with bullets. I clearly remember discussions in which Khurram Bhai would be advised to immigrate to some foreign country or to stop coming out on the streets temporarily.
Many a times, as a counter argument,  he would quote the example of Imam Hussain Ibn Ali (a),  the grandson of the Islamic Prophet Muhammad (s) who was butchered for refusing to pay allegiance to the unlawful & unjust Caliph Yazeed Ibn Moavia. Khurram Bhai would state that being a follower of Imam Hussain (a) he could not let history repeat itself and leave the oppressed alone.
If people would ask him about what would happen to his wife & children if he was murdered? he would give the example of Imam Hussain's (a) children who were chopped off into pieces and his family members who were made captives after the martyrdom of the Imam (a). Khurram Bhai would then ask you, are my children and family more valuable than the children and the family of Hussain Ibn Ali, and we would softly say, no. Then with a smile he would snap back at you and exclaim "then how can you expect me to stay silent on these crimes against humanity?"
It may sound contradictory but the fact is that we knew well that he could be killed any day, however, for some odd reason we were not prepared for it, nor are we able to digest the fact that he is no more. There is this unexplainable feeling of emptiness, there is this deafening silence which just hurts us deeply but cannot be expressed in words. We are still in a state of disbelief, even two months after his martyrdom. Sometimes I feel that he's just there and I will meet him again and hear the loud laughter.
At least I can state about myself that I often think about him as if he's just there. For example, whenever I would read newspapers or articles online I would take notes in my mind about various international political developments to discuss them with him & hear his opinion. It's unbelievable but my mind is conditioned in such a way that I still take mental notes with the same intention and smile when I assume how Khurram Bhai would react to it. But then an awful sadness sets in. This is a sadness that cannot be described in words because it's a mixed feeling of longing, anger and guilt. Longing because I am yearning to be in his company again, anger at those who took him away from us, and finally, guilt, because I feel that we were not there for him, because we left him alone in the struggle that was ours.
He left such an impression on the society that after his assassination people from across the world have shown resolve to follow the footsteps of this selfless man. The social media is filled with oaths of people promising to carry his legacy forward. Events, seminars, demonstrations have been held in his honour from Pakistan to North America and Europe. Even the international media has praised his courageous stance toward extremism.
Last but not the least, he taught us that whenever we are embarking upon the journey of fighting tyranny & injustice, our strategic goals and efforts should never be stifled due to the limitation of resources or lack of supporters. Khurram Bhai practically proved to us that if we are ready to sacrifice our life for our objectives, then all we need is forbearance & conviction to light the candle in the darkness. His martyrdom has awakened the masses from the deep slumber that they were in.
His pure blood has given a fresh energy & freedom to those who wanted to bring a change but were prisoners of their own notional constraints. He has set us free and we owe it to him and to all those who have sacrificed their lives on this journey, to take the struggle forward. I hope we can live up to our pledges.
Source:
https://redsufi.blogspot.se/2016/07/khurram-zaki-tribute-from-friend.html
Comments
comments