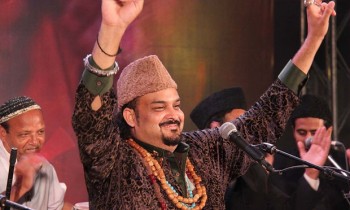 A private home in Karachi's low-income Liaquatabad neighbourhood, which shot to prominence last week, already stood out for being unique.
Postal deliveries to the address in the otherwise congested area only had to have the names Amjad Sabri and Liaquatabad without needing further details. They were certain to reach their destination!
Such was the iconic stature of one of Pakistan's most celebrated musical maestros that the tragic assassination of Sabri on Wednesday prompted an unprecedented outpouring of sympathy and outrage. A previously unknown splinter group of Taliban militants has claimed responsibility for the murder.
But on Thursday, Sabri's fans turned out in tens of thousands to accompany his funeral procession before he was laid to rest. The humid coastal city's mid-day summer heat could not discourage the enthusiasm. An ambulance carrying Sabri's remains was showered with rose petals as his fans repeatedly shouted promises to always remember him.
Fans of 'qawali' or sufi devotional music across Pakistan, India and elsewhere in the world have mourned the untimely death of Sabri, 40, a father of five, with questions over the future of his legacy. To some, his rise to fame and prominence marked a mix of inheritance, luck and sheer hard work.
Born in Karachi as one of 11 siblings to the late Gulam Farid Sabri, Amjad received his initial coaching in his childhood from his late father, who was a widely celebrated 'qawali' legend in the 1970s and 1980s. He first performed with his father when he was just 12 years old.
CDs and DVDs of Amjad thronged Pakistan's music stores in the past decade, just like cassettes of his father's performances in previous years.
To his friends, Amjad would narrate tales of being woken up by his father well before sunrise and ordered to first offer his 'fajr' prayers before being coached in 'qawali'. Though the young Sabri was one among five sons of Gulam to be coached in those sessions, he alone persevered to eventually rise as a legend.
Gulam's death in 1994 left Amjad, just 18 then, to build his career on his own. Long-time watchers of the music scene remember his spectacular rise in the past decade, notably in 2005 when Amjad dedicated his time and music to collecting funds for the victims of a massive earthquake in northern Pakistan.
As tribute after tribute poured in following Amjad's assassination, one of his contemporaries spoke out passionately about Amjad's "unwavering commitment day and night" to those 70,000 lives that were lost in the devastating earthquake.
Another account from a tearful Saadia Imam, a well-known Pakistan actress who had appeared, along with Amjad, on a popular talk show on Samaa TV, recalled his success in raising more than $5000 (Dh18,390) for Ayesha, a young child in need of urgent medical treatment. In 2015, Imam joined Sabri at his Liaquatabad home to discuss his work, life and time spent with his wife and their five children.
In a detailed interview with Imam, Amjad revealed his refusal to consider moving away from his Liaquatabad home where he grew up as a child, in spite of his professional success.
"If I am in need of help, everyone in my neighbourhood will turn up" he said, speaking passionately about the neighbourhood where he was born and raised. "But if I move somewhere else to an upper class neighbourhood, I may not even know the people living next door" he added.
The tributes that poured in for Amjad were unanimous in remembering his humility as an outstanding character. But beyond his personality, a unique blend of traditional music delivered powerfully in Amjad's deep and well-tuned voice saw him stand apart from other performers.
Amjad's assassination has also raised compelling questions over the future of values of tolerance in Pakistan — a country under attack from hardline militants. Yet, the public's large turnout at Amjad's funeral clearly revealed the popular yearning across Pakistan in support of freedom of expression.
Many of Amjad's supporters were moved by the widespread publicity given to his last performance of mystical music, just hours before his death. Appearing on Samaa TV as usual, Sabri, in his enchanting voice, sang; "Main qabr andheri mein, ghabraunga jab tanha; Imdaad meri karne, aa jaana Rasool Allah" (When I shudder in my dark grave, please be my patron, oh dear Prophet Mohammad [PBUH].
Irrespective of how far Pakistani authorities succeed in tracking down Amjad's assassin, his life has left behind a compelling message for his fans — that his life and work will remain fresh for enthusiasts of sufi music for years to come.
Farhan Bokhari is a Pakistan-based commentator who writes on political and economic matters.
Source:
http://gulfnews.com/opinion/thinkers/an-untimely-curtain-call-1.1851916
Comments
comments