I remember Benazir Bhutto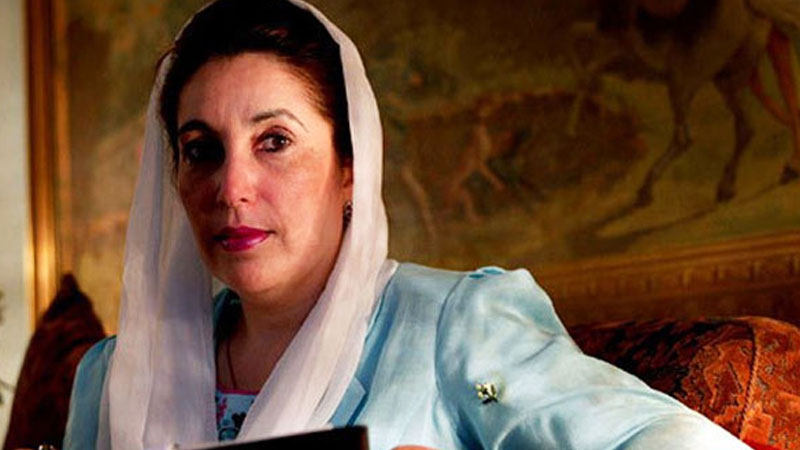 Today is Mothermma Benazir Bhutto's birthday. Ten years ago on this day she had sent me the following message in response to my email wishing her happy birthday:
"Dear Shiraz Paracha Sahib,
I thank you for the warm message on the occasion of my birthday. I first started on the political journey when Quaid-e-Awam was imprisoned. Hoping to see him released, I never imagined that it would be a lifelong commitment. Throughout the journey for the federation's democratic future and peoples' economic emancipation, I have never wavered. Your prayers and support have enabled me to stand steadfast. I thank you once again for your good wishes and prayers.
BB"
Few months after her return from exile in 1986, I was the first journalist who had interviewed her for Daily Jang Lahore. It was a scoop. From 1986 till her last day, despite her very busy schedule she would always respond to messages, questions and suggestions. Sometimes I would criticise her actions, polices and decisions but she would always engage in discussion. She was a very kind-hearted and extremely nice human being who could forgive her worse enemies.
In 1995, as prime minister she had visited Peshawar for some official engagements. A day before her visit, my dear friend and mentor Farhatullah Babar called me and said that the prime minister was meeting the media in Peshawar and she had especially asked us to invite you. I thanked Babar sb.
The next day, when I reached the Governor House in Peshawar, the room was already full but the organisers had left a chair empty for me next to the prime minister. When we were seated, she came and greeted us one by one very warmly. She asked me about my newly born daughter Saba's health.
She opened conversation by saying that she would prefer to hear our views first and with that she invited me to speak. I grabbed the opportunity and gave a long speech where I criticised her government's policies in front of the whole cabinet and the media. Then Provincial Governor Khurshid Ali Khan was sitting next to the prime minister. I pointed finger at the governor and told BB directly that the governor was involved in wrongdoings. I mentioned one by one all the things which the governor and few provincial ministers were doing and the public and media were not happy because of those actions and activities. I blamed BB for selecting wrong people, and the governor was one of those. She listened to my 8/10-minute-long charge sheet. I could see her face turning red.
When I finished she moved forward into her chair and launched a counter attack in a very emotional tone. She was very offended by my harsh attack on her government policies and officials. She thought that I was unfair and wrong in evaluating the performance of her government. She wasn't expecting that an old and trusted friend could be so harsh in public. She answered all my questions but her mood had spoiled and immediately after responding to my criticism, she left the room without talking to anyone else. I heard several ministers saying: "Paracha is gone, he is black listed forever." Then Chief Minister Aftab Sherpao also felt uncomfortable. Some journalist friends were also not happy the way our meeting went.
Few weeks after the Governor House incident, I sent her a letter and I got a warm and friendly response. I attended several of her meetings and press conferences in Pakistan.
In 1999, I was in London and sent BB a request for a meeting. She granted me time. I reached her sister's apartment where BB was staying. Her staff greeted me and led me to BB. I was seeing BB after three years. In the beginning of the meeting, I mentioned the unfortunate incident in Peshawar in which the son of ANP's Haji Golam Ahmad Bilour was killed and our dear friend Sayed Qamar Abbas was accused of his murder. BB knew that Qamar and I were very close friends. I was so upset I started accusing BB for neglecting her friends; I told her that she had failed to do much for the poor of Pakistan that was why Pakistan had another military dictator. Again I was ruthless in my criticism. She listened to my outbursts but this time she was quiet. I told her that Qamar Abbas was going through very tough time of his life but his party wasn't supporting him. I blamed BB for ignoring Qamar. Upon hearing that she put her head on the back of the sofa and closed her eyes. I could see two tears on her cheek. It was the end of our meeting. She didn't say goodbye. I left the room in the company of her staff. They didn't like a visitor who made their BB so upset. I was sure it was the last time I had the privilege of meeting her one on one. But I was wrong.
Soon I got an invitation of a small get together with BB and again she didn't show any sign of offence. At home she was like a perfect housewife working in the kitchen. She loved to serve her guests and at the same time would supervise young Bilawal and his sisters.
Between 2000 and 2007, I had the honour of meeting BB many times. I remember how happy and optimistic she was after the signing of the Charter of Democracy in 2006. She had told us: "No one can stop Pakistan from progress now."
In August 2007, I was working for Press TV in London when I got a job call from Kazakhstan. Before leaving London, I went to see BB. She was very pleased to hear about my new adventure. I invited her to visit Kazakhstan. She said: "Paracha sb. Time is money; I feel that 24 hours are not enough. Soon I will be in Pakistan, come and help us build Pakistan."
Saba and I landed at Islamabad International Airport at 6:00PM on December 27, 2007. As we walked out of the airport building we found ourselves in the darkness that hasn't vanished to this date.
Miss you BB
Source:
http://dailytimes.com.pk/blog/21-Jun-16/i-remember-benazir-bhutto
Comments
comments