LUBP categorically condemns the verbal assault and attempted attack against Marvi Sirmed by JUI F representative.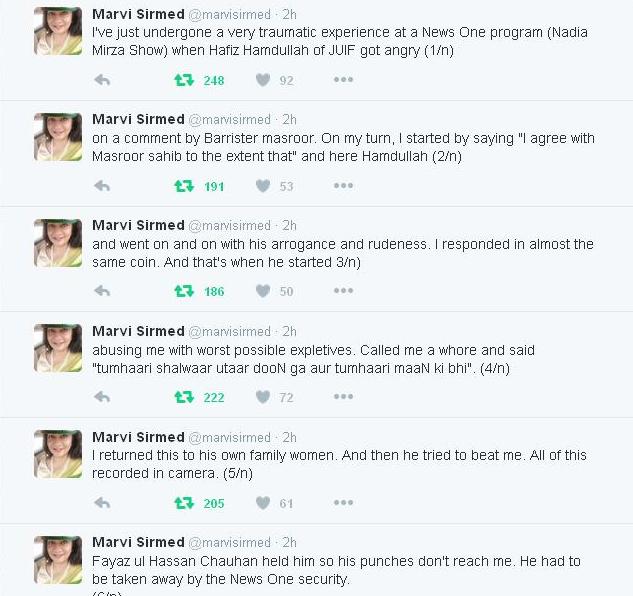 In a series of tweets, Marvi Sirmed has alleged that JUI F leader, Hafiz Hamdullah first used nasty and disgusting language against Marvi and was then preparing to physically punch her before he was restrained by PTI's Fayazul Hassan Chauhan.
This behaviour is not only unacceptable but also borders on the criminal. From burning women for their right to choose their husbands to these verbal and physical assaults by political party leaders from JUI F and PML N, this is a sorry state of affairs in Pakistan.
This is not the first instance of extreme misogyny and verbal abuse against women by the Deobandi theocratic party, JUI F. During the 2014 protests by anti-Taliban Sunni party PAT and PTI, it was JUI F and PkMAP that made lewd and sectarian remarks against the women protestors. Earlier this week, PML N's senior leader, Khawaja Asif made some reprehensible remarks bordering on abuse against a senior PTI woman's leader. During the 1990s, the same PML N/IJI made routine disgusting remarks against Shaheed Benazir Bhutto and her mother.
Instead of categorically condemning such remarks, Pakistan's liberal champions were smugly defending PML N. The same liberal mafia also often allies itself with Deobandi hate clerics like Tahir Ashrafi. From the late 1970s' Pakistan's lifestyle liberals and washed out Marxists have found common cause with Deobandi religio-organizations like JUI F which is the founding party for the Taliban and Sipah Sahaba.
The verbal abuse endured by Marvi Sirmed and Shireen Mazari by government coalition allies of JUI F and PML N are a sad reminder of our apathy and the utter failure and hypocrisy of Pakistan's pseudo liberal mafia in standing up to male chauvinist pigs.
Comments
comments