Parachinar : Facts about 11th may incident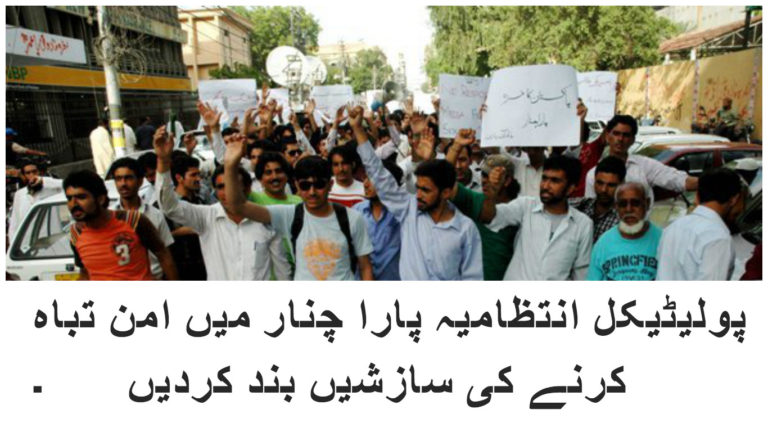 I would like to bring the following facts in your kind notice:
1-That on 3 Shaban 1437 A.H (11 May 2016) Shia Muslims of Parachinar Organized a milad program to celebrate Youm e Hussain A.S (Birthday of Imam Hussain A.S).
2-That the said program is a traditional program being celebrated since long, Shia and Sunni Ulma and Naat Khawans jointly deliver their sermons.
3-That a renowned Sunni Alim Pir Syed Muqaddas Kazmi of Lahore and a Shia Alim Ijaz Bahishti was invited in the program from Islamabad to deliver their lectures in the said program, but unfortunately these Ulma were not allowed by FC to enter in Parachinar and they were stopped on cheeri check post, without any legal justification. They were told that their entrance in Parachinar can create a law and order situation, but unfortunately no evidence was shown to them.
4-That when the public of Parachinar got the news that their respected ulma have not been permitted to enter in parachinar and they have been detained illegally they started protest on the road which is 6 kilometers away from Paraschinar City and the road is in an unpopulated village and is not a busy road at all, the protest converted in a sit in vigil until the release of their respected Ulma. Parachinar's public was unhappy because of illegal detention of their ulma and they were of the view that the ulma as well as administration of the program should have been
informed in advance if there was any kind of ban or restriction, but unfortunately there was no such type of instruction/information.
5-That when the public gathering turned into vigil FC Commandant Malik Umar who was also reached their, ordered the gathering to disburse within 5 minutes otherwise he will open a straight fire. This was so alarming situation and an official of a security force was not supposed to behave in this manner at all.
6-That after the threat of FC Commandant Malik Umar and of Shahid Ali Khan APA (Assistant Political Agent) upper Karam some respectable from public gathering contacted the FC officials to hold some dialogues to resolve the issue amicably, this effort of the respectable moved in a positive direction and APA of lower Karam Nasrullah Khan admitted that the demands of public are quite reasonable and he advanced his request to APA of Upper Karam Shahid Ali Khan and Malik Umar Commandant FC to review the orders, but unfortunately both of them refused to show any flexibility even the APA of lower karam Nasrullah Khan begged to enhance few minutes because in his view the matter was just to be resolved within few minutes, but unfortunately Malik Umar FC Commandant started straight fire from his own Pistol which hit gathering and then FC, Levi Force and Kurram Militia started straight fires as well as air fires on the public, resultantly Master Haji Syed Ali Akber Kirman, Syed Yahya Hussain Alishari and Master Nisar Hussain Malana were died on the spot and around 15 persons got injured.
7-That it is pertinent to mention here that FC Commandant Malik Umar is a biased person and he is a known anti shia officer, he created hindrance in the way of shia community of Parachinar in past when they wanted to arrange a Quran Khawani for shuhada
of Eidgah Bomb Blast and he did not permit even for Quran Khawani to Shias of Parachinar.
8-That it is also pertinent to mention here that the administration of Parachinar arrested all persons who were assigned for dialogue from the public gathering which is un ethical and against the norms of a civil society.
9-That it is very unfortunate to mention here that the administration of Parachinar has arrested around 48 innocent persons so far and have shifted them to different jails, not only this but they are continuously torturing them to accept that the firing was not done by the forces and they (members of public gathering) did firing, FC and administration of Parachinar are continuously trying to make a case that the firing was not done by forces and actually it was done by the public members which is not true, because there is not even a single person from forces injured by the firing.
10-That the above mentioned act of barbarianism is unacceptable and a clear violation of law of the land in which 3 precious souls have been departed without any justification, our forces are in field to protect the life, honor and property of the citizens, but unfortunately our forces have committed a shameful act and have settled a shameful example in the history of Pakistan.
11-That it is quite evident the said incident took place due to sectarian thoughts of FC commandant (MalikUmar) and of APA (Shahid Ali Khan) which is not tolerable in the land of Pakistan at all. Shia community is an important part of Pakistan and cannot
be neglected in any case especially when everyone knows that Shia community is already badly victimized and targeted by the terrorists in Pakistan. A renowned Shia leader Allam Nasir Abbass Jaffari head of Majlis e Wahdatul Muslimeen is on hunger strike in Islamabad against this act of barbarianism since 13 May 2016, but nobody has cared for his demand to provide justice to his community which is really shameful and against the ideology of Quaid e Azam's Pakistan.
12- That the said act of administration of Parachinar and of forces is a clear violation of provisions of the constitution of Pakistan 1973 especially it's a clear violation of Art:4, Art:5, Art:9, Art:10, Art:14, Art:15, Art:16, Art:17, Art:19, Art:20, Art: 25, Art: 26, and Art: 33 of the constitution of the Islamic Republic of Pakistan1973.
13- That the law of Pakistan is very much clear regarding sectarianism, section 6(f) and section 8, 11-A (e) and (f), 11-EE (c), of Anti Terrorism Act 1997 are self explanatory over the issue of sectarianism, moreover some provisions of Protection of Pakistan Act 2014 are also inserted to tackle with the issue of sectarianism i.e. (ii) of scheduled offences, points no.5, 9, 14, 15, and 18 of National Action Plan also addresses the same issue of sectarianism, besides sections.295-A of PPC.
14- That this is the primary responsibility of the Government and the state to take the cognizance of the above said offence under the existing laws within the country, but unfortunately the state
has failed to perform its duties within the parameters of law, and the state has completely failed to safeguard the provisions of the constitution of Pakistan, which is so alarming situation, especially in a situation when the country is in a 'state of war' against terrorism, operation 'Zarb-e- Azb' is going on in the federal tribal areas of Pakistan and 'National Action' Plan is being Implemented within the boundaries of Pakistan against terrorism and against sectarianism.
I humbly request you to register a criminal case against the culprits of Parachinar incident as early as possible and to release the innocent persons who are illegally detained by the administration.
Comments
comments