Whether its Taliban or the FC, Terrorism is Terrorism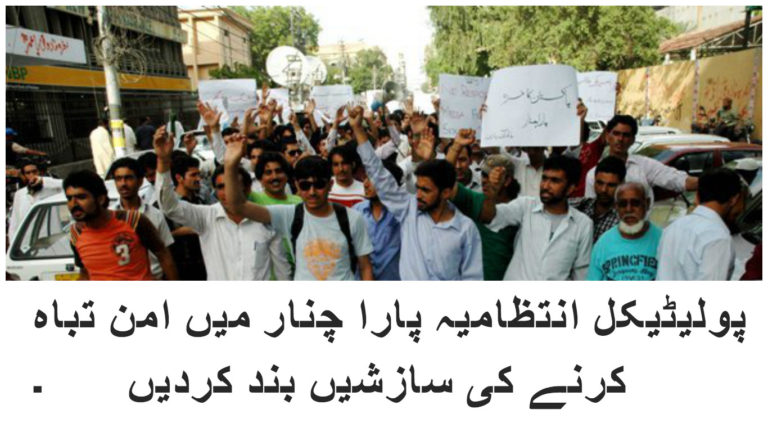 As FC soldier Wahid Hussain Turi lay in Peshawar Military Hospital breathing his last after being injured in Mohmand Agency, the FC at the behest of the Political Agent attacked his tribesmen in Parachinar only for peacefully protesting.
Malik Siffat Hussain's young son Wahid Hussain Turi eventually embraced martyrdom after having been injured in a battle with Taliban. Just when the Army and FC officials were giving him a guard of honor at his funeral, a colonel of the FC and the Political Agent Kurram Agency were conspiring on how to hide the news of the killings of 4 innocent Turi tribesmen.
During the same days, human rights champion Khurram Zaki was martyred by the outlawed Sipah-e-Sahaba/ASWJ in Karachi. In Dera Ismail Khan, two lawyers Asif Zaidi and Ali Zaidi and two teachers Akhtar Hussain and Mukhtiyar Hussain were assassinated by the same Takfiri Deobandi terrorists.
Right after 4 innocent people were killed, the political administration started looking for people it could use to cover up this crime. O 24th May a few unknown and irrelevant people were gathered and a press conference was staged in which it was declared that the situation in Parachinar was completely normal. These people, backed by corrupt contractors and political administration, hurled baseless accusations against the local people and the leaders still protesting the killings of 4 innocent Turi tribesmen.
Right after the incident, Deputy Secretary General MWM Ahmad Iqbal Rizvi condemned the incident and expressed deep outrage over the killing of four innocent protestors by FC in Parachinar and termed it state terrorism. Secretary General Allama Raja Nasir Abbas MWM announced a hunger strike protest camp in Islamabad and has since been steadfastly and nonviolently protesting this heinous crime.
The sellouts who spewed venom in a press conference against the local population and the sincere leaders who have been protesting this incident appeared blind to the ongoing Shia Genocide across the country, and joined the ranks of some opportunist politicians and the bigoted political agent. The political agent has since started to use some paid journalists as well to start a concerted media and social media campaign to justify the killings.
The youth from Parachinar have harshly condemned the press conference and its speakers, and rejected the claims made. They have denounced the people as opportunists who have vested interests and always played a negative role in the area. These people have termed to have played a nefarious role in exiling the previous prayer leader Sheikh Nawaz Irfani from Kurram who was later martyred in Islamabad.
All eyes are now on the prayer leader of the Central Mosque Parachinar Maulana Fida Hussain Mazhari.
It is hoped that like always he will play a positive role to unite the masses and not let a few opportunists sell the blood of the tribesmen for their vested interests.
Comments
comments