Requiem: for a human rights defender who died with his boots on – by Mubashar Naqvi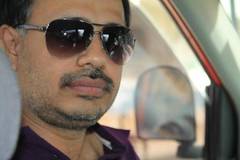 Isn't 09:00am too early Khurram bhai? We can meet any other day. No it is not, we are meeting tomorrow, he promptly replied.
Yes it was our first and last face to face meeting in Islamabad and his last sojourn to capital city, I guess.
I am here Brother!! well in time texted him and he came out of his room to receive me with smiling face. What a lovely personality he had I remember- a thoroughly kempt and soft spoken. Passionate for seeing the country turning into a true pluralistic sate, a role model of interfaith harmony where nobody develops acrimony for others-none is condemned to death for antagonizing advocates of pseudo ideals. And of course constitutionally acclaimed rights of underprivileged echelons of society are well protected.
Zaki bhai was well known to me as we had talked many a time before, by phone, texts and face book chats. But unexpectedly, this time around, he was looking a bit disillusioned, asking reason was the opening of an unending discussion pertaining to plethora of topics. But what I could feel the reasons why he was so perturbed was particularly his case against influential Lal Masjid's cleric Maulana Abdul Aziz, in the apex court.
Our face to face conversation spanned well over a couple of hours continued later via social media and finally concluded on May 7, when he left this world for his eternal abode after receiving five bullets on his chest in North Karachi. It was an unforgettable night for me and for his all lovers.
Khurram Zaki was not an ordinary man, No he was not..! He was not an individual but a movement against injustices, religious intolerance, obscurantism and socio-economic deprivations. As a journalist or civil society activist, he'd never compromised on his principles and fought selflessly for the rights of neglected classes.
Syed Khurram Zaki was born on 26th March 1976 was a research scholar, journalist, blogger, human rights and civil rights activist from Karachi, he received his early education from Karachi, where he attended FAST-NUCES between 1998-2001 enrolled in Bachelor of Computer Science programme.
Zaki served as an Instructor in the Defence Services Intelligence Academy, Islamabad, where he taught Technical Intelligence. In 2002 he joined the BTL (Direct Marketing) division of Interflow Communications as Brand Activation Manager and then moved to Airwaves Media, working for TV One and News ONE as Director/Producer in the Current Affairs and Infotainment department.
Currently he was an active campaigner for human rights and editor of Let Us Build Pakistan (LUBP) a much visited blog-zine known for its contents of promoting tolerance, interfaith harmony and rooting out extremists thoughts and practices from the society.
Imbued with his natural instincts of heroism Zaki was a most powerful voice against the elements encouraging extremism and successfully but in a very short time carved niche as a human rights defender, a brave and selfless journalist. Unlike others he never hesitated openly criticizing systematic target killing of members of different communities and sects.
Some of his acquaintances and family members believe that since Zaki was a strong voice against extremism, he fell prey to systematic hate campaign being orchestrated freely by a section of society over the years.
Against all odds and threats he remained committed to his cause and pursued his most sensitive case in the apex court although some of known lawyers refused to contest his case due to reason best known to everyone aware of the power and pelf such elements enjoy and how thy flouting law of the land in Pakistani society since mid seventies.
While concluding my first and last face to face meeting I just requested Zaki bhai to take good care of his security as he was facing serious life threats.
But he just smiled saying: "Mubashar bhai neither one can stop death nor can give extra life except Allah".
"I can't stop myself for raising voice people- I would love to embrace Shahadat (martyrdom) but will never give up", this is what Khuram bhai said and finally proved.
His gruesome murder is a clear message for human rights defenders, vocal media persons to desist from challenging an all time powerful groups-a message for law enforcement agencies that you have failed miserably protecting life, property and honor of citizens.
Zaki bhai died with his boots on pursuing his mission and sparing little time for his family as he always loved his passion more than his family.
He is no more in this world, but left a legacy and a roadmap for those wishing to fight courageously for the rights of others and embrace shahadat.
Alas there is no one to replace you Zaki bhai. "qatal gahon se chun kar hamary allam-aur niklen gay ushaaq kay qafilay".
*Writer is youth activist, media student and freelance writer based in Muzaffarabad. Can be tweeted: @SMubasharNaqvi
Comments
comments