After Khurram Zaki's killing I fear for anyone who dares to speak out in Pakistan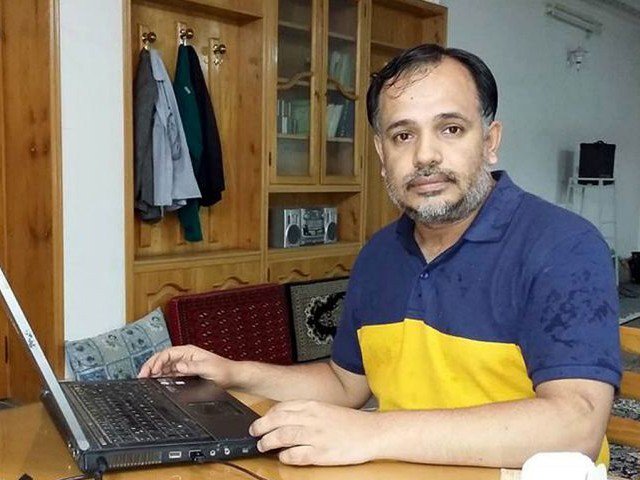 We grew up hearing pen is mightier than the sword, but no one told us bullets and axes also existed. Khurram Zaki a civil society activist was targeted in a drive by shooting as he sat for supper with his friends a few days ago in Karachi.
Like him, Sabeen Mehmood, Ali Khudi and Rashid Rehman have also fallen in the battlefield for speaking up for human rights, against militant organizations, Shia genocide, equality and secularism in Pakistan. Raza Rumi and Marvi Sirmed had narrowly escaped.
On the other hand, Sadiq Khan was elected the Mayor of London. The mainstream Pakistanis, once ruled by the British, were celebrating Khan's victory as if they have 'conquered' Europe once again. For them his background and his belief was enough to accept him with open arms. The unfortunate part is these people have never read the manifestos of the parties they support; how can we expect them to know what Sadiq Khan's stance was during his election campaign? I wonder what they will do if they become aware of it.
As usual the mainstream Pakistani will accept any Tom, Dick or Harry anywhere in the world as our own, yet we will not accept our compatriots as our own. Why go back into our 'glorified' history, just let us take a peek into the silence of Pakistanis that has killed many people of this land of the pure.
Humanity does not matter to most of us. When one dies we look at different angles, and then decide if we should speak about it or not. Firstly, his beliefs play an important role, then his patriotism, thirdly his political affiliation and ideology, and last but not the least his standing in the society. If he passes on these counts only then his death will be mourned by the mainstream Pakistanis, otherwise he is just a statistic.
According to available media information Pakistan has suffered suicide bombings since 2002. In all these years no one bothered who died; as long as you and your family are safe, all is well. Only social activists spoke up and put their lives in danger by standing on the streets and protesting, but others never came. In 2016 so far we have lost 879 people and in all these years we have lost 21,114 civilians and 6,482 security personnel. Who bothered to take a stand? Today people complain what are the Government and the Army doing. Well my question to you is: what are you doing apart from being a cyber warrior?
Every year directly affected people remember the loved ones on their death anniversary and that's the end. No one cares how people are suffering after those attacks, how are they earning and feeding their families? Not to forget those families who were killed in drone attacks; we have no correct figures of how many have died in them. After the Army Public School attack in December 2014 we said, NEVER AGAIN, and then we had the Bacha Khan University attack. Did anyone bother to ask WHY AGAIN?
If we look at sectarian violence, it has existed since 1989 and till now 5,233 people have been killed. Who is bothered? When you ask people why they are quiet on Shia killings, you are told that you are working on a foreign agenda and even that you are not a true Muslim; you are not a patriot; you are a liberal fascist. And if by any chance they know about atheists they will slap you with this label.
Let's move on to rape and honor killings. This is rising at an alarming rate in Pakistan. Child abuse of both genders is also increasing. Girls have been burnt and had acid thrown on them in the name of honor, but who cares? Why?
When we can raise a racket over polls rigging, Women Protection Bill, Panama leaks; threaten long marches, train marches, and dharnas, then are these not equally serious issues? Sharmeen Obaid-Chinoy was ridiculed left, right and center when she made Saving Face and A Girl in the River, but why are those same voices quiet today? She did not make up stories; they actually exist!
About five years ago, two Sialkot brothers were beaten and lynched to death by a mob – does our memory serve us here? Shahzaib Khan was murdered by Shahrukh Jatoi in Karachi. There was the Gojra incident, Baldia factory fire, Youhanabad attack, Shama and Shehzad burnt in a kiln, attack on Chipboard factory in Jhelum, attacks on Hazaras, false blasphemy cases and many such stories surfaced; however nothing stirred our conscience. Why is it so? May be because we have either turned numb, insensitive or totally shameless.
Napoleon said, "The world suffers a lot, not because of the violence of bad people, but because of the silence of good people."
This perhaps stands truer today than in the late 1700s. We are going through so much yet the majority is silent. Those who dare to speak do not last long and are silenced. There are very few left alive or in Pakistan, I fear for their life. Why have we disowned this land and its people?
Source:
http://nation.com.pk/blogs/11-May-2016/after-khurram-zaki-s-killing-i-fear-for-anyone-who-dares-to-speak-out-in-pakistan
Comments
comments