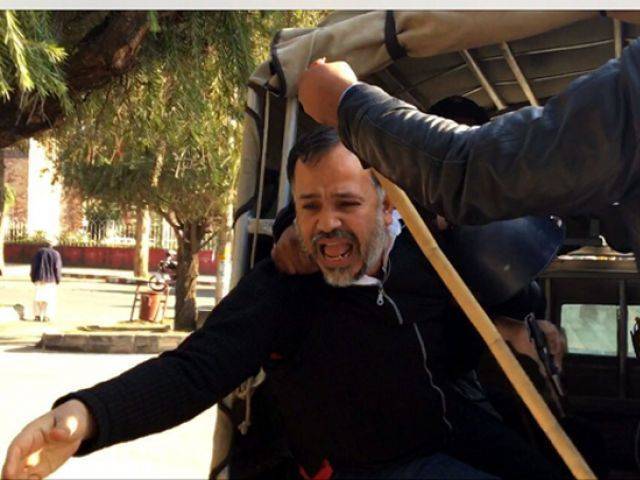 It was February 4, 2015 when the police briefly arrested a handful of social activists protesting near the Chief Minister House in Karachi against a suicide attack on an Imambargah in District Shikarpur, killing over 60 worshippers and injuring 50 others. Prominent activists Jibran Nasir and Khurram Zaki led the sit-in, demanding the government to take action against banned Ahle Sunnat Wal Jamaat (ASWJ) and arrest its central chief Maulana Aurangzaib Farooqi.
After fifteen months, another sit-in was organised at same place on May 8 with the same demands and the number of participants was in hundreds. This time again, Nasir led the sit-in but with the dead body of Zaki. Unknown gunmen had opened fire on Zaki on May 7 at a roadside restaurant in a North Karachi nieghbourhood, where he was having dinner with his friends, Rao and Jazaib Marshall. Zaki suffered multiple bullets wounds and succumbed to his injuries in hospital while Rao and Marshall were wounded in the attack.
Survived by two wives and four children, Zaki, 40, was an outspoken opponent of radical militant groups and had emerged a fearless activist, willing to go to great lengths to get the authorities to take notice of the killing of Shias and other communities. In the past, Zaki was associated with the electronic media, where he was responsible for running a religious affairs programme. His close friends say he was expelled from a private TV channel for running a controversial documentary against the Saudi government on the extension of Masjidul Haram.
Zaki came into the limelight alongside Nasir in December 2014 when he launched a campaign against Maulana Abdul Aziz, the cleric of Islamabad's controversial Lal Masjid outside the mosque for inciting hatred and refusing to condemn the attack on the Army Public School in Peshawar that claimed lives of over 145 people, including 132 children. They managed to get a case registered against Aziz. But in response, the Lal Masjid administration also registered a complaint against Zaki and Nasir in a police station of Islamabad, stating that both activists "arrived from Karachi to spread hatred and violence" against the mosque, Aziz and the ASWJ.
Zaki actively used social media to voice his protest against extremism and criticising sectarian groups. He also used to edit a blog Let Us Build Pakistan (LUBP), which has been occasionally banned for publishing controversial material by the Pakistan Telecommunication Authority in the country. "Zaki was the only among the LUBP's admin team living in Pakistan who did not use a pseudonym," wrote Aamir Hussaini, a regular contributor to the LUBP, on social media.
Interviews with Zaki's friends and family suggest he had been receiving threats from militant groups. "Even law enforcement agencies had warned Zaki but did not provide him security," Faraz, Zaki's brother, tells TNS.
Interviews with Zaki's friends and family suggest he had been receiving threats from militant groups. "Even law enforcement agencies had warned Zaki but did not provide him security."
In a phone call to Reuters news agency, the Hakeemullah Mehsud faction of Tehreek-e-Taliban Pakistan has claimed responsibility, saying Zaki had been targeted for his campaign against Aziz. The claim cannot be verified, and the police say the group has previously claimed responsibility for attacks it did not carry out. "It is not immediately clear who was behind the killing. But Zaki's killing was purely sectarian and seems the Lashkar-e-Jhangvi is behind his murder," say a police officer overseeing counter-terrorism operation in the city.
His friends are clear why was he murdered. "A Shia by sect, an outspoken critic of extremist groups and a heavy presence on the social media were key reasons for which he was in fact killed," says one of his colleagues. "We warned him several times not to sit in open spaces and adopt caution during his street activism but he did not take it seriously."
However, they also say, Zaki's clandestine work to persuade members of banned outfits, especially ASWJ, to abandon the past and stop attacking the Shia community made him more vulnerable to attacks on militant groups.
Zaki's killing comes at a time when Pakistan's rights activists feel they are increasingly under attack. May 7 marked two years since Rashid Rehman, a human rights lawyer defending a university professor accused of blasphemy case, was shot dead in Multan. On April 24, Pakistan marked the first anniversary of Sabeen Mahmud, another prominent activist, who was murdered in Karachi.
Asad Iqbal Butt, vice-chairperson of Human Rights Commission of Pakistan, says Zaki's murder is another blow to human rights activists who have been urging the state to crack down on the militants and their networks. "Government must track down the perpetrators and give them exemplary punishment, says Butt.
Butt also expressed concern over the killing of activists who have been running campaigns for social injustice and religious intolerance on the social media.
Source: