Hear our voices! Activists demand justice for Khurram Zaki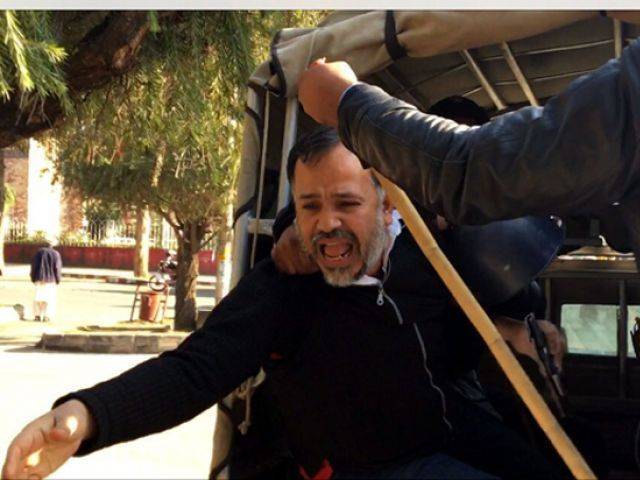 KARACHI: Different religious organisations, mostly those belonging to the Shia community, staged a protest on Friday against the killings of members of their community, particularly rights activist Khurram Zaki.
Unidentified assailants gunned down Zaki in North Karachi last Saturday night while was sitting along with his friend at a tea shop. Zaki died shortly after the incident while his friend and another person were wounded. Though the police have found over one-and-a-half-dozen empty shells of the pistol from the crime scene, they have largely remained unable to probe the case.
Police officials claimed that a new weapon, without having any previous criminal record, was used in the targeted attack. Ahle Sunnat Wal Jamaat's Karachi-based leader Aurangzeb Farooqui was nominated in the murder case registered at the Sir Syed police station but the police have yet to arrest him saying that investigation was in its preliminary stage.
Zaki had been quite vocal against extremist elements and had started a campaign against Lal Masjid cleric Maulana Abdul Aziz when the latter refused to condemn the December 2014 Peshawar school attack. The editor of the blog, 'Let Us Build Pakistan', and a former broadcast journalist, he had been actively campaigning against sectarian violence as well.
After Friday prayers, different organisations, including the Majlis Wahdatul Muslimeen (MWM) and Shia Ulema Council (SUC), staged protests outside various masjids and imambargahs in the city. The major protests were held outside Khoja Masjid in Kharadar, Darbar-e-Hussain in Malir, Noor-e-Imaan Masjid and Masjid alMustafa. Apart from these protests, the organisations also held rallies in different parts of the city.
The participants held banners and placards, and shouted slogans of 'Shia-Sunni unity'. They condemned the government's failure to curb sectarian violence in the country.
"The fresh wave of sectarian violence in the city is a question mark on the government's performance," said MWM leader Allama Baqar Abbas Zaidi while addressing the participants outside Khoja Masjid. "These recent acts of terrorism are a conspiracy to make Operation Zarb-e-Azb and National Action Plan a failure." The leaders and the participants also demanded that all the cases of attacks on members of the Shia community should be tried in military courts.
"Despite having an intelligence network in Karachi, the terrorists are able to succeed in their activities," said SUC leader Allama Nazir Abbas. "The arrest of the Zaki's killer is a test case for the government and the law enforcement agencies."
Source:
http://tribune.com.pk/story/1102898/hear-our-voices-activists-demand-justice-for-khurram-zaki/
Comments
comments