HRW urges prosecution of Khurram Zaki's killers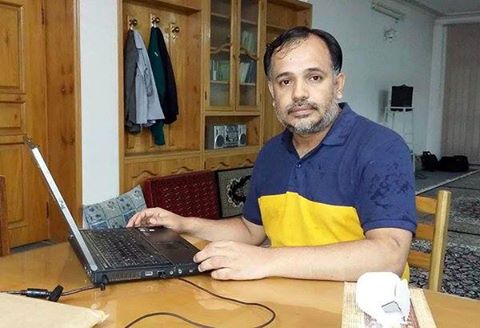 NEW YORK – A prominent international human rights watchdog body has called on Pakistan to conduct a "prompt and impartial" investigation into the killing of human rights activist Khurram Zaki and appropriately prosecute those responsible.
On May 7, four unidentified gunmen opened firing at Zaki at a restaurant in Karachi, killing him and injuring two others.
"A thorough and impartial investigation with proper witness protections is absolutely critical to ensure those responsible for Khurram Zaki's death are brought to justice," Brad Adams, Asia director of New York-based Human Rights Watch, said in statement on Tuesday. "It's appalling that activists who are at the forefront of opposing violence by militant groups should themselves become targets."
The Hakeemullah group, a relatively unknown faction of the Pakistani Taliban, claimed responsibility for the murder,stating that Zaki was targeted because of his stance against extremist cleric Mulana Abdul Aziz.
However, the Pakistani authorities and others have expressed skepticism at this claim.
On May 9, the police registered a criminal case against Abdul Aziz, Aurangzeb Farooqi, a leader of the anti-Shia Ahle-Sunnt-Wal-Jammat (ASWJ), and the unidentified gunmen.
Abdul Aziz has been acquitted in several criminal cases in the past because witnesses recanted their statements.
The authorities have accused Aziz of abducting Chinese nationals working in Pakistan, inciting supporters to commit violence against State functionaries, targeting security officials and extending support to the extremist group Islamic State (ISIS).
"The Pakistan govt has failed to take a clear stand against intimidation and violence by militant groups or defend the right to freedom of expression," the Human Rights Watch said.
The censorship of documentaries and critical comment on violence by sectarian groups makes a few people who express their opposition more vulnerable, it said.
"Zaki's murder highlights the unacceptably dangerous climate that human rights defenders face across Pakistan," Adams said.
"The Pakistan govt needs to protect rights activists and promote an environment where they can carry out their work free from threats, attacks and intimidation," Adams said. "It is crucial for the authorities to stop ignoring militant groups and clamp down on those behind the violence".
Source:
http://nation.com.pk/national/12-May-2016/hrw-urges-prosecution-of-khurram-zaki-s-killers
Comments
comments