Aisha Ghazi, the reincarnation of Deobandi terrorist Aafia Siddiqui in the UK
posted by Z |

May 10, 2016

| In Featured, Original Articles
طالبان، سپاہ صحابہ، القاعدہ اور داعش کی حمایت میں سرگرم برطانیہ میں مقیم خاتون دہشت گرد کا انکشاف
ملزمہ عائشہ غازی دیوبندی کا تعلق جماعت اسلامی لشکر جھنگوی کے سوشل میڈیا سیل سے ہے، ملزمہ شمس الدین امجد اور انٹرنیشنل پروفیسر نامی خوارج کے ساتھ مل کر عام اہلسنت مسلمانوں کو تشدد پسند دیوبندی اور سلفی وہابی نظریات، تکفیری خارجیت اور دہشت گردی کی طرف مائل کرتی ہے، ملزمہ لشکر جھنگوی کے فیس بک پیج مشعل، وار اگینسٹ لبرلز، جماعت اسلامی پاکستان آفیشل اور اہلسنت والجماعت سے وابستہ ہے
ملزمہ عائشہ غازی دیوبندی شام، عراق اور فلسطین کی ایک خاص طرز کی تصویریں شیر کر کے سنی صوفی، بریلوی اور شیعہ مسلمانوں اور مسیحیوں کے خلاف دیوبندی اور وہابی جوانوں کو تشدد کی تحریک دیتی ہے اور سوشل میڈیا پر برین واشنگ کے ذریعہ سے فرقہ وارانہ دہشت گردی تشکیل دے رہی ہے
تحقیقا تی ادارے ملزمہ عائشہ غازی دیوبندی کا موازنہ گرفتار دیوبندی دہشت گرد عافیہ صدیقی سے کر رہے ہیں جس نے کابل اور لاہور میں اہلسنت مزارات مقدس پر حملوں کے لئے مائنڈ سیٹ تیار کرنے کے لئے سنی بریلوی اور صوفی عقائد کو بدعت اور شرک قرار دیا تھا
یاد رہے کہ ملزمہ نے ہٹلر کی حمایتی عورت کی حمایت میں پوسٹیں لکھیں اور اس کے علاوہ اورلینڈو قتل عام سے پہلے دیوبندی خوارج کو ہومو فوبیا کی طرف بھی مائل کیا اور لندن کے نو منتخب میئر صادق خان کے خلاف ہومو فوبک الزامات لگائے
Aisha Ghazi is a Pakistani Deobandi Islamist based in the UK who is active in social media with an agenda to radicalise ordinary Sunni Muslims to violent Deobandi ideology.
She has links with social media team of the Jamaat-e-Islami Pakistan (JIP) and Sipah-e-Sahaba Pakistan (SSP). The SSP is a Deobandi militant outfit also known as Ahle Sunnat Wal Jamaat (ASWJ) and Lashkar-e-Jhangvi (LeJ). The SSP/ASWJ/LeJ is a proscribed outfit not only in Pakistan but also in the US and UK.
In Pakistan, there is a social media cell of SSP, in collaboration with Jamaat-e-Islami, which operated the pro-Taliban, pro-Osama bin Laden Facebook page Mashal. Aisha Ghazi is an active member and promoter of Mashal and the wider social media team of Jamaat-e-Islami and SSP/ASWJ/LeJ.
On 7 May 2016, Pakistan's leading human rights activist Khurram Zaki was killed by Deobandi militants in Karachi. Only a few weeks before that, on 1 April 2016, Aisha Ghazi, who also operated a number of Twitter accounts and Facebook pages with various handles had circulated a forged Facebook status and attributed it to Khurram Zaki. The fact is, Khurram Zaki had never written such status nor posted it. By circulating such provocative and sectarian status attributed to Zaki and also indulging in hateful propaganda against Sunni Sufi and Shia Muslims as well as against Christians, Hindus and Western countries in general, Aisha Ghazi is currently a part of global Al-Qaeda / Taliban / ISIS / Jamaat-e-Islami social media activism to provoke and radicalise ordinary Sunni Muslims to violent Deobandi and Salafi Wahhabi ideologies. As a result of such provocations, Khurram Zaki was martyred on 7 May 2016  and there are other numerous systematic attacks on Sunni Sufis, Shias, Barelvis, Ahmadis and Christians in Pakistan at the hands of Deobandi militants variously known as the Taliban (TTP), SSP/ASWJ/LeJ, and Jamaat-e-Islami.
Aisha Ghazi is also said to have links with Sahibzada Zia ur Rahman Nasir, a local leader of SSP/LeJ in Manchester who openly provokes Deobandis and Salafis/Wahhabis on social media against Sunni Sufis, Shias and Ahmadis.
Evidence of her hateful and violence inciting messages on Twitter and Facebook is provided below in the shape of screen images.
It is hight time that the law enforcement agencies in the UK monitor social media activities of Aisha Ghazi and all other members of the Jamaat-e-Islami Pakistan and take legal measures against them.
All readers are urged to forward a copy of this post and the link (wth screenshots) to your local Member of Parliament and the Police to monitor this UK version of the convicted Deobandi terrorist Dr Aafia Siddiqui.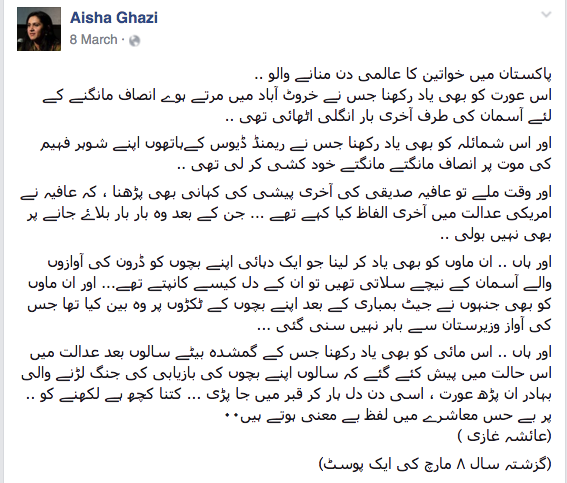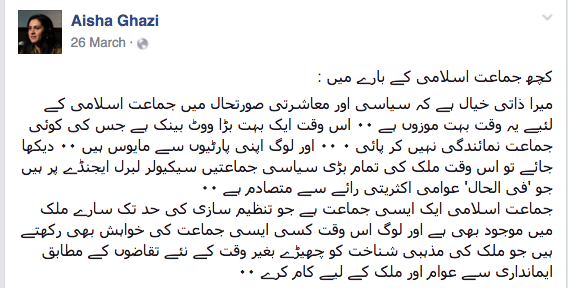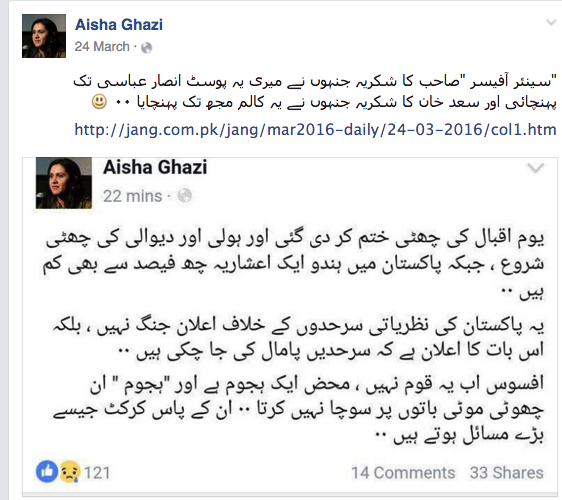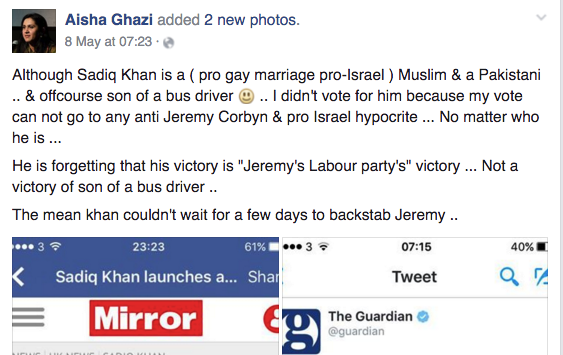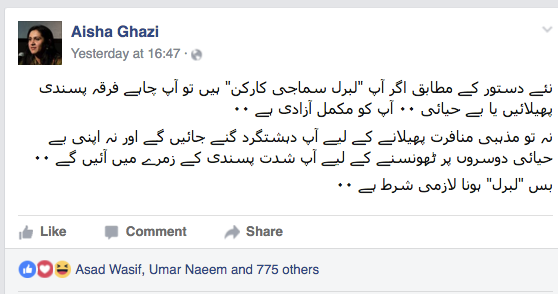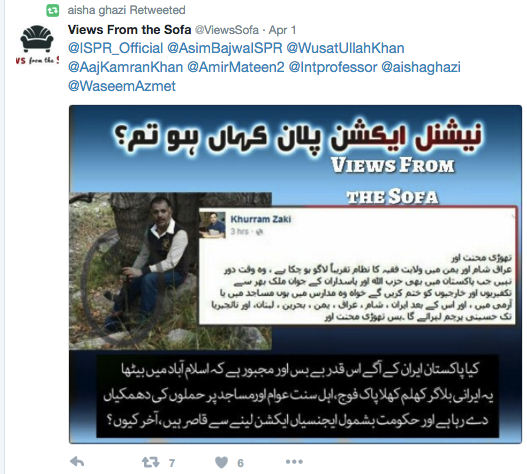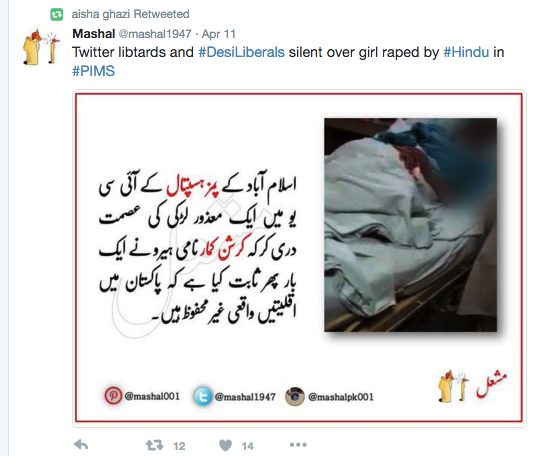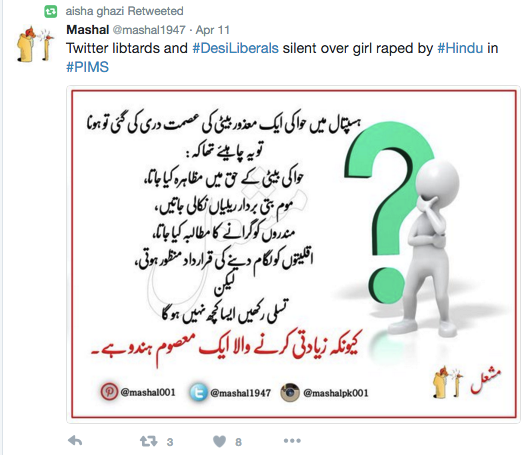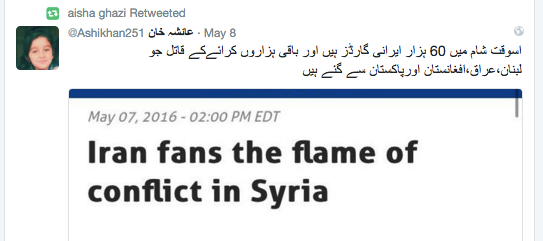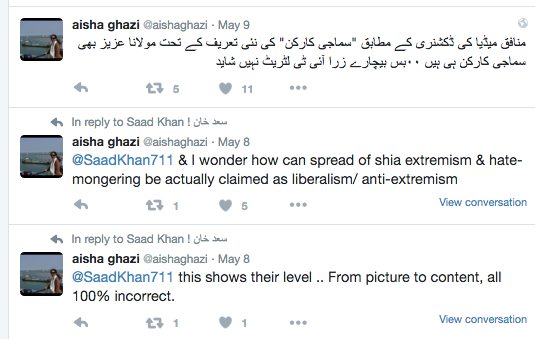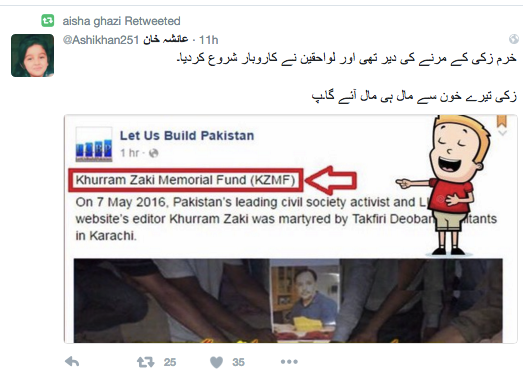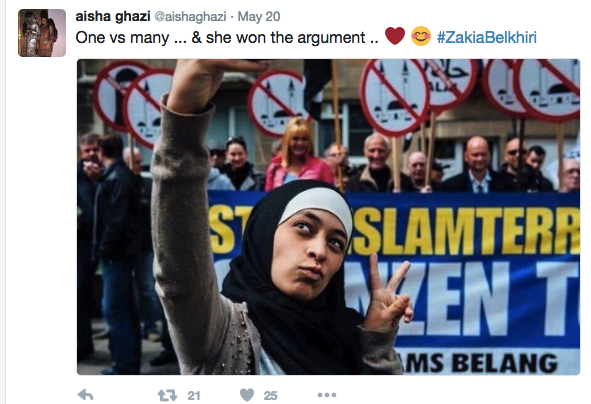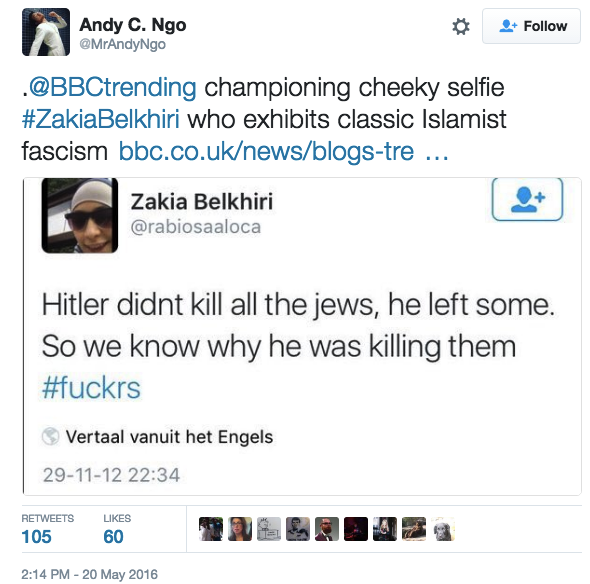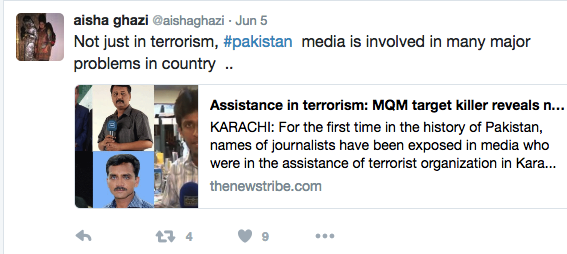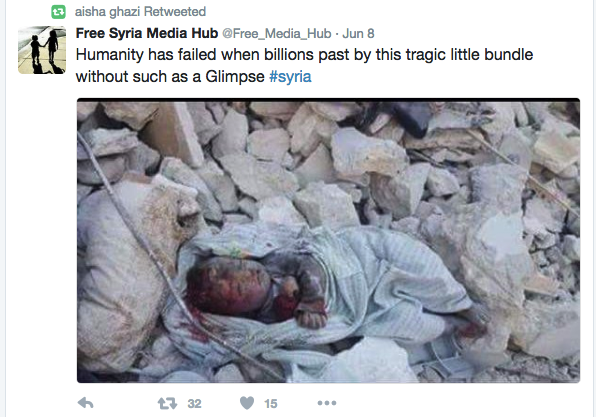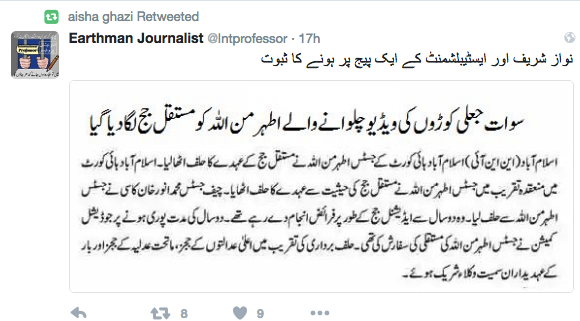 Comments
comments