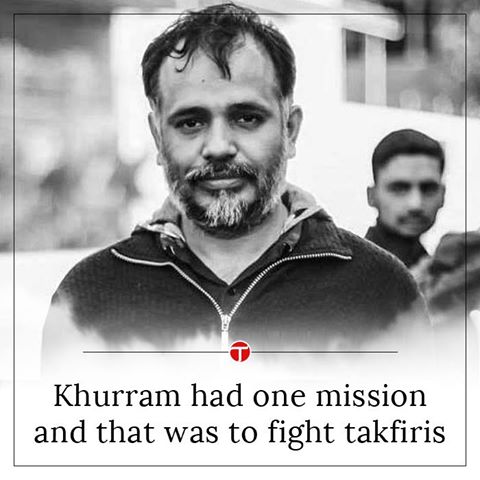 A few weeks ago, it was the death anniversary of Sabeen Mahmud. This week it was the death anniversary of Rashid Rehman. And yesterday, Pakistan lost another one of its courageous citizens. A rational voice in this increasingly radicalised, emotionally charged and bigotry-driven society, Khurram Zaki, a journalist, and a human rights activist, was murdered by unknown assailants on Saturday night. The common aspect among these three was their courage — their courage to speak up, to speak up for human rights, against elements radicalising society, against fundamentalism and sectarianism, to at least start a discourse about topics no one dares to discuss, and for society to reclaim its space from religious bigots. Unfortunately, Pakistan failed them.
The culture of radicalisation and suppression of voices is horrifying, but people have been living in ignorance for decades now. The aftermath of the draconian laws of General Zia-ul-Haq's regime still affects Pakistan, and but the culture of radicalisation has slowly but steadily become entrenched in society. A culture of intolerance has instilled fear in society, fear that allows hatemongers to spread intolerance and bigotry without any consequences. It is this fear due to which Pakistanis as a society have lost their space to religious fanatics in the first place. It is this fear that suppresses rational voices. And if someone braves this fear and questions the hateful narratives of fundamentalism, radicalism, and sectarianism, they face the severest of consequences. Zaki's 'crime' was that he raised voice against widespread sectarianism. He campaigned against those clerics against whom even government hesitated taking any action. He called on civil society to come out of their ignorance and claim their space.
A faction of the Tehreek-e-Taliban Pakistan has claimed the responsibility of Zaki's murder, stating that he was campaigning against the chief cleric of the Lal Masjid, Maulana Abdul Aziz. This is the same cleric who had threatened to launch suicide bombers across the country in case any action was taken against him. Even then the interior minister, Chaudhry Nisar, on the floor of parliament, had said that government could not arrest Maulana Aziz without a case, although an FIR had been registered against him. Zaki, along with other civil society members had campaigned against Maulana Aziz, and forced the judiciary to take action against him.
The situation is alarming especially in the context of recent deaths of activists and bloggers in India and Bangladesh. There is an urgent need to take steps to de-radicalise Pakistani society. After the Army Public School attack in 2014, government, and opposition parties unanimously agreed to take measures in this regard yet nothing substantial has been achieved so far. The National Action Plan has not been implemented in its true sense. Fundamentalism cannot be rooted out of society merely by military operations; efforts at a societal level are required to change traditional narratives. Society has to wake up from its ignorant slumber, and stand up against bigots. Killings of human rights activists will not stop until the entire society stands up to claim its space and starts discussing issues long subdued by a culture of silence. Until then, there would be no end to suppression of rational and progressive voices in Pakistan.
Source:
http://dailytimes.com.pk/editorial/10-May-16/the-murder-of-khurram-zaki