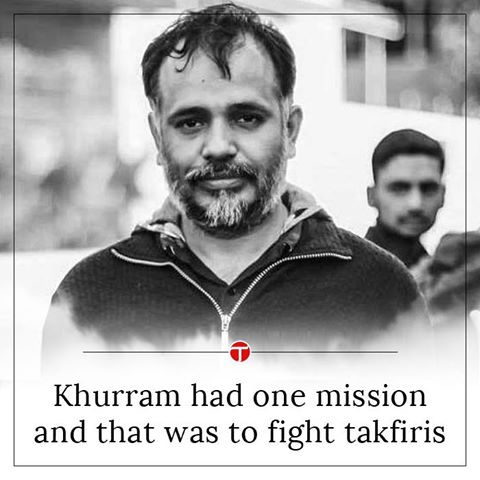 Countless tributes from all over the world have poured in to show their solidarity for the martyred LUBP editor, Khurram Zaki.  From CNN to the Hindustan Times and The Nation, many of these tributes and articles of support have been clear on Khurram Zaki's Shia Muslim identity and his editorship of LUBP.  Some of them have also highlighted the Takfiri Deobandi identity of Aurangzeb Farooqi, Moulvi Abdul Aziz and Shamusuddin Amjad – the Troika that murdered Khurram Zaki.
This article by Suleman Akhtar is not one of those informative ones.
This article by Suleman Akhtar skips on these crucial details and like some of his more recent articles for DAWN and ET, substitutes self-indulgent emotionalism and omits crucial facts.  Suleman Akhtar, a former contributor to LUBP has long ago expunged that part of his resume and in keeping with Express Tribune's anti-LUBP policy, has now expunged the crucial fact that Khurram Zaki was the editor for LUBP. His article is in line with a section of those commercial liberals who either betrayed, ignored or maligned Khurram Zaki and LUBP while Zaki was alive but now want to join the bandwagon when he is dead. 
"Dead men can't talk," Malik Ishaq — leader of militant group Lashkar-e-Jhangvi — told Fida Hussain Ghalvi and three other men who testified against him during a trial in the presence of a civil judge.
Ishaq had been charged with killing 12 members of Ghalvi's family at a majlis in 1997. During the trial, eight more people linked to witnesses were killed. Ishaq was acquitted in 2011 because of a lack of evidence.
Ishaq was wrong.
When the living refuse to speak, the dead talk. They really do.
When language bows down, silence speaks.
When gods of valour perish, the goddess of endurance takes up the flag.
When the breathing world stands on the sidelines, the ruins of Auschwitz wail.
And, the dead did talk. Under the cruel skies of Quetta, cloaked in sanguinary white shrouds, in the midst of the heartless winter of 2013, they talked.
They talked from the steep lifeless hills of Mastung, from the ruins of Abbas Town in Karachi, from the picturesque mountains of Gilgit, from the bazaars of Shikarpur, and from the blood-stained classrooms of Peshawar.
They talked in such divine silence that the howl of their agony echoed through the collective consciousness of the people; the living had to listen.
Khurram Zaki was one of very few who made us pause to hear the voices of the dead.
He was killed in Karachi on Saturday. A human rights activist, a blogger and a religious scholar, above all, he was a good listener; a listener of the tales told by the dead who were sometimes killed because of their identity, sometimes for speaking the truth, sometimes as collateral damage, and sometimes for no reason at all.
He dedicated his life to keeping these voices resounding. He would light a candle, post a Facebook status, take up the megaphone at some square and appeal to us, arrange a sit-in, hold up a mirror to the authorities, etc.
In any other country, a person taking part in these kind of activities would be called an activist. In Pakistan, a person doing the same would be courting death.
Khurram Zaki was in the media limelight alongside his comrades when they managed to get a case registered against Lal Masjid cleric Maulana Abdul Aziz for inciting hatred against Shia Muslims.
He was very vocal about his views against Lashkar-e-Jhangvi and other militant groups that have been targeting the Shia community in Pakistan in the recent past. A faction of the Pakistani Taliban, the Hakeemullah group, claimed responsibility for the attack saying Zaki had been targeted for his stance against radical Lal Masjid cleric Abdul Aziz.
Interior Minister Chaudhry Nisar gave a statement in the National Assembly in December last year that Abdul Aziz could not be arrested as no cases were registered against him. He was heavily criticised afterwards for misleading the House.
The statement speaks volumes about the resolve of the state to counter the menace of extremism and militancy.
This is exactly the state of affairs Zaki was trying to challenge from within. He criticised the implementation of the National Action Plan in Karachi time and again, pointing out the inconsistencies and unfairness in its implementation.
He spoke out against the recent killing of MQM worker Aftab Ahmed in Rangers' custody. He had always been vocal about the inaction of the state against certain militant groups and their leaders.
Zaki shouldered Sabeen Mahmud's coffin when she was killed in April last year. Sabeen, like Zaki, was a voice for the voiceless. She had to be silenced.
And now it was Zaki's turn.
They kill those who speak about the killed ones; and then kill those who speak about the killed ones who spoke about the killed ones before them.
Some call it violence, some call it militancy. It is neither.
It is madness, a vicious cycle of raw madness that is Pakistan's new normal.
Zaki would not have been killed if he wasn't a brave man. He would still be alive if it were not for the tales of the dead he told us.
Who will dare to tell Khurram Zaki's tale?
Source: