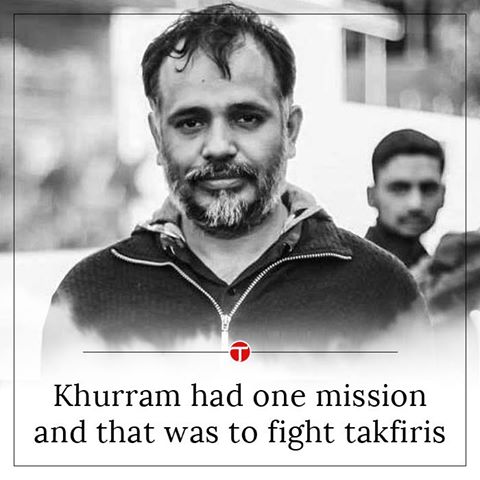 Another day, another life lost. Khurram Zaki, 40, who was murdered in a cowardly act in North Karachi late Saturday night was a man who lived by his principles and led a fearless life, waging a struggle for a liberal, secular Pakistan.
Two years ago on the same day, lawyer and human rights activist Rashid Rehman was gunned down in Multan while around two weeks ago, activist Sabeen Mahmud's first death anniversary was observed. Both of them, as well as Khurram, were striving for a better Pakistan.
With Khurram's demise, the progressive narrative has lost one of its most vocal proponents.
The civil society activist whom the 'trouble-makers' despised was an example of modesty as he wouldn't think twice to sit at a tea shack while having a debate on theology with his legion of mentees, despite the threats he had been receiving lately by extremist groups.
It was the night of February 4, 2015, when Khurram and his comrades from various groups, including National Students Federation (NSF), Karachi, had decided to hold a protest outside the Chief Minister House as the provincial government had allowed the banned Ahle Sunnat Wal Jamat (ASWJ) to organise a Kashmir Day rally in the metropolis.
"Hey, young man, you have long legs. Are they for running fast? Will you be running away tomorrow when the extremists face us?" he asked one of the many activists who had gathered to plan the protest.
"Sir, I am your disciple. Let's see tomorrow if I am brave enough to stay on my feet or not," came the reply from the young man.
The next day, Khurram, along with others, was arrested outside the CM House.
A day in lock-up could not dent his determination to fight against the oppressors and be with the oppressed.
Perturbed by the rampant extremism and its sympathisers in his beloved country, who had refused to condemn the barbaric attack on the Army Public School in Peshawar, his next destination was Lal Masjid where he protested against the controversial Maulana Abdul Aziz, calling for his arrest in December last year.
Once again, he faced the state's wrath for fighting for a progressive Pakistan. Khurram was arrested —dragged by his collar into a police van, his daughter crying but with her father-like valour on her face.
Khurram once narrated to me that he had one mission and that was to fight takfiris.
While working on a story around five months ago, a former member of a banned militant organisation shared with me how his life turned upside down after he became acquainted with Khurram.
"He would come to my area — which was too risky for him — and would sit with me on a charpoy and try to convince me to abandon the past and stop working against minority groups," he said, adding that it worked.
"He changed me. I am with all those who want a country where we can live together despite our differences, which is the beauty of religion," he claimed. In his short life, Khurram managed to 'change' many people like him; and had he not been silenced, he may have won over enough people to 'build a better Pakistan'.  The fallen hero is survived by two sons, a daughter and two wives.
Source:
http://tribune.com.pk/story/1099514/obituary-in-memory-of-a-fallen-comrade/