Shia genocide continues unabated in Pakistan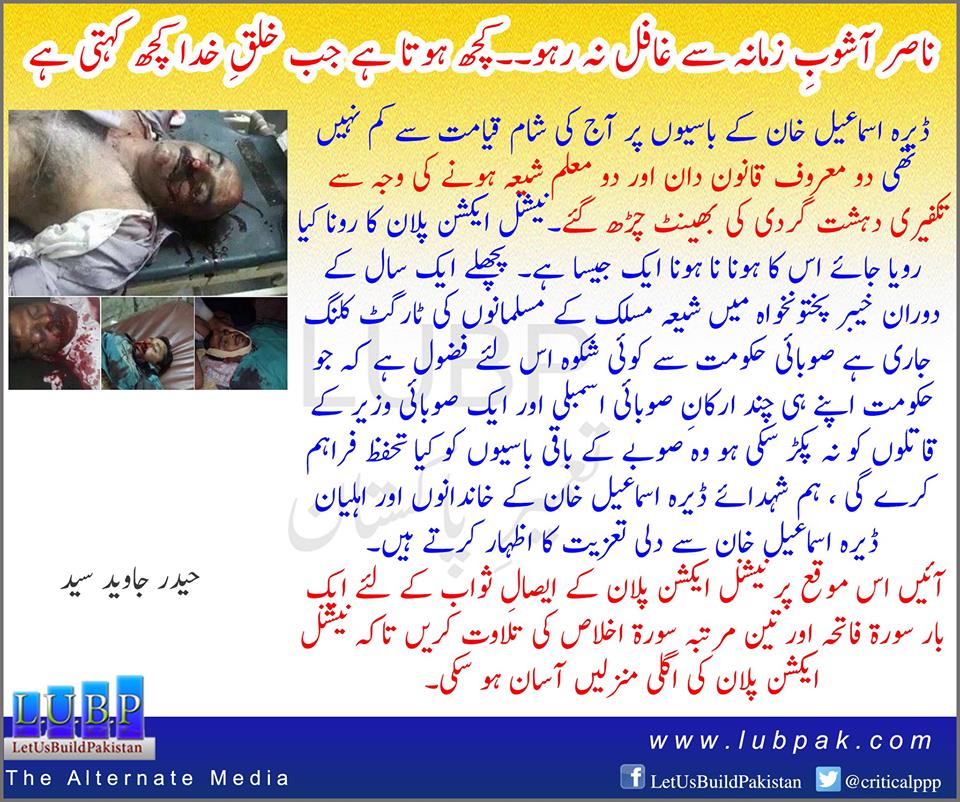 Yes, this is the image of Four more Shia Muslims killed in cold blood in Khyber Pakhtunkhwa. In the last 6 weeks alone, this tally includes 1 doctor female), 2 advocates/lawyers and one educationist amongst 10-12 other Shia Muslims – killed in Khyber Pakhtunkhwa province alone. It does not include Shias killed in other parts of Pakistan such as the 4 who were massacred in the last month including a Physics medallist scholar.
Last week a Shia lady doctor Zainab was killed along with her father in law Sabir Hussain, who was a famous Hindko poet and a writer.
I see many (Sufyani) liberals whose only outrage is reserved for when Shias engage in their annual symbolic flagellation – the same "liberals" are least bothered when ISIS-affiliated terrorists from banned Deobandi groups like Sipah Sahaab Taliban (aka ASWJ-LeJ) are engaged in their routine genocide of Shia Muslims in Pakistan.
Few if any of these "liberals" express unqualified and unequivocal outrage to condemn #ShiaGenocide. Most often there are the typical "ifs" , the oblique apologist arguments and the routine obfuscations. For instance, #ShiaGenocide in Balochistan is often obfuscated in ethnic terms even when the Sipah Sahaba killers celebrate this genocide with anti-Shia songs in public stadium gatherings!
Instead of blaming the Shia victims, as is often the case in Pakistan – will there be any blame or condemnation issued against the PTI provincial government of the KPK province? Against the Army? Against the PML N government that still protects and consorts with Sipah Sahaba leaders?
Where are the Pashtun nationalist voices? Are Pashtun Shias lessor Pashtuns?
The decades-old proclivity of Pashtun Shias to oppose the Taliban and other connected Jihadi terrorists has cost them thousands of lives. Those Pakistanis – including Pashtun nationalists – who take up every other cause for secular and liberal values – seem least bothered as doctors, educationists, lawyers and other professionals and Non-Taliban Pashtun Shias continued to be gunned down in the streets of KPK
Comments
comments