PCB should appoint Maulana Tariq Jameel as the Chief Spiritualist of team Pakistan – Shoaib Mir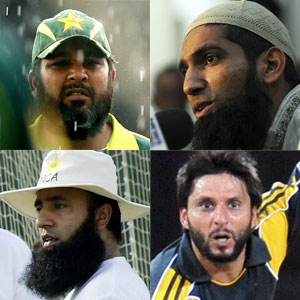 IT'S COMMON knowledge that during the last years of their careers, both Inzamam ul Haque and Mohammad Yousuf caressed their beards more times on the playing field than they would care to touch the cherry with either their bat or hands. As reported, they are going to be part of the new selection committee. Good.
IF YOU ADD Mushtaq Ahmed and Saeed Anwer, you will have a complete bunch of Tableeghi's invoking free divine blessings. One shouldn't be surprised if they put sporting a beard on premium rather than cricketing ability or fitness. So why not Maulana Tariq Jameel as the Chief Spiritualist of Team Pakistan?
ON A SERIOUS note, we have seen how this misplaced emphasis on religion has stunted our natural talent and the spirit of inquiry in every sphere of our public as well as private life. Religion doesn't go well with not just sports, politics, business, fine arts, education, discovery, creativity, technology, or what you have.
IT DOESN'T even mix with other religions, sects and denominations! Period.
Comments
comments