Penetration of extremist elements growing in QAU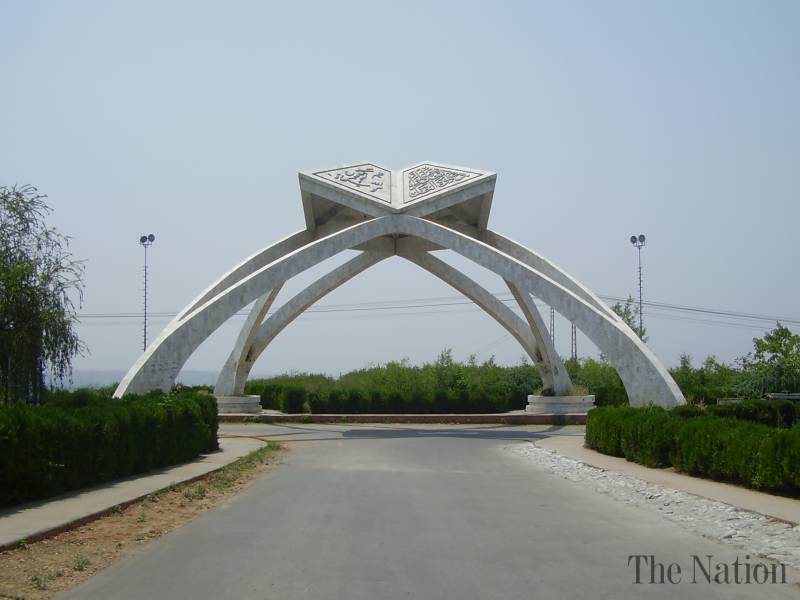 ISLAMABAD – Last week the students of Quaid-i-Azam University shut down the campus over patronisation of a student organisation with extremist ideology by a group of faculty members. Although after acceptance of demands and family pressure to stay away from political activities, the students called off strike three days later and normalcy returned to the campus, yet it left many concerned about the campus environment, once known as a progressive and liberal institute.

The teaching faculty and students fear the top ranked university will lose its candour soon if the influence of conservative and orthodox elements continues to grow. Some believe it already has lost it as the departments having majority of faculty with such ideology try to impose gender segregation. Some also tried to impose restrictions on students residing in hostels, especially girls, but it met strong resistance.

"Even the promotion cases are decided on sectarian basis and the prospective candidates who share the same ideology are given preferential treatment," said a faculty member on condition of anonymity to avoid any reprisal.
The students who have sympathies or inclination towards Islami Jamiat Talba (IJT), a student wing of Jamaat-i-Islami, are being obliged by different means, alleged different students while talking to The Nation. Even teachers having affiliation with IJT, who even do not meet criteria, have been deputed in various departments and they are unable to teach students properly, they claimed.

The students are radicalised by such faculty members or are sent to other areas of Khyber Pakhtunkhawa who consequently start to hate the campus environment, said a student who has been involved in campus politics and caught a glimpse of literature an IJT students had. "They are taught that the campus environment is un-Islamic and secular. They believe that it has been turned into a whorehouse and a clubbing place for drinkers and drug users," he said. After the strike some faculty members also gathered to discuss the ongoing situation. They agreed that the university administration must take some measures to stop such elements gaining grounds that not only has been affecting academic environment but is also a security threat for all. If the university administration does not wake up to the seriousness of the situation, the government must come into action, they viewed.

A few months ago some teachers had also written an anonymous letter to lawmakers to stop this institute from becoming another Islamic University of Islamabad and Punjab University of Lahore where IJT enjoyed strong hold. Last week intelligence agencies interrogated a student of Punjab University belonging to IJT after an incident of violence in the campus for having links with a banned organisation.

However, the faculty members and students having sympathies for the said organisation see nothing wrong in it.
Former Provost Dr Anwar Shaw, who was transferred to transport department by the administration on the complaints of students for openly preaching such ideology said the IJT is not a banned organisation even if the claims of the students are accepted.

"Actually I took some administrative measures to stop drinking and use of drugs in hostels that was not acceptable to a lobby and drug mafia that's why they want my removal," he said. "Such scuffles have occurred in the past too among students supporting opponent groups and ideologies. It's not a new thing, the students have affiliation with this organisation since 80s," he added.

"I teach the subject of economic comparative systems that is an approved subject and the followers of IJT are taught the literature of Maulana Maududi, an Indian-Pakistani Islamic scholar, that is taught everywhere," he said. "What's wrong in it if we teach students about the Holy Quran? We are not secular country and this is not a campus in Germany or America. If you say so, you are also going against the constitution," he added.

However, the university in its official response denied such assertions saying that there is no sign that student wing of any religious-political party or any extremist thought is gaining ground in the university. "The university does not support or recognise any student group based on religion or ethnicity. Furthermore, an efficient mechanism to investigate such complaints exists in the campus."

But Pervez Hoodbhoy, who has been associated with the Physics departments of QAU since 1973 and insisting for long about the growing influence of conservatives in QAU, does not agree to this.

Religious radicalisation is being promoted by some QAU faculty members who conduct private sessions after class hours and also preach in class, he said. "The mission of several teachers is not to teach their subject but to promote their religious ideology," he further alleged.

This is extremely dangerous, he said. "One former QAU faculty member belonging to this group had been arrested for organising the Parade Lane mosque massacre in 2009 that had killed about 40 worshippers. We know of many situations of young religious killers who studied at various Pakistani universities."

The influence of the religious groups on the campus is immediately evident today, he said, and has grown over the years. "When I started teaching at QAU in 1973, the atmosphere was open and free. Girls could show their faces, there was laughter and normalcy just the way it should be," he recalled. "But today a heavy sense of oppression overwhelms the campus. It has become a sin to show your face. I see a lot of fear and little open discussion."

If the government cares then it must reign in the advocates of such philosophy among the faculty, he stressed. "Else QAU will continue making recruits for banned organisations that want to make Pakistan a hell," he warned.
Source:
http://nation.com.pk/newspaper-picks/20-Mar-2016/penetration-of-extremist-elements-growing-in-qau
Comments
comments