ISIS claims responsibility for killing three cops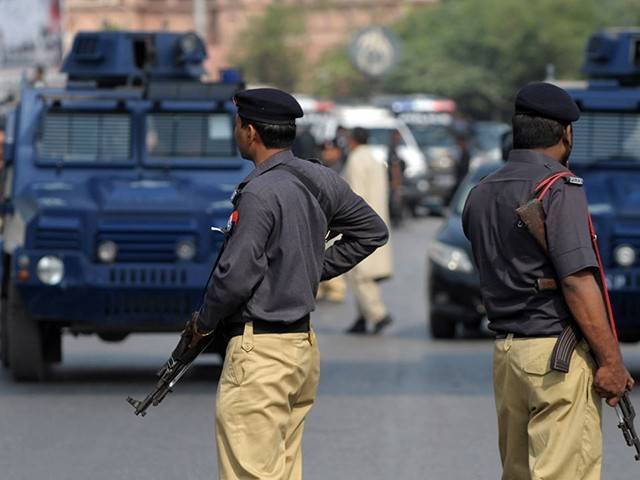 FAISALABAD: The self-proclaimed Islamic State (IS) has claimed responsibility for killing three Punjab Highway Patrol (PHP) men late on Friday near Meeranwala Bungalow Chowk.
An investigation officer (IO) told The Express Tribune on Saturday that police had found some IS pamphlets from the spot. He said the material was inscribed with a statement which read that a similar fate awaited those who collaborated with the infidels. The IO said police had seized over 40 such pamphlets from the site. He said those who had attacked a police van at the spot had planted the material there after perpetrating the killings.
Other law enforcement agencies have also inspected the pamphlets and are striving to pin down those affiliated with the IS across the district. Another IO told The Express Tribune that people affiliated with various religious seminaries and employees of religious outfits were being quizzed for possible IS links.
A police spokesperson told The Express Tribune that three PHP officials ASI Imran Liaquat, Constable Rafaqat and Driver Ishaq were on patrol in the Small Industrial Estate area when they were attacked by two unidentified gunmen riding on a motorcycle. He said the gunmen had fled from the spot after killing the PHP men.
A police team had reached the spot after being tipped-off. The bodies of the slain PHP men were then sent to Faisalabad's Allied Hospital's mortuary for autopsy. The funeral prayers of the martyred PHP men were later offered on Saturday at police lines. A large number of police officials including PHP AIG Arif, Operations SSP Irfanullah, CTO Sardar Asif among others were present on the occasion.
The Counter Terrorism Department (CTD) has registered an FIR of the incident following a complaint by Borewal PHP's Muhammad Nasir against unidentified suspects. An official from the CPO Office told The Express Tribune that special police teams had been constituted to nab the absconding suspects.
Source:
http://tribune.com.pk/story/1050977/islamic-state-claims-responsibility-for-faisalabad-policemen-killing/
Comments
comments