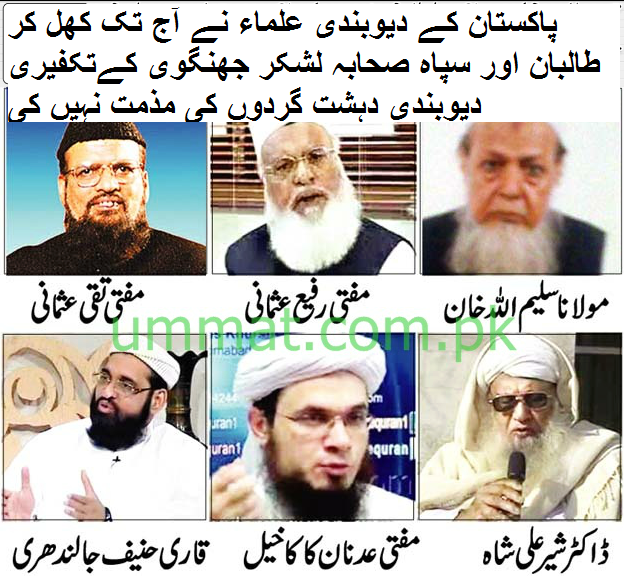 Jhang and the wedge of sectarianism
January 10, 2016
Despite having a profound understanding of the social situation of the district and an extraordinary political acumen, he failed to do anything worth mentioning which could ameliorate the lot of the poor and dispossessed. That was the typical feudal attitude which provided the pretext to the sectarian exclusionism among the Sunni majority. With the leftist movement having no trace in the entire region, the reaction against feudalism came in the garb of Sunni/Deobandi condemnation of Shiaism and its followers.
Source:
http://tns.thenews.com.pk/jhang-wedge-sectarianism-ii/
Pakistan seeks 'concrete evidence': Pathankot going way of 26/11 probe?
Hindustan times
Jan 09, 2016
"The JeM has a special relationship with the ISI because it shares a Deobandi affinity with the Afghan Taliban. It is important for the ISI in both Afghanistan and India. The Lashkar-e-Taiba will be the main group used against India but the JeM will also be kept in play," he said.
Source:
http://www.hindustantimes.com/india/pakistan-seeks-concrete-evidence-on-pathankot-air-base-attack/story-7Hlkz202Z0trVXj6qjEENO.html
Pakistan's Doing Can Be Its Undoing: Web Of Financial Terror In Sub-Continent – Analysis
Eurasiareview
January 9, 2016
As is evident, one of the dominant militant outfits of Bangladesh, Harkat-ul-Jihad-al-Islami Bangladesh (HuJI-B), a Deobandi group, is affiliated with the Pakistan-based HuJI, and was formed by 17 Bangladeshi mujahidin that returned from Afghanistan, allegedly with financial help from al-Qaida. Shahadat-e al Hikma (SAH) announced in 2003 that it planned to launch an armed struggle to turn Bangladesh into an Islamic state. It was promptly banned.
Source:
http://www.eurasiareview.com/09012016-pakistans-doing-can-be-its-undoing-web-of-financial-terror-in-sub-continent-analysis/
Expansion of Islamic State
January 09, 2016
Presently, Deobandi terror groups are giving way to Salafi/takfiri terror groups inspired by IS. Taliban splinter groups are announcing their support for IS and pledging allegiance to its so-called 'caliph', Abu Bakr Al-Baghdadi, and, more importantly, Pakistani terror organisations such as the Jamaatud Dawa (JuD) and Lashkar-e-Tayyaba (LeT), waging a jihad in Kashmir, are completely aligned with the same ideology that IS is propagating in Iraq and Syria.
Source:
http://www.dailytimes.com.pk/opinion/09-Jan-2016/expansion-of-islamic-state
How the Saudis Churn Out 'Jihad Inc.'
Date: 01.05.16
The Daily Beast
When I first arrived in Pakistan in the summer of 1983, I saw the first inklings of this ideology through a female cousin, a dear pen pal of mine. She was starting to get influenced by the Saudi Islamization of Pakistan, which started with the rise to power of General Zia ul Haq in 1977 and the radicalizing of U.S.-sponsored Afghan warriors into "mujahideen" fighting the Soviets with the USSR's invasion of Afghanistan in 1979. During that time, Salafi ideology cross-fertilized with a traditionally conservative ideology of South Asia called Deobandism. The Deobandi ideology is named for a village in my native state of Uttar Pradesh in northern India where the school is based, at the university, Darul Uloom Deoband, or "House of Knowledge Deoband." I have family members who studied there, and its ultraconservative dogmatism influenced my paternal and maternal lineage, with my mother, as a rising teen, having to wear the black face veil and burka, or gown. Militant Deobandism has become the ideology of the Afghan Taliban and Pakistani militant groups.
Back in the U.S., in the early 1990s, I got disturbing news one day from my mother that a cousin in Gaithersburg, Maryland—indoctrinated to extremist Islam through the Tablighi Jamaat, a missionary group founded outside Delhi as an offshoot of Deobandism—had taken his wife and children to India on a ruse and seized their passports, refusing to let them return to America. The story was he had seen a note from his daughter, indicating she had a crush on a white boy at school, and he didn't want his children "corrupted." They remained in India. Not long ago, one son returned to the United States. The daughter, a star college graduate in India, got married and lives in Saudi Arabia, wearing a full-face veil by "choice."
If the alphabet soup of names is confusing, that's because extremist Islamist ideologies, just like anything, are filled with competition, rivalries and power plays. One Facebook user takes a swath through the groups with this page: "We Sunnis Must Unite to Fight Wahabi/salafi/Deobandi Tablig jamat Terrorism."
In Karachi, I saw the face of the Deobandi militancy in the faces of the men who kidnapped my colleague from The Wall Street Journal, Danny Pearl. When I saw a police report on one suspect, on the line for religion, the police hadn't written "Muslim" or "Sunni" or "Shia." They had written "Deobandi."
Like the clue that I got when I saw the "like" for Al-Huda International, when I heard the name of the San Bernardino husband's mosque—"Dar Al Uloom Al-Islāmiyah of America"—my heart sank. I knew the husband was immersed in a very rigid Islam, akin to the Deobandi ideology that has cross-fertilized with "Salafi jihadists." With or without formal affiliation with the mosque in India, Darul Uloom Deoband, we know in our community that a "Darul Uloom" mosque follows a hyper-conservative Islam, connected to Deobandi or Salafi Islam, or both. Mosque officials didn't return messages seeking comment.
Source:
http://www.thedailybeast.com/articles/2016/01/05/how-the-saudis-churn-out-jihad-inc.html
Bangladesh's Ansarullah Bangla Team – Analysis
Eurasiareview
January 8, 2016
The ABT, due to its proximity with the Ansar ul-Islam, is believed to have linkages with the al-Qaeda. Ansar ul-Islam, formed by the followers of an Afghan Sufi preacher, Pir Saifur Rehman in 2004 to counter the Lashkar-e-Islam formed by Mufti Munir Shakir, a hard-line Sunni cleric who opposes Sufism, is one of the most violent factions of Pakistani Taliban and is part of the al-Qaeda network. While Rehman preached Brelvi Islam inspired by Sufism, Shakir advocated puritanical Deobandi Islam. The five ABT members who were arrested in March 2013 for murder of Ahmed Rajib Haider were praised on the al-Qaeda affiliated Ansar al-Mujahideen media website as 'five lions of the Ummah'. ABT translates al-Qaeda's works in to Bengali for their local audience.
Source:
http://www.eurasiareview.com/08012016-bangladeshs-ansarullah-bangla-team-analysis/
Pakistanis debate 'Saudi-isation' amid terror concerns
Farhan Bokhari
FT
December 29, 2015
Binoria is an Islamic school devoted to the Deobandi tenets of Sunni Islam, a conservative interpretation akin to the Wahhabi tradition practised in Saudi Arabia, and it is one of the institutions watched by western governments suspicious of links to Islamist violence and possible financial support from Saudi and other patrons in the Gulf.
A senior Pakistani official estimates that 80 per cent of the country's madrassas are Deobandi, and as many as 2,000 "are involved in violent activities".
Source:
http://www.ft.com/cms/s/0/a65d2616-a78b-11e5-955c-1e1d6de94879.html#axzz3wnHEmLyk
Army of Darkness: A Recent History Of The San Bernardino Shooter's Terror-Linked, Ultra-Orthodox Islamic Sect
Raheem Kassam
Brietbart
17 Dec 2015
The links, some say, are coincidental. But this hardline Deobandi sect has found itself on the front lines of domestic terrorism cases on too many occasions now for anyone to leave this unchecked. Some of their members are also known for duplicitous behaviour – even by fellow Muslims – an understandable tactic when you consider that the group is militantly evangelical, and regards proselytising in the name of its interpretation of Islam as its highest calling.
Source:
http://www.breitbart.com/london/2015/12/17/army-of-darkness-a-recent-history-of-the-san-bernardino-shooters-terror-linked-ultra-orthodox-islamic-sect/