The tension between Iran and Saudi Arabia has little to do with Sunni Shia sectarian differences – The Independent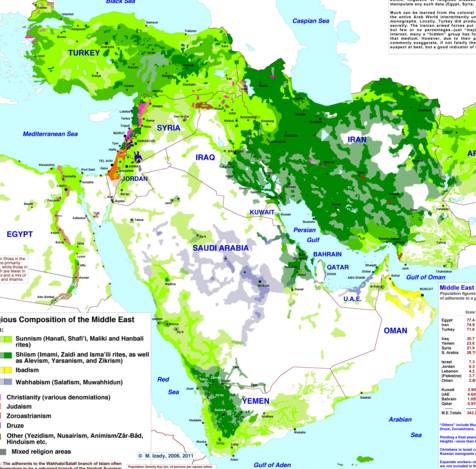 Saudi Arabia is nervous. The execution of the Shia political dissident Sheikh al-Nimr demonstrates that the kingdom has lost its cool. In the past, Saudi leaders were commended for their pragmatism. Today, the execution of al-Nimr exacerbates growing concerns about the direction of Saudi foreign policy.
In all the hotspots of West Asia and North Africa, Saudi Arabia is trying to contain Iranian intrusions. This rivalry resembles a Cold War, between two regional powers who vie for regional suzerainty, rather than a religious conflict. World politics is a secular and rather "godless" realm.
The idea that this competition is determined by an ancient Shia-Sunni divide is analytically flawed. For instance, Saudi Arabia has been entirely opposed to the Muslim Brotherhood, ostensibly the biggest Sunni movement in the Arab world, and it has supported the Sisi government in Egypt against them.
Iran, on the other side, supports movements that share its strategic vision, irrespective of their religious orientation. This is why the country has better relations with Christian-Orthodox Armenia rather than Shia majority Azerbaijan. In addition, Iran has close relations with secular-leftists governments in Latin America. The late Hugo Chavez used to be a great fan of the Islamic Republic and successive Iranian presidents praised him for his socialist policies.
This does not mean that religious ideas are not used for geopolitical purposes. In particular, Saudi Arabia has used the Sunni card to outplay Iran. The rather ad-hoc establishment of an "Islamic Alliance against Terrorism", which has failed to deliver any political or diplomatic dividend, is a good example. With this move Saudi Arabia tried to marginalise Iran and to claim leadership in the Muslim world. Pakistan and Lebanon were quick to opt out of the "alliance" exactly because both countries have good relations with Iran.
Governments act in accordance with what they perceive to be in their national interest, and not religious emotions. They are busy securing their power. Ultimately, anything goes to that end.
This geopolitical competition between Saudi Arabia and Iran is likely to flare up regularly until Iraq, Syria and Yemen are pacified. Saudi Arabia fears an Iranian led axis, which would connect Tehran, Baghdad and Sana'a to Beirut and Damascus in the Levant.
Moreover, Saudi Arabia is nervous about rapprochement between Iran and the United States. The nuclear agreement has been implemented smoothly and Iran has reopened high level channels of communication with Washington. The implementation of the agreement will bolster Iranian resources and enable them to play a prominent role in international institutions – the country already has re-entered into negotiations about WTO membership.
Therefore, it is that much more difficult for the Saudis to blame Iran for domestic upheavals in the region, which are driven by demands for democracy and human rights, rather than Iranian "imperialism".
Now that the embassies are closed and the diplomats are recalled, the channels of communication have to be reopened. The role of the United States and the European Union is central to that end. Both have the leverage to call for viable security architecture in the region.
Maybe it is time to speak about a regional Organisation for Peace and Cooperation in West Asia, comparable to the OSCE which helped to pacify Europe after two world wars. Given that our security is inextricably linked to the events in the region, it is in the interest of the European Union and the United States to initiate such a diplomatic strategy.
Source:
http://www.independent.co.uk/voices/the-tension-between-iran-and-saudi-arabia-has-little-to-do-with-religion-a6797476.html
Comments
comments