Worldwide condemnation of Nimr's execution, silence by Pakistani rights groups – Aamir Hussaini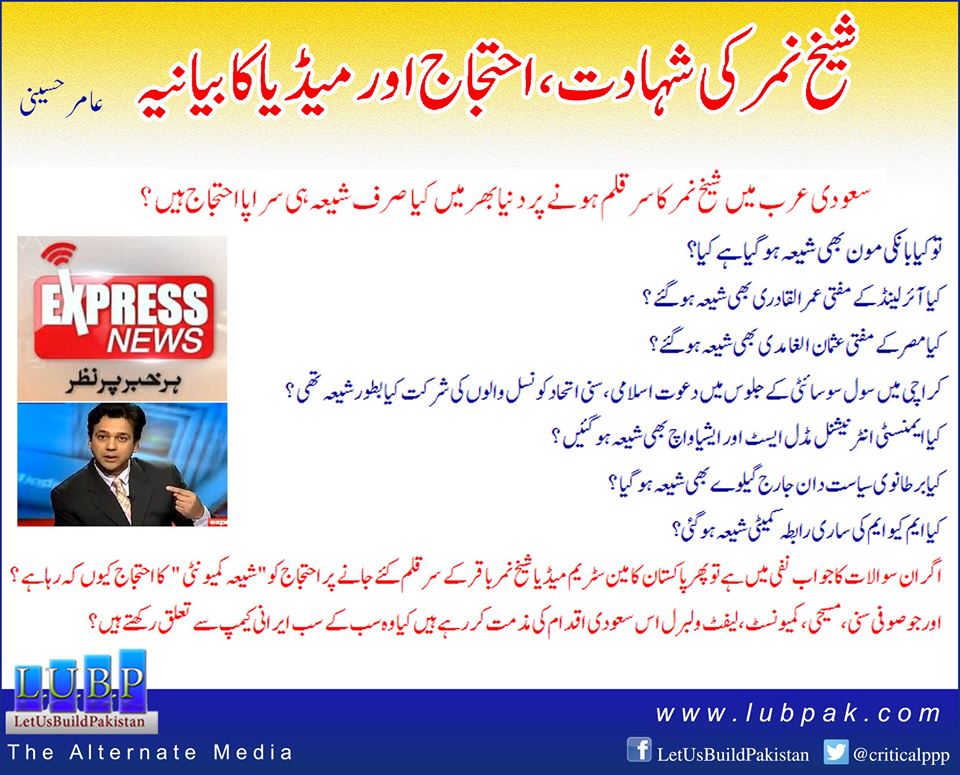 Are all these Shia voices?
In Pakistan Human Rights Commission for Pakistan ( HRCP), Awami Workers Party, Pakistan Peoples Party, ANP, NP and others still did not issue even single statement on this matter?
In Palestine, the Popular Front for the Liberation of Palestine (PFLP) in a statement condemned the killing of the prominent Muslim cleric, and said, "The execution of Sheikh Nimr al-Nimr shows that Saudi Arabia insists on pouring oil to the flames of sectarian sedition."
Prominent Sunni cleric in Iranian Baluchistan
Molawi Abdolhamid Ismailzehi, the Friday prayers leader of Iran's Southeastern city of Zahedan, expressed deep regret over Sheikh Nimr's execution, and said under the conditions that the Muslim world needs unity, the Saudi officials should have refrained from his killing.
http://katehon.com/…/world-muslims-rise-condemn-execution-s…
British Human rights activist Peter Tachell
Speaking on Sky News, leading human right campaigner Peter Tatchell called the Prime Minister's silence "utterly shameful". The veteran activist said: "In British government policy we're against Isis but allied with Saudi Arabia, it doesn't make sense and it's completely immoral."
Human Rights Watch
Saudi Arabia's harsh treatment of a prominent Shia cleric is only adding to the existing sectarian discord and unrest," said Joe Stork, deputy Middle East director at Human Right Watch.
My Foya
Maya Foa, director of the death penalty team at international human rights organisation Reprieve said: "2015 saw Saudi Arabia execute over 150 people, many of them for non-violent offences. Today's appalling news, with nearly 50 executed in a single day, suggests 2016 could be even worse.
Reference : http://www.ibtimes.co.uk/david-cameron-silent-calls-grow-uk…
Deputy Director of Amensity International for Middle East and north Africa.
This is part of campaig of Saudi Authorities to crush all dissent voices in Saudi Arabia.
ref : http://www.dailynewsegypt.com/…/saudi-arabia-executes-47-i…/
Dr John Andrew Morrow, a prominent Canadian Islamic scholar and author of The Covenants Of the Prophet Muhammad With The Christians Of The World, condemned the killing of Sheikh al-Nimr in the strongest of terms. He postulated:"The killing of non-violent political dissidents is prohibited in Islam. The execution of Shaykh al-Nimr represents another nail in the coffin of Saudi despotism. A nation that kills its own citizens, merely because they voice socio-political, economic and religious concerns, lacks all legitimacy, and has no place in the community of civilized nations that uphold civil and human rights."
Human Rights groups in Bahrain and Europe have joined Reprieve and Human Rights Watch in condemning the executions, describing them as "the most serious crime imaginable".
The European Centre for Democracy & Human Rights (ECDHR), Americans for Democracy & Human Rights in Bahrain (ADHRB) and the Bahrain Institute for Rights and Democracy (BIRD) released a joint statement which says they condemn the Saudi government's actions in the "strongest and most absolute terms". It also calls on the international community "to intervene in order to prevent any further bloodshed".
The executive director of ADHRB, decried: "The execution of Nimr is not only the most serious crime imaginable against a single person – it is also a crime against human rights, democracy, and human dignity … Saudi Arabia was able to commit the crime of executing Nimr because it felt the international community is silent on its gross human rights violations."
Comments
comments