Civil society members 'arrested' for protesting at Lal Masjid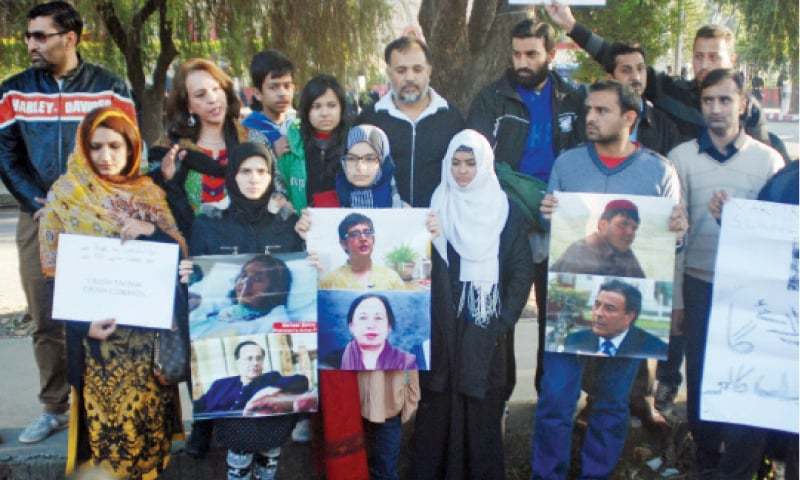 ISLAMABAD: Civil society representatives were picked up by police from Lal Masjid, where they were staging a protest, and shifted to a police station to avoid a standoff situation with the mosque's clerics that occurred last year, officials said.
Last year's standoff led to the registration of two cases, one against Maulana Abdul Aziz and the other against the protesters.
Officials of the capital police and administration said that Rangers and police contingents were also deployed in the area to avoid any mishap.
Initially, civil society representative Khurram Zaki met with capital administration officials where he was asked to inform officials about the protest. Officials said the protest was planned against Lal Masjid and its former cleric Abdul Aziz, who did not condemn last year's Taliban attack on the Army Public School (APS) in Peshawar, and demanded that action be taken against him.
Police, capital admin officials claim the protesters were removed to avoid standoff
They said Mr Zaki then left for the protest site accompanied by five others, including his wife and daughter, and reached Lal Masjid while Zuhr prayers were being offered at the mosque.
Police officials present at the location attempted to convince him to either move the protest away from Lal Masjid or delay it until people inside the mosque had left, officials said. They said the civil society members refused and were therefore taken to the nearby Aabpara police station.
They said that capital administration officials also tried to contact Mr Zaki on his mobile, and then attempted to contact his friends, including someone from Karachi who staged a similar protest last year.
Officials said that administration officials were later informed that Mr Zaki and five others were at the police station, at which point an administration official reached the station to inquire about the issue.
Officials said that Mr Zaki told the official that they had been arrested, but the police had informed the assistant commissioner that they were brought to the police station after being removed from Lal Masjid because prayers were being offered at the mosque and there was significant risk that a standoff may ensue.
"They were removed from there, but the administration official was informed that they were not arrested," officials said.
They said that the police station's records were also checked, but no evidence of their arrest was found. They said that the protesters left after staying at the station for about half an hour.
Meanwhile, Interior Minister Chaudhry Nisar Ali Khan took notice of the alleged 'arrest' of the civil society representatives, and according to the statement issued by the ministry, called for the suspension of those that arrested them.
The minister asked that the police officials be identified and suspended, and also asked for a report on the incident to be submitted to him.
When contacted, Mr Zaki told Dawn: "We were arrested and my wife was also manhandled."
He said the police had no case against them and did not elaborate on our crime when asked.
Mr Zaki claimed the civil society members were detained at the police station for an hour and a half before being released, at which point they returned to Lal Masjid to continue their protest.
"It seems people holding flags for Daesh and the Taliban can stand at Lal Masjid, but those carrying the national flag are not allowed a presence there," he said.
He claimed: "There are some people in government's ranks who do not want action against them."
He said Lal Masjid was chosen as the protest site because it has become a focal point for extremism and terrorism.
"Statements in favour of Daesh and the Taliban were issued from there."
"Last year, Maulana Abdul Aziz refused to condemn the attack on APS and also justified the act," he said.
He added that Mr Aziz's arrest warrant had already been issued but he had not been arrested. He added that the protest was staged to condemn the APS massacre, the Taliban, terrorists, their facilitators and Mr Aziz.
Source:
http://www.dawn.com/news/1226887
Comments
comments