Increasing power of Deobandi madrassas in Karachi.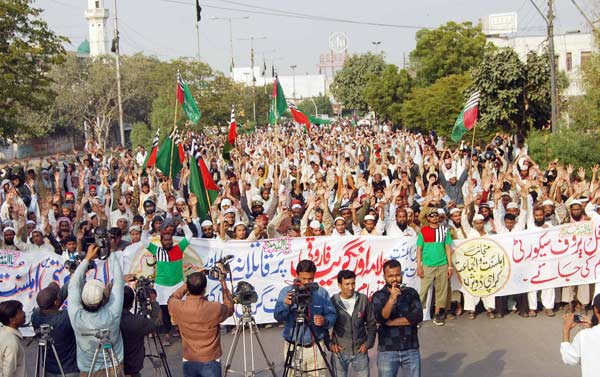 In a bid to extend the traditional influence they enjoy in local power circles, a number of religious seminaries, or madrasas, of Karachi have either fielded independent panels for the third phase of the local government elections or have come out in support of political parties vying for seats in their localities.
One such specific move was made by Mufti Muhammad Naeem, principal of the Jamia Binoria Al-Alamia, one of the largest seminaries of the Deobandi school of thought, on Thursday as he came out to publicly back the ruling Pakistan People's Party (PPP) and its candidates in the LG polls.
The declaration of support came after a PPP delegation, headed Senator Saeed Ghani, called on Naeem at his madrasa in Site Industrial Area just for the purpose.
In a statement issued by the PPP Sindh Media Cell later in the day, Naeem – who had supported the Muttahida Qaumi Movement in the 2008 general elections after then-mayor Mustafa Kamal visited Jamia Binoria – was quoted as saying that the decision to support the ruling party had been taken keeping in view the civic issues facing Karachi and the PPP's potential to resolve them.
Local political analysts seem to bang on the buck with their assessment that the PPP leaders' meeting with Naeem was largely aimed at mustering support for their candidates in the city's industrial areas.
One particular area was Metroville, they said, where PPP's union committee candidate Ali Ahmed, who is also being backed by the Awami National Party and Jamiat Ulema-e-Islam – Fazl (JUI-F), is up against the joint panel of the Jamaat-e-Islami (JI) and Pakistan Tehreek-e-Insaf (PTI).
Given the potential impact of Naeem's support, Dawa Khan Sabir, a PTI Karachi spokesperson who is contesting for the vice-chairman seat in Metroville, was less than thrilled with the influential preacher's move. "Mufti Naeem has no business interfering in local politics. He is a preacher and a religious teacher so that is what he should be focusing on."
Besides Jamia Binoria, a number of madrasas – mainly belonging to the Deobandi school of thought – have been active in the run-up to what will be the third and final phase of Sindh's local government elections.
In the Muslimabad union committee of District Malir, Madrasa Darul Quran, a prominent seminary headed by Maulana Tayyab, has fielded a panel comprising disgruntled ANP and PPP
leaders, having chosen not to support candidates of religious parties such as the JUI-F, JI and Ahle Sunnat Wal Jamaat.
This would also not be Tayyab's first foray into local politics as he had formed a panel for the 2005 LG polls and won by a convincing margin.
Similarly, in the Moinabad union committee of District Malir, Maulana Iqbalullah, principal of Jamia Usmania Taleemul Quran, one of the largest seminaries in Landhi, has formed an electoral panel comprising Pakistan Muslim League – Nawaz leaders and other local activists.
In other parts of the city, several madrasas have announced their support for political parties and independent candidates in their respective areas.
Explaining the trend
On the flipside, analysts who closely follow the political activities of religious parties believe that except Naeem, all key Deobandi madrasas such as Jamia Uloom Islamia in New Town, commonly known as Jamia Binori Town, and Jamia Darul Uloom Karachi in Landhi, avoid involvement in politics.
"It is their teachers and administrators who due to personal affiliations support election candidates. However, the backing is only at an individual, not organisational, level," Munir Farooqi, a journalist associated with a local daily, told The News.
Naeem and his madrasa administration, he added, were the more media savvy of the lot which was why they preferred to engage in political activities.
In the 2013 general polls, a group of teachers from Jamia Darul Uloom Karachi, after failing to persuade the JUI-F's candidate Maulana Ahsanullah Tikravi to withdraw in order to save the Deobandi vote bank from splitting, openly supported the ASWJ's candidate Maulana Aurangzaib Farooqi in the PS-128 constituency, where the seminary is situated.
Similarly, in the 2002 general polls, most seminaries from all schools of thought backed the electoral alliance of six religious parties, the Muttahida Majlis-e-Amal (MMA), which went on to win four National Assembly and six Sindh Assembly seats from Karachi. "The MMA's successes in Karachi are testament to the impact of support from these madrasas as they played a key role in the alliance's victory," said Farooqi.
Source:
http://www.thenews.com.pk/Todays-News-4-350899-In-Karachi-madrasas-eye-a-shot-at-greater-political-power
Comments
comments