102 Deobandi madrassas sealed for stoking sectarianism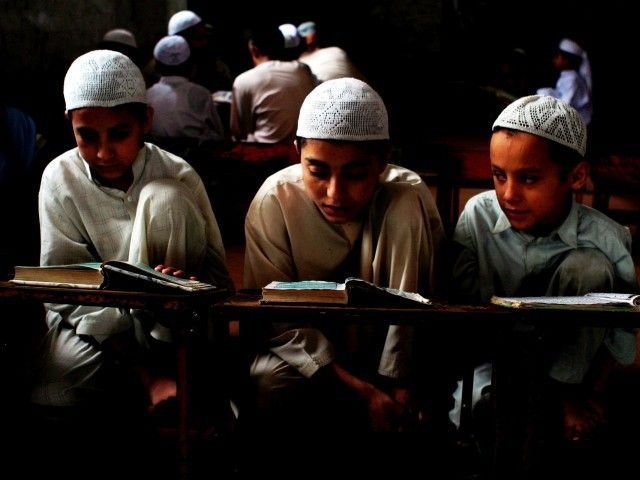 ISLAMABAD: The interior ministry told lawmakers on Wednesday that it has sealed 102 Deobandi seminaries for fanning extremism. Moreover, it has also frozen Rs1 billion in funds of proscribed militant groups.
The law enforcement agencies (LEAs) have sealed the seminaries for sponsoring terrorism or extremism, Interior Minister Chaudhry Nisar Ali Khan told the National Assembly in a written reply to a question raised by PPP MNA Shahida Rehmani.
This year, the government has closed down 87 madrassas in Sindh and 13 in Khyber-Pakhtunkhwa, he said. Two seminaries have been sealed in Punjab where a number of students were found in contact with banned groups. The LEAs have also identified 190 seminaries that receive funds from abroad.
Curbing terror financing
As part of the strategy to choke terror financing, the State Bank of Pakistan (SBP) has frozen Rs1 billion in 126 accounts linked to proscribed organisations. Further, the LEAs have recovered Rs251.2 million in cash which was being traded through Hawala and Hundi. The government also recovered Rs19.77 million from suspects involved in the 2004 'Chowk Yadgar Operation' in Peshawar.
Losses in War on Terror
Nisar said the war on terror has cost Pakistan Rs118.4 billion since 2001.
Replying to a question from PTI's Dr Shireen Mazari, he said Fata had suffered the most, with losses worth Rs68.5 billion. Sindh was a distant second suffering loss worth Rs16.5 billion. Khyber-Pakhtunkhwa has suffered losses worth Rs15 billion, while Punjab has suffered Rs13.4 billion in losses, he added. Balochistan has suffered losses worth Rs4.3 billion, Gilgit-Baltistan Rs358.1 million, and AJK Rs12.6 million.
Banned groups
The government has put 7,923 people in the fourth schedule in addition to including the names of 188 hardcore militants on the Exit Control List. Movement of 2,081 hardcore militants has also been restricted. Similarly, the government has registered 1,026 cases, while 230 terror suspects have been arrested.
Hate speech
One of the areas the government has focused on under the National Action Plan (NAP) has been to curb dissemination of hate speech and material. In this regard, 1,961 suspects have been arrested and 1,893 cases filed against clerics. Of these, 271 have been convicted while 826 cases are still pending before special courts.
The government, Nisar argued, had also cracked down against the misuse of loudspeakers. As many as 7,000 cases have been filed and 6,855 alleged hate-preachers arrested. Of them, 1,482 have been convicted of hatemongering on loudspeakers.
Karachi operation
About the surgical operation in Karachi, Nisar said the Rangers has arrested over 58,000 criminals. Of them, 9,570 were absconders while 630 were proclaimed offenders. Others apprehended during the operation included 1,731 murderers, 713 terrorists, 517 extortionists and 118 kidnappers. Security forces also recovered 15,612 illegal weapons during the operation.
Source:
http://tribune.com.pk/story/989768/counterterror-plan-102-madrassas-sealed-for-stoking-sectarianism/
Comments
comments