An insider's account of Tablighi Jamaat – by Riaz ul Hassan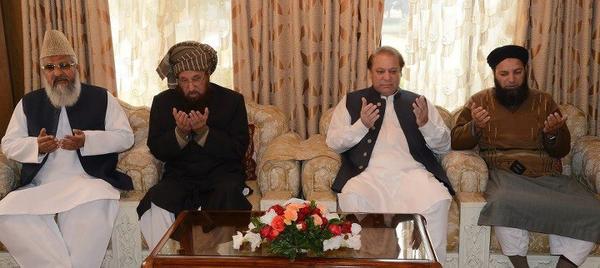 Nawaz Sharif, while he was prime minister of the country, attended a Tablighi congregation. At the congregation, he requested Maulana Omar Palanpuri, a Tablighi leader from India, to convince Sipah-e-Sahaba to give up its violent activities. "There should always be a hot wire along with a cold one to light up the bulb," came a polite reply. The prime minister was speechless
"Would you mind having some sweetmeats?" asked Shabbir.
He was Tablighi Jamaat's Naib Ameer in our neighbourhood.
"Well, why not," comes my father's reply.
"But, what are you celebrating Shabbir bhai?", adds my curious father. My father has been a life-time Tablighi.
"Today is the day of judgment for America. Haven't you heard about the falling towers yet? Mubarak! (Congratulations)." Shabbir bhai explains.
This is a dialogue from the morning on September 11, 2001. Same evening, I followed my father to Tablighi Markaz for monthly "karguzari" meeting [Activity Report Meeting]. Also, being a student at Deobandi seminary, Madrassa Zia- ul-Quran at Baghwali Mosque, I was a regular participant of Karguzari meetings.
The Markaz (centre) on the 9/11 evening was abuzz with cheerful reverberations of "Mubarak! Mubarak" while enthusiastic Tablighis were hugging and congratulating each other.
Founded in 1925-26, Tablighi Jamaat's founder Maulana Muhammad Ilyas Kandhalvi was a hardcore Deobandi cleric. His targeted audiences were Mewati Muslims, mostly of peasant stock. Himself a Mewati, he thought his kith and kin were digressing from Islamic path. In his view, Hindu religion and culture dominated Muslim peasants' daily routines. Ever since Tablighi Jamaat is striving to bring Muslims back to pristine form of Islam.
Kandhalvi was not the lone revivalist. Against the backdrop of declining Mughal empire and an emerging British Raj, many Muslim revivalists and reformists appeared on the scene to feed the waning Muslim identity in South Asia. Tittu Mir, Shah Ismail and Syed Ahmed were inspired by Muhammad ibn e Wahab. Rasheed Gangoohi, Ilyas Kandhalvi, Imdad ullah Muhajir Makki and Qasim Nanotvi's were more Indian-centric. Though the Deobandi faction originated against the backdrop of an armed struggle to resist British colonial occupation of India yet, decades later, it gave birth to an apparently peaceful Tablighi Jamaat. However, it is also important to note that Jaish-e-Muhammad, Harkat-ul-Jihad-al-Islami, Taliban, Sipah-e-Sahaba and Lashkar-e-Jahngvi are violent militant outfits with Deobandi orientation. This often raises doubts about Tablighi Jamaat's non-violent character. An anecdote I heard as madrassa student, goes like this: Nawaz Sharif, while he was prime minister of the country, attended a Tablighi congregation. At the congregation, he requested Maulana Omar Palanpuri, a Tablighi leader from India, to convince Sipah-e-Sahaba to give up its violent activities. "There should always be a hot wire along with a cold one to light up the bulb," came a polite reply. The prime minister was speechless.
I am not sure if Jamaat has assisted any Jihadi activity or not, eighty-five years down the line, Tablighi Jamaat has, however, become a refuge for apolitical South Asian urban poor and middle classes as well as South Asian diasporic Muslims. In Pakistan, it has witnessed a phenomenal surge in the last three decades. The Markaz, headquarter, at Raiwind for Pakistani chapter serves/receives thousands of devotees daily. I have been visiting Raiwind Markaz along my family and madrassa friends. Six years ago, during one such stay at Raiwind Markaz I heard a well known Tablighi Imam proudly claiming, "we have enough funds to feed the guests of God in golden plates". I know some of the Tablighi devotees lavishly funding Tablighi activities. They unscrupulously evade taxes. "Why pay taxes to an Un-Islamic state run by corrupt people" is a common refrain/excuse.
The Partition of India and Muslim migration to Pakistan, later on the diasporic spread of Indo-Pak Muslim community paved the way for Jamaat to establish itself on global scale. At present, the Jamaat operates in 156 countries and has around 100 million devotees. Jamaat's organizational structure is interesting indeed. Maulana Zubair ul Hasan and Saad Kandhalvi are Jamaat's central Ameers, operating from Basti Nizamuddin, a Delhi suburb. Every country usually has an Ameer and a Shura (consultative council) to run the Jamaat affairs. This Shura consist of senior members who have devoted their lives to Jamaat.
Similarly, every city and town has its Ameer and Shura. Every mosque in any city with Deobandi orientation or Jamaat affiliation has an Ameer responsible for Jamaat activities in the vicinity. At the regional headquarters, once in month while at central headquarter every day, parties of preachers returning from preaching missions, narrate their experiences and notable incidents during their trips. The feedback helps Shura make future plans. This practice is called Karguzari. All reports are documented.  In small as well as big towns, Thursday night is meant for sermon at the Markaz. Members are encouraged to spend Thursday nights at the Markaz. This practice is called Shab-e-Juma. Every senior Tablighi member is advised to go for Tabligh for seh roza (three-day preaching mission) a  month while four months a year should be devoted, ideally, to preaching missions. A daily Tabligh at the local mosque and a preaching round, or Gasht, in one's neighbourhood is also advised. During the Gasht, Tablighi team go door to door and invites people to prayers. Tablighi missions are dispatched within the country. These trips may last three days, ten days, forty days, four months or a year. Missions abroad are sent for seven months or a year.
Women's participation is also encouraged but they are not allowed to come to the mosque to say their  prayers. Like men, practicing female members must go on Tabligh for seh roza besides devoting fourteen days a year. During the travels, strict sex segregation is implemented. Even inside vehicle carrying the party of preachers, a think cloth is hanged to separate male and female travelling preachers.
However, the women can devote themselves for any given time period (3 days, 10 days, 40 days, 4 months, 7 months or a year) to travel inside the country. They can even go abroad for preaching. During these Tablighi trips, they are not allowed to publicly preach. Also, they cannot preach outside the boundaries of home they are hosted at. Women should preach women only. The person hosting the preaching women is always some senior Jamaat member. During the stay, male relatives of the host family are not allowed to enter the home. Only a son, real brother, father or husband can accompany the women preachers. Tablighi women should dress themselves with a head-to-toe covering. Children are usually not allowed to join the Tablighi missions.
At women's meeting, they gather and read either Fazail-e-Amal, a key Tablighi text, or Tablighi Nesaab (Preaching Syllabi), on basics of Islam. Men are advised to read these texts at Tablighi gatherings after prayer in mosques. Fazail-e-Amal was authored by Maulana Zekreya Kandhalvi, a relative of Tablighi Jamat's founder.
Source:
http://webcache.googleusercontent.com/search?q=cache%3ArCgctXAvt7YJ%3Awww.viewpointonline.net%2Fcomponent%2Fcontent%2Farticle%3Fid%3D1205%3Aan-insiders-account+&cd=1&hl=en&ct=clnk&gl=uk
Comments
comments