GB administration accused of allowing banned groups to collect hides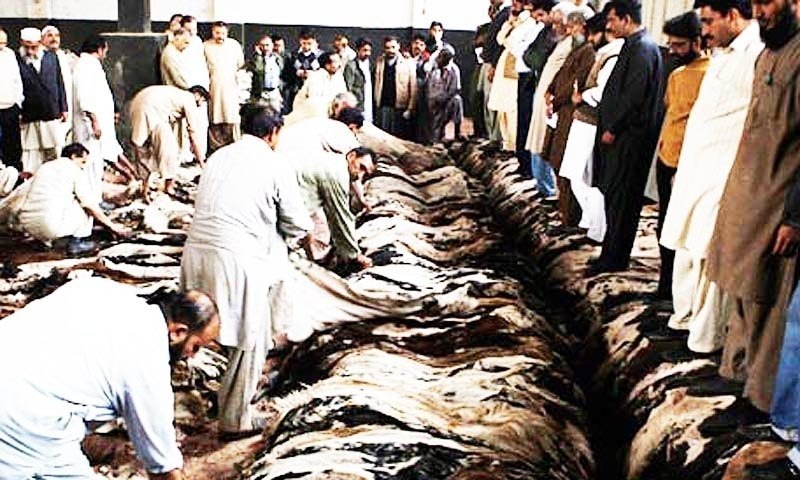 GILGIT: Despite a ban on collection of hides by banned organisations, different groups affiliated to outlawed sectarian outfits freely collected a large number of hides in Gilgit-Baltistan during Eid holidays.
Sources said the Gilgit administration allegedly allowed some clerics having affiliations with banned organisations to collect hides and instructed police not to take action against them.
They said that no case had been registered against any individual or organisation for collecting hides during the holidays.
Police officials told Dawn that some banned religious and sectarian organisations and seminaries had registered themselves as welfare organisations and freely collected hides. They accused the GB administration of stopping police from taking action against such groups.
The officials said that because of administration's mismanagement the National Action Plan could not be implemented in Gilgit, the city which has witnessed many sectarian clashes in the past.
They said police arrested three people for collecting hides in Gilgit city on the first day of Eid. One of the arrested men, Qari Hedayatullah, was once associated with a banned sectarian organisation but now runs a seminary. But, on the same day the administration asked police to release the arrested people and issued permits to them for collecting hides, the officials added.
An official said the GB police could not register cases without the permission of a magistrate.
Deputy Commissioner of Gilgit Rana Rizwan Qadir told Dawn that there was a ban on collecting hides by banned organisations.
Defending the release of Hedayatullah, the deputy commissioner said the cleric was no longer associated with a sectarian organisation. He said the security agencies had cleared the cleric.
Mr Qadir also said that Hedayatullah and the two other men were released because their arrest could have created a law and order situation in the area.
He said that when police began acting against people collecting hides on the first day of Eid the administration asked seminaries and other organisations to take permission for collecting hides to avert any clash. Permissions were issued to some groups on the same day, but none of them was a banned organisation, he added.
Source:
http://www.dawn.com/news/1209419/gb-administration-accused-of-allowing-banned-groups-to-collect-hides
Comments
comments