The Ruling PML N leadership and banned, ISIS-affiliated Deobandi terrorist group ASWJ-LeJ: A Love Story – Riaz Malik Hajjaji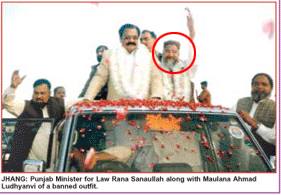 As a fervent supporter of the "Liberal" cause in Pakistan, I stand with PML N's public love affair with banned, ISIS affiliated terrorist group, ASWJ-LeJ. As someone who pines to be part of the JANG-PML N-JS-ASWJ-LeJ "anti-establishment" nexus (and the resultant goodies of free trips, meals and paydays) this is my 'umble ode to the public love affair between PML N and ASWJ-LeJ
When I read how the Government is "mulling the criminalisation of those who declare other sects as Kafir" ;
(Refer to http://tribune.com.pk/…/crackdown-on-sectarianism-govt-pon…/ and http://tribune.com.pk/…/counter-terror-plan-govt-declares-…/ )
it became clear to me that IRONY is alive and kicking in Pakistan.
After all, this is the same "anti-establishment" PML N whose Federal Interior Minister is seen cosying up to Muawiya Tariq – an upcoming leader of the banned, ISIS-affiliated ASWJ-LeJ. This is the same "anti establishment" Chaudhary Nisar who along with Shahbaz "I am Faiz" Sharif had the privilege of holding solitary, mid-night soirees with the former D G ISI and COAS, General Kiyani – a privilege that was even denied to former PM Gillani and President Zardari and the other 4 provincial chief Minsters.
This is the same PML N whose media spokespeople like Hamid Mir and Najam Sethi have given every opportunity to banned, ISIS-affiliated Deobandi terrorist groups like ASWJ to promote their hate on their TV channels at the "anti establishment" GEO/JANG channel and the Friday Times blog. Najam Sethi's Friday Times blog even allowed the ASWJ-LeJ chief to pass off his hate speech that declares other muslim sects as "Kafir" as "Just a political slogan"!
"anti establishment" Nawaz Sharif does not want to be left out and is seen "praying" with Maulana Sandwich aka Sami ul Haq – who still fervently supports all manner of Taliban. Like many senior "leaders" of his "anti establishment" PML N, Nawaz Sharif also included ASWJ-LeJ chief, Ahmed Ludhyanvi to accompany him.
Of course, who can forget the role of the Law Minister, Rana Sanaullah who plays the role of the umbilical cord between PML N and ASWJ-LeJ. Rana Sanaullah believes in Equality when it comes to the State-sponsored massacre of Sunnis, Shias, Christains and Ahmadis – by his buddies from the Deobandi ASWJ-LeJ. He himself has personally facilitated the massacre of anti-Taliban Sunnis in Model Town in 2014.
Ofcourse, since he is the "Law" and still enjoys the support of PML N's legal offices aka the Pakistani Supreme Court, he is free.
It is juxtapositions like these which make us all remember why the Saudi establishment stooge PML N is often portrayed as "anti establishment" by Pakistan's Good Liberals. You know those liberals who talk of peace with India in one breath and then indirectly align with ASWJ-LeJ and its Kashmir affiliates like JeM in the other.
When ASWJ-LeJ vice-president Malik Ishaq was killed as part of the ongoing army operation against religious extremists, Pakistan's liberals seemed dumbfounded. Some of them started to abuse and misrepresent the relieved Sunnis, Shias and Christians. Some of them who are particularly imaginative in their dishonesty even initially congratulated PML N – even though PML N never authorised the killing of Malik Ishaq and is still a very reluctant partner in going after religious extremists.
These pictures are not that old and are between 2012-2015 and paint the ongoing love affair between PML N and ASWJ-LeJ.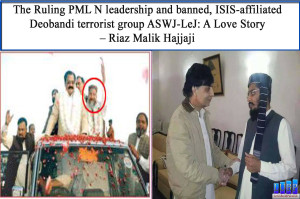 Comments
comments