The "lack of evidence" dilemma facilitating unrepentant mass murderers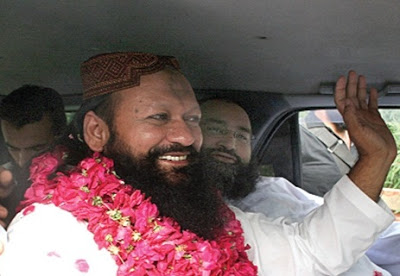 "A blast triggered by a suicide bomber has killed 15 people at a mosque inside a special forces headquarters in Saudi Arabia near the border with Yemen. An interior ministry spokesman said on Thursday that the "terrorist" attack took place during noon prayers in the city of Abha, in the southern province of Asir.

Twelve of those killed were members of a Special Weapons and Tactics (SWAT) unit, while the other three were workers at the compound, officials said.  Islamic State of Iraq and the Levant (ISIL) has claimed responsibility for the attack that also left nine others wounded." Source
In the aftermath of this horrible suicide attack, it has emerged that the perpetrator, Yousef bin Sulaiman Abdullah Al-Sulaiman, had already been arrested and released in the past due to "lack of evidence".  This has uncanny parallels to the situation in Pakistan where another Takfiri Deobandi terrorist, Malik Ishaq, was let off in similar circumstances.
"Malik Ishaq had told an Urdu daily in October 1997 that he was involved in the killing of 102 people. He was arrested the same year, and eventually charged with 70 of those murders in 44 different cases, including the attack on the Sri Lankan cricket team in March 2009. Last week, the Supreme Court released him because of "lack of evidence". Source
These two instances highlight significant commonalities regarding the failure of conventional methods in tackling terrorism in both Saudi Arabia and Pakistan.  In both countries, the Saudi monarchy establishment is responsible for fostering Takfiri terrorism limited exclusively to Deobandi Muslim sect in Pakistan and Salafi-Wahabi Muslim sect in Saudi Arabia.
In Pakistan, Saudi establishment stooge Prime Minister Nawaz Sharif and some of his PML N leaders are known for protecting and sponsoring Saudi-financed Takfiri Deobandi terrorists of ASWJ-LeJ like ASWJ vice-president, Malik Ishaq. Malik Ishaq also got off scot-free in 2010 even as he boasted about his extremist ideology and his murderous spree of over 100 innocent Pakistani civilians. In the case of Pakistan, his release was facilitated by Deobandi hate monger Tahir Ashrafi and Pakistan's corrupt, compromised Supreme Court lead by Iftikhar Chaudhary and his lackeys like Justice Jawad S Khawaja and Justice Asif Khosa.
In Pakistan, some sections of the pseudo-liberal elites like Asma Jehangir, Beena Sarwar and Jibran Nasir also start lecturing the victims of Takfiri terrorism about utopian concepts like "due process of the law" in a country where even the Supreme Court selectively interprets the law and Constitution and where the Supreme Court and PML N government facilitate and promote the murders of Sunni Barelvis, Shias, Sufis, Christians and Ahmadis.
In societies like Saudi Arabia and Pakistan, where the common governments actively promote Takfiri Deobandi and Salafi terrorists, can the victims continue to be satisfied with mythical ideals like "due process" and "judicial convictions".
This Fake liberal fallacy was clearly exposed in Pakistan when the Pakistan Army under General Raheel Sharif finally eliminated Malik Ishaq. While the overwhelming majority of Pakistanis breathed a sigh of relief, there were those Fake liberal elites like Beena Sarwar and Jibran Nasir who continued to lecture the victims of terrorism on due process of the law.  Such fake liberal elites would prefer that the Takfiri lead genocide continues until the day that their corrupt judiciary finally convicts and sentences mass murdering extremists – an outcome that is not supported by the realities on the ground.
Source:
http://www.shiapac.org/2015/08/11/the-lack-of-evidence-dilemma-facilitating-unrepentant-mass-murderers/
Comments
comments