ASWJ-LeJ's leader Malik Ishaq was set to die a violent death – by Amir Mir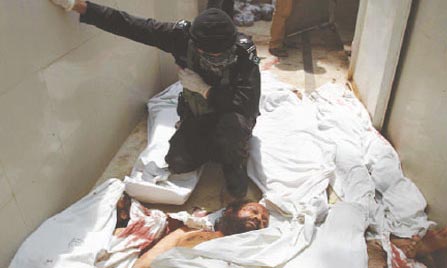 NEW YORK: Having admitted in October 1997 to his involvement in the killing of 102 people, the US-designated al-Qaeda and Taliban-linked dreaded sectarian terrorist and the moving spirit behind the Lashkar-e-Jhangvi (LeJ), Malik Mohammad Ishaq was certainly set to die a violent death.
Officially charged with 70 murders and 44 other cases of terrorism, including the March 2009 attack on the Sri Lankan cricket team near the Qaddafi Stadium in Lahore, Malik Ishaq had admitted in an interview with an Urdu daily in October 1997 that he was involved in the killing of 102 people. He was arrested the same year, charged with 70 murders and tried for these murders for the next 12 years, only to be released on bail by the Supreme Court in December 2014 after his acquittal in 64 murder cases due to lack of evidence or withdrawn witness testimonies. During Ishaq's 12 years in confinement, 72 judges and prosecution lawyers expressed their inability to hear or pursue cases against him and his sons, with most of them either going on leave or refusing to continue hearing them on personal grounds. However, it is largely believed that the February 4, 2014 decision of the US State Department to tag Ishaq as a Specially Designated Global Terrorist due to his al-Qaeda links was the beginning of his end.
Hardly a few months before killing Malik Ishaq and his sons in an encounter, the law enforcement agencies had shot dead his right hand man, Usman Saifullaah Kurd, on February 17, 2015 in Quetta. Kurd was the most-wanted Ameer of the Balochistan chapter of the Lashkar-e-Jhangvi which has let loose a bloody reign of terror in almost every nook and corner of Pakistan, generally targeting the Shia community. The law enforcement agencies had acquired credible evidence showing that Usman Kurd was constantly in touch with Ishaq over a cell phone ever since the latter's release on bail on July 14, 2011. There was an upsurge in anti-Shia Hazara terrorist activities in Quetta as a result of the Ishaq-Kurd nexus, which led to the killing of 103 Shia Hazaras in a suicide bombing on the Alamdar Road in Quetta on January 10, 2013. Almost three weeks later, yet another deadly suicide bombing on the Kirani Road in Quetta killed 111 more Shia Hazaras on February 16, 2013.
The LeJ spokesman, Abu Bakar Siddiq, had claimed responsibility for both the bombings while warning the Shia Hazaras either to leave Balochistan or face severe consequences. Subsequent investigations into the Quetta suicide bombings revealed that Usman Kurd had been in constant touch with Malik Mohammad Ishaq over the phone before these attacks. It further transpired that the explosive laden water tanker used in the February 16, 2013 Quetta blast was assembled by Malik Ishaq-linked LeJ operatives in the Akbari Mandi area of Lahore. Two of the four LeJ men who had been involved in the gory incident and killed in a shootout by security forces a day after the February 16, 2013 carnage, belonged to Rahim Yar Khan — the native district of Malik Ishaq and Maulana Ahmed Ludhianvi, the president of Ahle Sunnat Wal Jamaat (ASWJ), of which Ishaq was the vice president.
In another major development which had exposed Ishaq's involvement in some high-profile murder cases of religious figures and professionals, the Crime Investigation Agency (CIA) of the Punjab Police busted in April, 2014 a gang of killers which was working under Ishaq's command and was involved in target killings. The gang members confessed to their involvement in the murders of advocates Shakir Ali Rizvi and Arshad Ali Shah, Dr Syed Ali Haider and his son Syed Murtaza Ali Haider, Khurram Raza Qadri of the Sunni Tehrik, and three Shia scholars — Allama Nasir Abbas, Syed Ali Hussain Qazilbash and Syed Mubashir Hussain Naqvi. In their confessional statements, the gang members claimed that they had killed these people under the instructions of Malik Ishaq. But Ishaq had refuted his involvement in any of these killings when he was subsequently interrogated by the police.
Addressing a press conference at the Qila Gujjar Singh Police Lines in Lahore on April 20, 2014, Capital City Police Officer (CCPO) Chaudhry Shafiq Ahmed said that the suspects identified as Abdul Rauf Gujjar of Badami Bagh, Mohammad Sabir alias Ikram Khan of Badmai Bagh, Sheikh Farhan Rafique of Rehmanpura, Shafqat Farooqi of Shahdara, Mohammad Hashim of Badami Bagh and Suleman Pathan of Bund Road, had admitted to their role in at least 18 murders and murder attempts on high-profile personalities, including writer Asghar Nadeem Syed and journalist Raza Rumi. The CCPO said that the gang was linked to Malik Mohammad Ishaq and was working under his command. According to the CCPO, the gang leader, Abdul Rauf Gujjar, had launched his group with the approval of Malik Ishaq after holding several meetings with him at Madrassah Farooq Azam in Shahdara, Lahore, and was being instructed by Ishaq to target well-known Shias.
While refuting these allegations as a pack of lies, Ishaq's lawyer Rao Abdul Raheem had argued that despite keeping him behind bars for more than 12 years on terrorism charges, the police had failed to prove these allegations which were eventually dropped in 2011 when the Supreme Court had ordered his release due to lack of evidence against him. But the police circles were of the view that the court had to release him on bail due to witness intimidation. Among those who faced intimidation is Fida Hussain Ghalvi, a key witness in a murder case in which Ishaq was accused of killing 12 members of a family during a Majlis in 1997. When Ghalvi and three other men had identified Ishaq, he reportedly told them right in front of a trial court judge "dead men can't talk". Subsequently, five witnesses and three of their relatives were killed during the trial. And Ishaq was acquitted in the case because of "lack of evidence".
But that was just the tip of the iceberg. A more remarkable case was the bombing of an Iranian culture centre in Multan in 1997, killing eight people. When investigating officer, Ejaz Shafi, persuaded two witnesses to appear in court, his car was sprayed with bullets.
The Anti-Terrorism Court Judge, Bashir Ahmed Bhatti, convicted Malik Ishaq but the Supreme Court overturned the conviction in 2006, mainly because of lack of evidence. In March 2007, the same judge, scheduled to hear another case against Malik Ishaq, was on his way to the court when a remote-controlled bicycle bomb exploded near his car, killing his driver and two policemen. Ishaq was charged with planning the bombing. Two years later, the prosecution's witnesses suddenly turned hostile and Malik Ishaq was acquitted in April 2009 because of "lack of evidence".
Every time the court had to acquit Malik Ishaq because of lack of evidence. Soon after his release in 2011, Malik Ishaq's LeJ henchmen employed novel tactics to hunt down members of the Shia community. In Quetta, for example, masked militants would stop buses carrying pilgrims, check their identity, line up the Shias, and mow them down while videotaping the gory executions. And each time, fearing public backlash, the government would shove Ishaq back into confinement. But the detentions never held, and court after court overturned the indictments, sending him back out into the world. Interestingly, Ishaq had never been on the run, a testament to his confidence that the jurors would fail to convict him.
Ishaq had first gained notoriety in 1997, when he was picked up on charges of murder and making death threats. In an interview with an Urdu publication in October 1997, Ishaq admitted to his involvement in the killing of over 100 Shias. Over the next 14 years, he was lodged in several prisons across the Punjab, from where he allegedly oversaw a relentless campaign of deadly attacks against the Shia community. Despite being kept under house arrest for most of the time ever since his release in 2011, Ishaq had been pursuing his deadly sectarian and Jihadi agenda freely. The influence he used to enjoy despite being a prisoner can be gauged from the fact that he was flown from a Lahore jail to Rawalpindi through a special plane to hold talks with the TTP fidayeen attackers [led by Aqeel alias Dr Usman] who had stormed the GHQ building on October 10, 2009. Interestingly, Ishaq used to receive a monthly stipend from the Punjab government of Chief Minister Shahbaz Sharif [while he was in jail till 2011] besides being allowed to use a mobile phone.
Malik Ishaq was ordered to be released by the Lahore High Court in December 2014. But following the Peshawar Army School massacre on December 16, 2014, security agencies warned that his freedom could unleash a new reign of terror across Pakistan because of the LeJ's anti-Shia and anti-US ideological affinity and collaboration with the Tehreek-e-Taliban Pakistan (TTP). Subsequently, he was arrested in the 2009 Sri Lankan cricket team attack case that left eight dead as well as a double-murder case registered under Section 302 of the Pakistan Penal Code. The Counter Terrorism Department of Punjab took Ishaq's custody hardly three days before his killing in an apparent abortive attempt to flee. Prior to that, Ishaq and his sons — Malik Usman and Malik Haq Nawaz — were under house arrest in Rahim Yar Khan. All three were killed in the wee hours of July 29, 2015 in an alleged exchange of fire with police personnel as militants attacked the security forces convoy and tried to free them.
It may be recalled that Riaz Basra, a co-founder of the Lashkar-e-Jhangvi and a close aide of Malik Ishaq, was also killed in an encounter with the law enforcement agencies on May 14, 2002 in Vehari district. Whether or not Malik Ishaq was killed in a genuine encounter, the fact remains that the violent LeJ leader was set to face a violent death in the end that also carries a loud and clear message for his Jihadi and sectarian followers.
Source:
http://www.thenews.com.pk/Todays-News-13-38847-Ishaq-was-set-to-die-a-violent-death
Comments
comments