Malik Ishaq's killing a big blow to Daesh – Nadeem Shah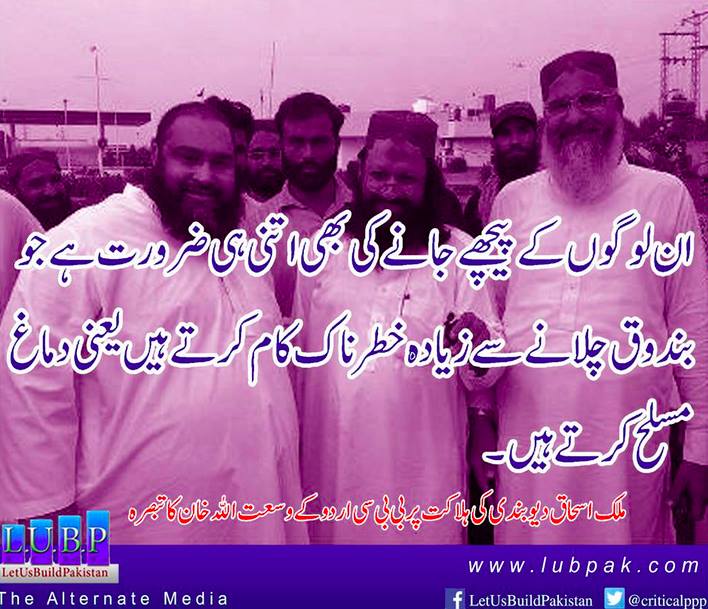 MULTAN: The July 29 killing of Lashkar-e-Jhangvi Ameer Malik Ishaq has not only proved to be a big blow to the LeJ but it also was a great setback to the Islamic States of Iraq and Syria (ISIS) as he had developed very close links with Daesh, well-placed sources confided to The News.
The ISIS offered the LeJ to join hands in October last and meetings were in progress when the LeJ main contact was February last and finally Malik Ishaq was killed in retaliation by his own network in Muzaffargarh. People living in Malik Ishaq's neighbourhood said he was developing contacts with ISIS and advocated for its cause in public.
The Balochistan LeJ chapter played a key role in developing connections between LeJ and ISIS in October last. Malik's close aide and Balochistan LeJ commander Usman alias Saifullah Kurd was killed in February last in Quetta in a shootout, which suspended developing links with ISIS.
Close family members of 9/11 mastermind Khalid Muhammad Shaikh and New York World Trade Center's mastermind Yousaf Ramzi had been associated with Balochistan LeJ to flare up anti-Shiite campaign and killing Hazara community.
Malik Ishaq and LeJ has been key ally to ISIS in waging war against armed forces in collaboration with local militants and facilitators. Malik Ishaq had established active cells in Southern Punjab. Punjab police documents show the LeJ Ameer Malik Ishaq mainly focused his home division of Bahawalpur in recruiting militants. He also recruited youth from Sargodha, Multan, Lodhran, Bhakkar and Mianwali.
Malik Ishaq had formed a faction of his own followers in the LeJ and developed differences with Ahle Sunnat Wal Jamaat over sensitive matters and parted way from ASWJ few months ago. The ASWJ emerged following restrictions imposed on Sipah-e-Sahaba and Malik Ishaq was made vice president of the new outfit. However, he was removed from the office within months on taking part in militant activities and later he was again jailed.
The ASWJ's Malik Ishaq faction contested intra-party polls but lost badly to the Ludhianvi Group, which supported legal ways and means for countering a rival sect. Maulana Shamsur Rehman Moavia of Malik faction won Punjab ASWJ president election by defeating Maulana Azam Tariq's son Maulana Muhammad Moavia. Shamsur Rehman Moavia belonged to Multan district and was prayer leader at Lahore Gymkhana mosque when he was shot dead few years ago.
Senior security officials predicted fragmentation of LeJ into pieces after elimination of first, second, third and fourth line leadership. The LeJ second-in-command Muhammad Ajmal alias Akram Lahori has been waiting for his execution in Sukkur Jail. However, LeJ had developed active cells, a network of facilitators in South Punjab. It is hard to predict taking part any sort of role in LeJ activities by the sons of Maulana Azam Tariq. Maulana Haq Nawaz Jhangvi's son had also been killed in Karachi few years ago over financial dispute. Security officials were of the view that Malik's death has created a serious leadership crisis in LeJ because majority of its commanders, main operatives had been killed in the past.
Security experts ruled out emerging of Punjabi Taliban chief Asmatullah Moavia as chief commander of the LeJ, and said it would be out of question. The LeJ militants may prefer leader emerging from district Jhang. Talking to the correspondent, Fida Ghalvi said when Ishaq was arrested from Faisalabad in 1997 and sent to the Central Jail, Multan, Fida Ghalvi and the other witnesses were summoned for an identification parade. The witnesses pointed at Ishaq at the very onset, but he was least perturbed.
Fida Ghalvi said despite the blatant threats by Ishaq and his lawyer, he and the other witnesses refused to back down. During the trial, eight people including five eyewitnesses and three of their relatives were killed. "During the trial, we appeared 110 times before the judges during a span of eight years," he said. Ishaq was acquitted in 2004 when a judge ruled that there was not enough evidence to convict him.
The case had been in an appeal court since then. A judge did hand down a guilty verdict in one case against Ishaq, but the Supreme Court overturned it. Poor investigation and prosecution also contributed to Ishaq getting a clean chit, said Ghalvi. He cited fear as the reason.
"Fear that Ishaq ingrained in his adversaries brought about his acquittal it's as obvious as the daylight," said Ghalvi, who has been diligently pursuing cases against Ishaq for the last 13 years, he added.
Source:
http://www.thenews.com.pk/Todays-News-13-38894-Malik-Ishaqs-killing-a-big-blow-to-Daesh
Comments
comments