Takfiri terrorist Malik Ishaq failed to read the shift in the national landscape – by Ayaz Amir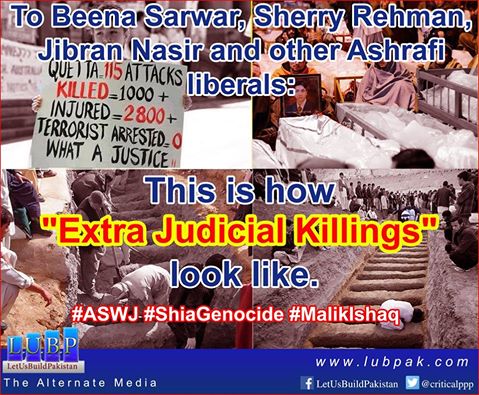 Ultimately what got Malik Ishaq, the doyen of Pakistan's sectarian terrorists, was not his commitment to violence but his failure to read the shift in the national landscape. He got away with murder – to accuse him of just one murder would be to insult his memory; in media interviews he almost cheerfully confessed to more than a hundred killings – because the times were different.
But in common with all megalomaniacs he did not know where to stop. So he kept at it, directly or through his network of acolytes, not only in Punjab, or rather southern Punjab where he was most directly involved, but also in Balochistan where he was mentor and guiding spirit to some of the fiercest anti-Shia militants in the country.
The Hazara community, which is mostly Shia, was their regular target. The finger of suspicion used to be pointed at Ishaq and his Lashkar-e-Jhangvi which he led. Leaders would travel to Quetta and sympathise with the Hazaras. It was an open secret who the prime movers of sectarian violence were. They were to be found mostly in southern Punjab. But serious action against them was never taken. That is, until now.
Sceptics out to question the army's bona fides would point to Punjab – is there no terrorism there? They would mention Ishaq…what about him? Why is he walking free? At a stroke, in a single 'encounter', virtually the entire top leadership of the banned Lashkar-e-Jhangvi – Pakistan's deadliest terrorist outfit – stands eliminated.
The narrative until now was that Punjab-based terrorism was too hot to handle…there would be too much of a backlash. Also, that the army and security agencies had their favourites. We now have the answer to some if not all these doubts. Ishaq was the hottest item of all. He's been dealt with fairly easily, proving once more that Pakistan is not all that weak a republic. When it puts its mind to something there is a lot that can be accomplished.
Remember how it was before Operation Zarb-e-Azb. Everyone feared a severe backlash and politicians seemed more masters of appeasement than anything else. In the event it has turned out better than anyone expected. Terrorism has not been eliminated but terrorists are on the run and the internal security situation has improved. It has improved in and around Peshawar – not that Imran Khan will readily admit to this – and it has improved in Karachi. And now we are seeing things happening in Punjab.
Ostensibly the strike against Ishaq and his cohorts was carried out by the Punjab counter-terrorism department. But from Karachi's experience we know that the police are at their most effective when the army is behind them. Without that prodding and support from the right quarters such a step, which was scarcely imaginable a short time ago, would not have happened. If our civilian organs were so effective there would have been no need for provincial apex committees, in which corps commanders also sit, to put some spine into the fight against terrorism.
It doesn't bear to think where the country would have been if the drive against the TTP had not been launched. North Waziristan was virtually an independent emirate from whose confines a campaign of violence, bomb blasts and kidnappings for ransom was being undertaken against targets across the country. Karachi was another no-man's land, victim of its own brand of violence and extortion. Sectarian attacks were a regular occurrence elsewhere. Meanwhile, the civilian leadership spoke non-stop the mantra of peace and dialogue.
The situation a year down the road is so utterly different – terrorism on the wane and Pakistan looking confident and stable even as so much of the Arab world finds itself trapped in conflict and turmoil. We only have to look to Iraq and Syria, Libya and Yemen. Pakistan is helping stage the intra-Afghan dialogue. Who would have suspected Pakistan of being able to do this a year ago?
What more needs to be done? It would help if the political leadership and the political class as a whole were able to do things better and improve their performance.
Source: The News
Comments
comments