Media Discourse on Deobandi Terrorism – June 10 to June 25, 2015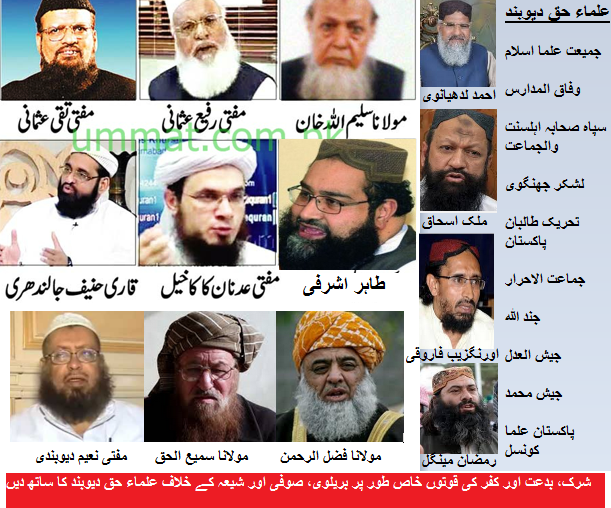 Pakistani man caught with $20K weapons cache in Peterborough, Ont., will be deported within the month: CBSA
National Post
June 1, 2015
The CBSA had linked him to the SSP through his association with Pakistani Deobandi cleric and former jihadist fighter Ilyas Ghuman. Canadian officials said Ansari had been involved with the terror group since before coming to Canada and had been soliciting funds and promoting its goals online.
Source:
http://news.nationalpost.com/news/canada/pakistani-man-caught-with-20k-weapons-cache-in-peterborough-ont-will-be-deported-within-the-month-cbsa
'Open outpouring of grief' in home town of Britain's youngest suicide bomber
Islamic State in South Asia: what can be done?
16 June, 2015
IS' takfiri ideology has not only appealed to disaffected members of traditionally sectarian groups such as Al Qaeda and the Pakistani Taliban, but it has also inspired civilians to pledge allegiance to the group, despite their Deobandi origins. Evidence of the support that IS has received from the aforementioned sectarian groups is made clear in a letter that was written by a leader from the Afghan Taliban, Alhaj Mullah Akhtar Mohammad Mansoor, to IS' spiritual leader, Abu Bakr al-Baghdadi.
Source:
http://leftfootforward.org/2015/06/islamic-state-in-south-asia-what-can-be-done/
As Ramadan approaches, the moon-spotting arguments begin
Smaller parties fancy their chances against big guns in LG polls
Dawn
June 19, 2015
Simultaneously, their counterparts from the Deobandi sect are also fielding candidates under the banner of 'Rahe Haq' or as part of the 'Awam Dost Group', if elections are indeed held on a non-party basis.
Source:
http://www.dawn.com/news/1189088/smaller-parties-fancy-their-chances-against-big-guns-in-lg-polls
Jihadi John SPOTTED: Terrorist fled to Libya after he was unmasked as 26-year-old Londoner
Express
The Sunday Express has learned that Mohammad Dawood, the father of Khadija, Sugra and Zohra Dawood, three sisters who are thought to have travelled to Syria to join Islamic State, was an imam at the Nusrat-e-Islami Mosque in Bradford.
He preached a conservative form of Sunni Islam called Deobandi.
Ishtiaq Ahmed, spokesman for Bradford's Council for Mosques, confirmed: "He was the imam there a few years ago but hasn't been in recently as far as I'm aware,"
Source:
http://www.express.co.uk/news/uk/585873/Jihadi-John-terrorist-Libya-unmasked-British-teen
Comments
comments