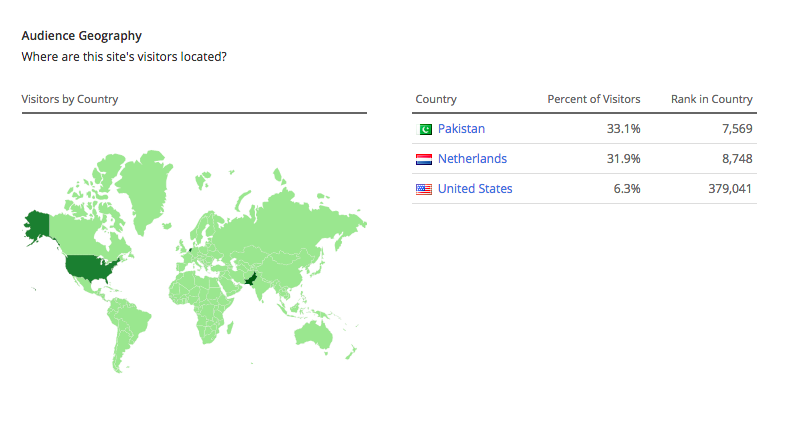 LUBP is under intense cyber attacks in the last few days by an IT professional who has a grudge against LUBP and who alternates between the UK and Holland. There is mounting evidence as per the domain team that these attacks are being mounted from Holland. Alexa also confirms this by showing an unusual spike from Holland (See picture above with nearly half the traffic from Holland).
This situation started after Beena Sarwar's aide, Ilmana Fasih used highly disrespectful language against Imam Ali and Bibi Fatima binte.
One Selfie "activist" immediately removed his status condemning her and instead started making another blogs purely to exaggerate and misrepresent LUBP's position. Since he could not distort LUBP's position based on their published content, he is using this blog to manufacture lies.
First he was caught when his own profile picture appeared in the comments section of the Facebook snapshot images that he used for this alternative blog. If this dead giveaway was not enough, he made another blooper. After being asked to explain why he did this, this "activist" quickly altered that website to remove his profile picture. If the first dead giveaway was not enough, this "activist" showed exactly who was guilty of creating the discrediting blog. While other people's profiles remained constant, only his picture profile disappeared after he was publically made aware of it.
Choor ki daari mein Tinka anyone??
LUBP is also facing intense spam attacks from Holland. We know that a Cable and Wireless IT consultant works between England and Holland. Turns out, that this Cable and Wireless IT consultant is the same person who is also behind the same blog that is deliberately distorting our position to malign us.
This same person has been told to concentrate on common cause and stop putting other Sufi Sunni and Shia activists in harms way. This same person had made a false oath to stop this but he has continued as indicated by his silly bloopers to edit out his own profile picture from that website as well as continuing cyber attacks from Holland.
LUBP has lost valued contributors like Ali Khudi and other highly regarded individuals like Dr. Ali Haider and Professor Sibte Jaffer, we have now received reports that Shia scholar, Syed Allama Jawad Naqvi as well as American academic, Vali Nasr have recently been identified.
Just yesterday evening Tahir Ashrafi has made another threatening tweet against LUBP
https://twitter.com/TahirAshrafi/status/611571350142976000
It is obvious now who is working with Beena and Ashrafi. For some "activists", it is more important to justify Ilmana Fasih's abuses against Imam Ali and Bibi Fatima during the time of Shia Genocide. Sunni Sufi and Shia activists need to be careful of such selfie "activists" whose cyber attacks against us are so well coordinated with Tahir Ashrafi.
We have all seen who protested against ISIS-apologist, Ilmana Fasih when she used such disrespectful language against Imam Ali and Bibi Fatima. Those activists who preferred to defend the honour of Ilmana Fasih over Imam Ali – can they be trusted on Shia genocide?