An overview of Deobandi terrorism in Pakistan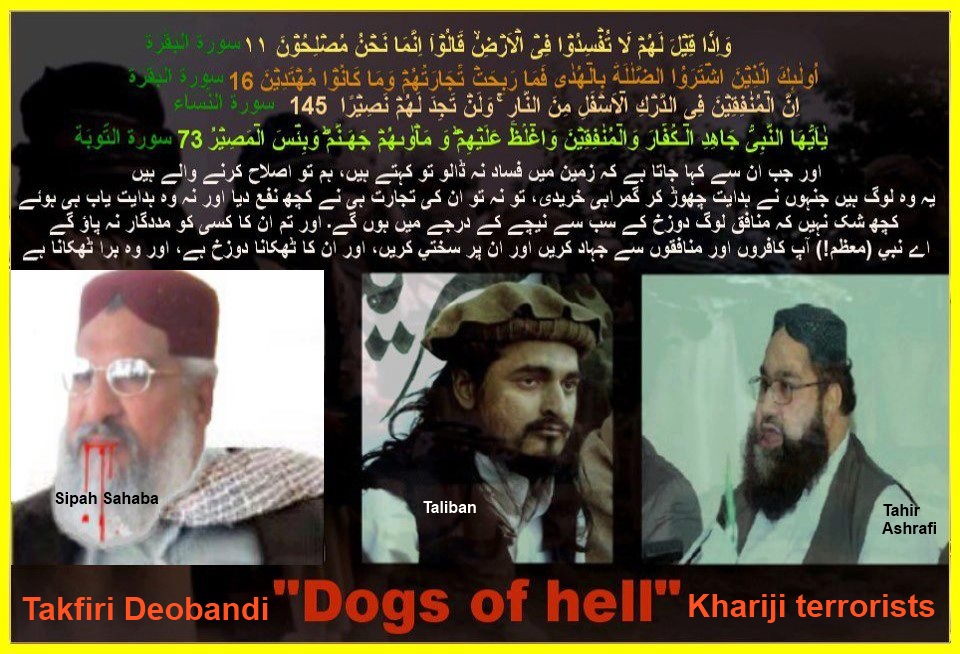 1. Origins of Deobandis, the links to Wahhabism. LUBP has published a post of the indirect links between Shah Walliullah and Muhammad ibn Abdul Wahab as well as the direct of Deobandi clerics and madrassas with Wahhabis and Saudi Arabia. This shows how the Deobandis use a Sunni facade as an offshoot of the Hanafis but in reality are the effective South Asian proxies of the Salafis/Wahhabis.
2. Deobandi terrorism (General)- some major incidents targeting the general population of Pakistan – for example the multiple incidents in KP province, Punjab (eg Moon Market, Lahore, attacks on ISI offices in Multan and Faisalabad etc) and the various attacks in Sindh including the attack on senior police officer Aslam Chaudhry Karachi as well as the Karachi airport. The exact number of casualties (killed and wounded) plus dates etc are documented by various online web sites eg South Asia portal on terrorism, LUBP databased on genocide of Shias and Sunni Sufis.
3. Deobandi terrorism against Sunni Sufis/Barelvis: Same as above with explicit references to Jhal Magsi (Balochistan 2005), Rehman Baba (Peshawar), Data Darbar (Lahore), Bari Imam (Islamabad), Abdullah Shah Ghazi (Karachi) as well as the 2006 attack in Nishtar Park Karachi on Eid un Milad un Nabi that claimed the lives of top 60 moderate Sunni Barelvi clerics.
4. Attacks on Shias: the list is long which is also archived in various reports by HRW, HRCP, LUBP etc.
5. Attacks on Christians: Many attacks, e.g. the attack on the Church in Peshawar (2013-14), Gojra (2010), Shantinagar (1998), Bhawalpur (2001) as well as the violent protests on the trumped up charges against the Iqbal Masih and brothers in 1995 by the ASWJ-SSP which included the attack on Asma Jahangir's car.
6. Attacks on Ahmadis: Mandi Bahauddin 2005 and Lahore 2010. Systematic target killings in Karachi and elsewhere. Recent murder of an Ahmadi doctor in Rabwah / Chanab Nagar.
7. The anti-Hindu sentiment in Sindh by the Tableeghi Jamaat (Deobandi), JUI F (Deobandi) and ASWJ (Deobandi)
8. Also, it is important to note the predominant Deobandi makeup of the Taliban and Lashkar-e-Jhangvi aka ASWJ-SSP. These terror outfits are amply supported by Deobandi madrassas across Pakistan, eg, Maulana Sami ul Haq's Jamia Haqqania in Akhora Khattak and Mufti Naeem's Jamia Binoria in Karachi. Khaled Ahmad wrote a number of articles in the Friday Times and Daily Times on this issues.
The above is an overview of specific instances so searching for newspaper clippings and other media resources should not be a problem. Quite a few reports also highlight the involvement/arrests of ASWJ-LeJ terrorists. Usually Pakistani media presents the arrested ASWJ and other Deobandi terrorists as LeJ members as per the official narrative of Pakistani establishment.
Other terror outfits eg JeM, Jundullah and Jaish al-Adl too are Deobandi in their nature and composition. In fact, all of these groups use different names as per their agenda and situation, with blurring boundaries and shared membership.
Comments
comments