Deobanci cleric Mufti Naeem's Takfiri fatwa for Federal Minister Pervez Rashid: Historicising the Deobandi influence in Pakistan – by Tahir Kamran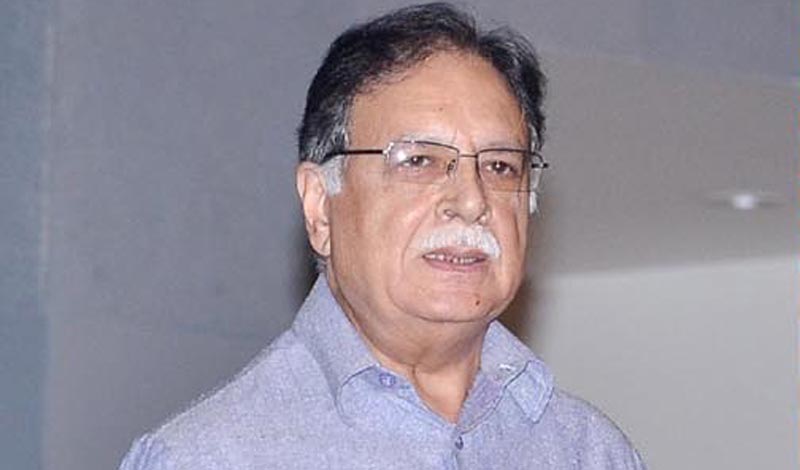 Information Minister's Pervaiz Rashid's speech at a national conference organised by the Pakistan Academy of Letters in Karachi on May 3 where he described the religious seminaries as "centres of ignorance and illiteracy" has incurred considerable wrath of clerics. The minister could have chosen his words with more care and sophistication.
His speech was made in the context of the division the seminaries are allegedly fomenting. Deobandi Wafaqul Madaris Al Arabia is incensed the most over Rashid's audacious remarks. Mufti Muhammad Naeem of Jamia Binoria Karachi has gone on to issue a takfiri fatwa against the minister.
Rashid did not pick any holes in religious texts; he was only referring to seminaries as the epicentre of political Islam with a strong sectarian proclivity.
I saw two relatively detailed responses to Rashid's speech — one by a Gujranwala-based Islamic scholar Zahid ur Rashidi and other by Hidayatullah Sadokhani from Jamia tul Saqafat al Islamiya Malir Karachi in the form of an open letter to Pervaiz Rashid which was widely circulated on the social media.
Both of these responses are stereotypical of the clerical mindset which is clearly steeped in anti-west diatribe and personal attacks on Rashid. Both the scholars have circumvented the alleged links the madaris have with sectarian groups and such organisations like Tehrik-i-Taliban Pakistan (TTP). They have not even mentioned the suicide bombings.
The quantum of autonomy the madaris have enjoyed for the last 25 years makes it increasingly difficult for the Pakistani state to establish its own writ. Even the proposals for curriculum reforms and registration of the madaris are defied vigorously.
The much clichéd argument advanced by the religious right, that Pakistan was created in the name of Islam as Sadokhani does with vehemence, is worthy of discussion. Why then did the proponents of Hakumat-i-Illahiya oppose Pakistan's creation? Why did Abul Kalam Azad and Hussain Ahmed Madni oppose that project tooth and nail?
One is led to acknowledge that the creation of Pakistan was a political campaign which was far removed from any religious agenda. If Pakistan was a religious project, then the status of Azad and Madni's faith comes into question. Thus branding Pakistan as a state created in the name of Islam is highly contentious.
Another problem with the response of these learned ulema is their inability to realise the contradiction contained in the political ideology the seminaries subscribe to, which transcends geographical borders running counter to the fundamental postulates of a nation state.
Also, why are Deobandis in the forefront of that raucous being witnessed in Pakistan over Rashid's speech? To all intents and purposes, it is a minority sect.
Sadly, Zahid ur Rashidi's observations in his column Nawa-i-Mehrab do not match his reputation and stature as an eminent Islamic scholar. After casting aspersions on Rashid, he has unleashed a virulent diatribe against the Western ethos making an utterly unsubstantiated claim about its imminent decline and extinction.
More than other things, it is important to historicise the Deobandi influence in Pakistan.
Many scholars consider Afghan jihad as a catalyst in engendering militancy along with the Islamic Revolution in Iran. But the historical context in which the phenomenon of militancy grew, and later on gathered momentum has not been unravelled properly. While studying Deobandi militancy, allusion must be made to a couple of watershed points that galvanised Deobandi activism in Pakistan. First, it was the anti-Qadiani Movement that was launched in 1953. Majlis-i-Ahrar was in the vanguard resulting in the imposition of martial law in Lahore.
The protest movement was quelled through military action under the command of General Azam Khan. Deobandi activism was stemmed for two decades. The Qadiani issue, nevertheless, kept smouldering beneath the surface and conflagrated again in 1974. The Qadianis were eventually declared non-Muslims by Zulfikar Ali Bhutto's regime which appeared to have worked as a shot in the arm for Deobandi leadership.
The successful finale of the Qadiani movement had a lasting impact on Deobandis who were greatly encouraged and spawned enthusiastically their extremist views and militant agenda.
Later on, the new Deobandi clerics — Haq Nawaz Jhangvi, Manzoor Ahmed Chinioti, Masud Azhar to name a few — founded organisations, which were avowedly sectarian and militant in substance. The role of Afghan jihad in providing necessary wherewithal and motivation to such organisations can hardly be understated. Religious seminaries were the main source of recruitment for jihad, a phenomenon that persists even to this day.
The first such organization was Sipah Sahaba Pakistan, exclusively dedicated to fighting shi'ism, which it considered non-Muslim. Assassination of its founder, Haq Nawaz Jhangvi in February 1990 led to a string of murders and random attacks against Shias including many Iranian officials living in Pakistan. Most of the SSP top leadership has been assassinated, i.e., Zia-ur-Rahman Farooqi, Isar-ul-Qasmi and Azam Tariq. The organisation also sent armed volunteers to help Taliban in Afghanistan from 1998 onwards.
Jhangvi's Army or Lashkar-e-Jhangvi (LJ) was a splinter group of the SSP comprising more radical Deobandis. Founded in 1994 by Riaz Basra, a veteran of the Afghan war and a close associate of Haq Nawaz Jhnagvi, the organisation targeted Shia leaders, intellectuals and professionals. Based in Kabul until the fall of city in November 2001, the LJ was accused by the Pakistan government of plotting an attack on the Prime Minister, Nawaz Sharif, in 1999.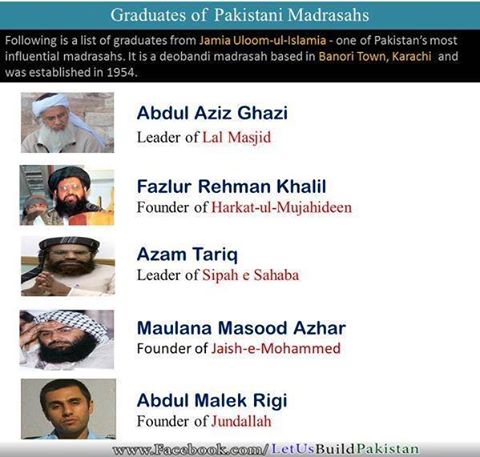 In 1991, Fazal ur Rahman Khalil (a Pushtun) and Masud Azhar, a young Pakistani cleric from Bahawalpur, established Harkat-ul-Ansar (HA) by converging Harkat-ul-Mujahideen and Harkat-ul-Jihad. It was joined by many Pakistani volunteers who went to Afghanistan to support mujahideen. Later on, its attention was shifted to Kashmir.
A former US intelligence officer, Julie Sirrs, carried out a survey in 2000 which revealed that the "foreigners captured by military commander Masud in North Eastern Afghanistan shows that 39 per cent of the 113 prisoners were affiliated with Harkat-ul-Ansar". In October 1997, the US State Department declared it a terrorist organisation, after which it changed its name to Harkat-ul-Mujahideen (HM).
Jaish-e-Mohammad (JM) is another Deobandi militant organisation which is a brainchild of Maulana Masud Azhar. In 1994, Masud Azhar was jailed for his militant activities in Indian held Kashmir. On December 24, 1999, a plane of Indian Airline was hijacked and brought to Kandahar; the hijacker obtained the release of Masud Azhar. He remained under the protection of Taliban for some time and came back to Pakistan and founded JM in Islamabad (Lal Masjid) in February 2000.
Many members of the Harkat-ul-Mujahideen and of the SSP are presumed to have joined JM for ethnic reasons. Olivier Roy attributes the pattern of suicide attacks to the JM. In December 2000, a young Muslim from Birmingham, Muhammad Bilal, committed a suicidal attack on Indian army in Srinagar, indeed the first incident of its kind. Later on, TTP and various groups subsumed under it mastered the art of terrorism which indeed is an anathema for Pakistani people, obviously sick and tired of the violence and bloodshed fostered by the clerics through seminaries.
One wonders what will be the 'informed' take of Maulana Rashidi and Sadokhani on the violent streak the Islamists profess and practice.
Source:
http://tns.thenews.com.pk/takfiri-fatwa-for-a-minister/#.VViBTaPLfcS

Mufti Naeem Lashes out Pervez Rasheed for… by BilalAhmad125
Comments
comments