Mohammad Javad Zarif: A message from Iran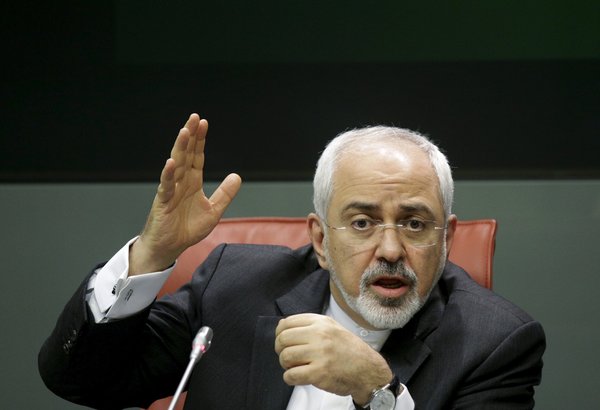 Editor note : After Saudi-Turkish sponsored AQ/FSA/Daesh, the Iran vs Saudi binary does not hold. It is valid to critisize Iran for its domestic rights situation but hypocritical to exclude Saudi Arabia and Turkey, Qatar and Jordan from the same standards of political freedom applied to Iran. Clearly, it is completely invalid to compare Saudi Arabia, the sponsors and facilitators of 9/11 with Iran on creating regional destruction. AQ/Daesh/FSA/Boko Haram/Al Shabaab/Taliban/ASWJ/LeT are ALL Salafi-Deobandi organizations who are ideological and financial proxies of Saudi Arabia. To compare them to those disparate groups defending Sunnis, Sufis, Shias, Druze, Kurds, Armenians, Yezidis right to exist in this region is intellectual dishonesty and an apologist to Genocide.

TEHRAN — WE made important progress in Switzerland earlier this month. With the five permanent members of the United Nations Security Council plus Germany, we agreed on parameters to remove any doubt about the exclusively peaceful nature of Iran's nuclear program and to lift international sanctions against Iran.
But to seal the anticipated nuclear deal, more political will is required. The Iranian people have shown their resolve by choosing to engage with dignity. It is time for the United States and its Western allies to make the choice between cooperation and confrontation, between negotiations and grandstanding, and between agreement and coercion.
With courageous leadership and the audacity to make the right decisions, we can and should put this manufactured crisis to rest and move on to much more important work. The wider Persian Gulf region is in turmoil. It is not a question of governments rising and falling: the social, cultural and religious fabrics of entire countries are being torn to shreds.
Endowed with a resilient population that has stood firm in the face of coercion while simultaneously showing the magnanimity to open new horizons of constructive engagement based on mutual respect, Iran has weathered the storms of instability caused by this mayhem. But we cannot be indifferent to the unfathomable destruction around us, because chaos does not recognize borders.
Iran has been clear: The purview of our constructive engagement extends far beyond nuclear negotiations. Good relations with Iran's neighbors are our top priority. Our rationale is that the nuclear issue has been a symptom, not a cause, of mistrust and conflict. Considering recent advances in symptom prevention, it is time for Iran and other stakeholders to begin to address the causes of tension in the wider Persian Gulf region.
Iranian foreign policy is holistic in nature. This is not due to habit or preference, but because globalization has rendered all alternatives obsolete. Nothing in international politics functions in a vacuum. Security cannot be pursued at the expense of the insecurity of others. No nation can achieve its interests without considering the interests of others.
Nowhere are these dynamics more evident than in the wider Persian Gulf region. We need a sober assessment of the complex and intertwined realities here, and consistent policies to deal with them. The fight against terror is a case in point.
One cannot confront Al Qaeda and its ideological siblings, such as the so-called Islamic State, which is neither Islamic nor a state, in Iraq, while effectively enabling their growth in Yemen and Syria.
There are multiple arenas where the interests of Iran and other major stakeholders intersect. The establishment of a collective forum for dialogue in the Persian Gulf region, to facilitate engagement, is long overdue.
If one were to begin serious discussion of the calamities the region faces, Yemen would be a good place to start. Iran has offered a reasonable and practical approach to address this painful and unnecessary crisis. Our plan calls for an immediate cease-fire, humanitarian assistance and facilitation of intra-Yemeni dialogue, leading to the formation of an inclusive, broad-based national unity government.
On a broader level, regional dialogue should be based on generally recognized principles and shared objectives, notably respect for sovereignty, territorial integrity and political independence of all states; inviolability of international boundaries; noninterference in internal affairs; peaceful settlement of disputes; impermissibility of threat or use of force; and promotion of peace, stability, progress and prosperity in the region.
A regional dialogue could help promote understanding and interaction at the levels of government, the private sector and civil society, and lead to agreement on a broad spectrum of issues, including confidence- and security-building measures; combating terrorism, extremism and sectarianism; ensuring freedom of navigation and the free flow of oil and other resources; and protection of the environment. A regional dialogue could eventually include more formal nonaggression and security cooperation arrangements.
While this cooperation must be kept to relevant regional stakeholders, existing institutional frameworks for dialogue, and especially the United Nations, must be utilized. The secretary general could furnish the necessary international umbrella. A regional role for the United Nations, already envisaged in the Security Council resolution that helped end the Iran-Iraq war in 1988, would help alleviate concerns and anxieties, particularly of smaller countries; provide the international community with assurances and mechanisms for safeguarding its legitimate interests; and link any regional dialogue with issues that inherently go beyond the boundaries of the region.
The world cannot afford to continue to avoid addressing the roots of the turmoil in the wider Persian Gulf region. This unique opportunity for engagement must not be squandered.
Comments
comments