Incorrect framing and glaring omissions at core of Bina Shah's problematic analysis on Sufism
While Bina Shah highlights the Deobandi-dominated roots of religious extremism in Pakistan, her article Sufism won't solve Pakistan's problems is both flawed and problematic on several coun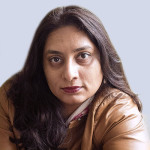 ts. Unlike many others, at least she maintains an intellectual integrity in pointing out the specific Deobandi faith identity of extremists in Pakistan – a fact that is often obfuscated with terms vague terms like "Islamists" or sweeping terms like "Sunni".
The article suffers from the same poor framing that mars much of the discourse churned out by Pakistan's pseudo liberal "intelligensia".
The very claim that Sufism – as practiced by the common man in Pakistan and shared amongst Sunni (Barelvi) and Shia muslims as well as Hindus-  as some sort of magic bullet against Saudi-funded Deobandi terrorism is a flawed framework to start with. 
Sufism as witnessed at the various shrines all over Pakistan is actually the very syncretic tradition that is most under threat by Saudi-sponsored Deobandism in Pakistan.  These are the traditions that provide a common and harmonious meeting ground for Pakistan's diverse faith and sect communities.  It must be protected not as an anti-dote but simply because it represents the right of Pakistanis to practice their beliefs as they see fit.
In that regard, Sunni Barelvi Sufi practices stands out in stark contrast to the totalitarian fascist cults that are sponsored by Saudi Arabia and other Gulf States – totalitarian cults that are completely at odds with the ancient South Asian culture shared by Pakistanis, Indians and Bangladeshis.
The rights of Sunnis, Shias and Hindus of Pakistan to jointly attend and engage in devotional practices at Sufi shrines must be protected on the 1942 UN resolution of universal human rights.  Framing it as an anti-dote to Deobandi fascism is a non sequitur.  
Not only that, but this very flawed framework then becomes a tool for obfuscating ground realities.
Comments
comments