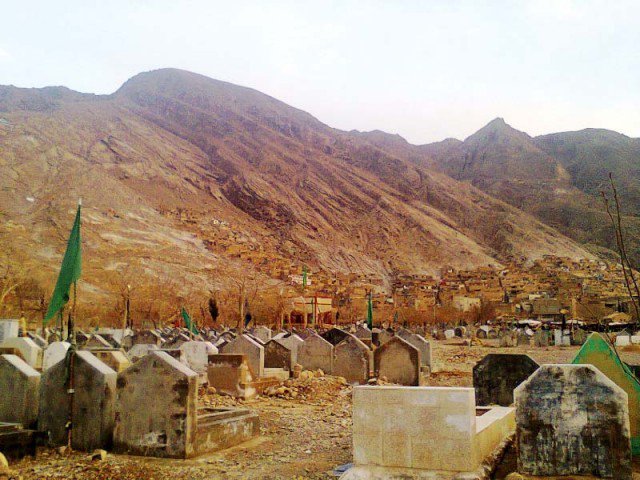 Kids playing football, a long line of elders chatting as the sun sets, a teenager staring at a picture, a middle aged woman reading from a book – the scene is not that of a park but that of a graveyard. It is a graveyard that serves as a communal space.
"The Marriabad Hazara cemetery was built a century ago, since it's part of the cantonment area, we are negotiating to acquire more land because we have an average of 21 to 24 deaths per month," said Haji Mohammad Ijaz, General Secretary, Hazara Qaumi Jirga (HQJ). "It was allotted to our forefathers Hazara Pioneers, an infantry regiment of the British Indian army in 1820″, added Haji Qayum Changezi, Chairman, HQJ.
"There are more than 2000 graves of Shuhadas in both cemeteries of Marriabad and Hazara town, and millions of other graves. The portion Behisht-e-Zainab was made after the 1985 incident when 21 Hazaras were killed during Zia-ul-Haq's regime. It has continued unabated for 25 years now", claimed Ijaz.
The way to Behisht-e-Zainab is framed with pictures of the martyrs on either side. From infants to the old men, the portraits stare into the souls of the ones treading towards the graves. A couple is seen sitting in front of the picture of their six year old, Sahar Batool, who was abducted, raped and killed by the Jhangvis. A mother who goes to the graveyard holding the Quran in her arms every day since the blast pretends her daughter is still alive, just in another place.
"There is not a single family left that does not have a martyr or survivor of the attack", said Batool's father, Ghulam Sakhi Khan. Almost everyone is affected and for everyone the graveyard is sacred. To get from one end of Marriabad to another, one has to pass the roads that pierce through the middle of the graveyard. The graves on both sides serve as a constant reminder of the city's sacrifice. The graveyard also serves as a timeline of all the attacks. As the silhouettes of Alams are seen against the dark blue sky, martyrs of the attacks on Muharram processions and other incidents lie together respectively. Some graves extend scattered awkwardly till the truck and bus stand at the foot of the mountain.
In Marriabad, instead of pictures of politicians, the streets are adorned with the pictures of the martyrs; and the chowks are named after these martyrs. Hazara's respect for their martyrs is exemplary. A shia dead in Karachi or another part of the country is forgotten but in the land of Hazaras the dead are owned by the people.
They are made sacred. They are made immortal.
Source:
http://tribune.com.pk/story/872341/the-living-dead-the-land-of-martyrs/