Head of banned Deobandi outfit ASWJ seeks ban on all Shia Muslims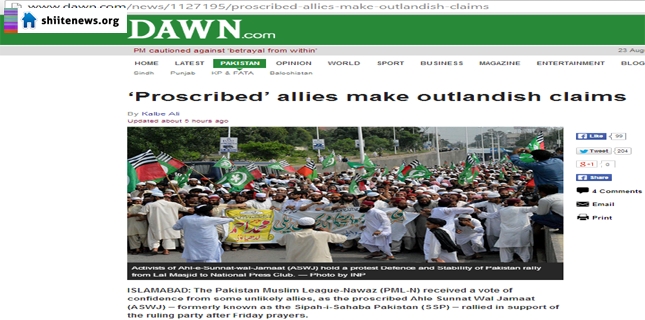 In what appeared to have been under pressure from rising awareness and Islamic awakening in Pakistan, banned Deobandi terrorist outfit ASWJ/LeJ Ahmed Ludhianvi has said that if his terrorist outfit was banned, there must be a ban on all Shia Muslims. He deliberately ignored the fact that Shia Muslims are peaceful law-abiding citizens of Pakistan unlike his Deobandi takfiri terrorist outfit.
Ludhianvi is head of ASWJ whose old name Sipah-e-Sahaba is infamous for a long history of terrorism and fanaticism against Sunni and Shia Muslims. State of Pakistan banned all renamed versions and its subsidiaries such as Lashkar-e-Jhangvi to satisfy the public opinion.
Notorious Deobandi takfiri thug Ludhianvi says that all Shia Muslims are members of banned outfits that is another lie like bundles of lies that people of Pakistan saw and heard in the past. He linked Shiites with Sipah-e-Mohammad notwithstanding the fact that Shia leader Allama Ghulam Raza Naqvi of the Sipah-e-Mohammad was put behind the bars for 18 years without any conviction from any court of law and his Lashkar-e-Jhangvi, Sipah-e-Sahaba (ASWJ)'s condemned terrorists were either acquitted, released or allowed to flee the jails due to covert alliances with the powerful quarters of the State.
Malik Ishaq, co-founder of Lashkar-e-Jhangvi is vice president of Ludhianvi's ASWJ and Malik Ishaq is the notorious Deobandi terrorist involved in hundreds of murders and also threatened in the Court that he would continue genocide against Shia Muslims.
As a matter of fact, Shia Muslims are true followers of Islam and they are not party to any feud but Deobandi takfiris of Ludhianvi group and their proponents have imposed a unilateral war under which they perpetrate genocide against Shiites in all over Pakistan and sometimes also claim responsibility. They are experts in spreading lies and use different names to claim responsibility for terrorist attacks, suicide bombings against Pakistani civilians and security officials.
They massacred Shia Muslims during Friday prayers in Lakhi Dar Shikarpur Sindh and Hayatabad Peshawar Khyber Pukhtoonkhwa province. They massacred Shia pilgrims in Balochistan province and also ambushed many Shiites in Karachi and elsewhere. Ahmed Ludhianvi is notorious head of all Deobandi takfiri outfits and now almost 20 Deobandi outfits hypocritically back him under the banner of Deobandis alliance.
Source:
http://shiitenews.org/index.php/shiitenews/pakistan/head-of-banned-deobandi-outfit-aswj-seeks-ban-on-all-shia-muslims
Comments
comments