The madressa mix: Beneath the surface

Lords of the land
In Karachi, some mosques and madressas have slowly but surely drifted away from being part of the community to becoming power brokers
By Ali Arqam |
Maulana Attaur Rehman has been leading prayers at Farooqi Mosque in Kharadar, Karachi's old city area, for more than 20 years. He is the principal of Jamia Ahya ul Uloom, a madressah built in Sector 9/A, Baldia Town. He is considered a devout religious leader.
Except that the land where the Jamia Ahya ul Uloom has been constructed was not meant for the seminary to begin with. Located in the centre of a formal settlement, the plot was allotted for a mosque named Yaseen Masjid. It never remained restricted to the mosque; today, the plot houses several buildings which have no legal sanction.
The official land-use map, designed for every formal settlement in Karachi, reserves land for a mosque, a public dispensary, two ST plots, a playground and a high school.
In reality, there is no dispensary, but a mosque with a madressah, two residential blocks on the ST plot (one for boys and the other for girls), while the playground is marked as an Eidgah. The land allocated for a high school now has houses built on it, after property was allegedly sold out by local workers of a political party.
"When the ST plots (16 and 18) were acquired by the madressah, people initially raised some objections. But then they negotiated the matter with some people there, and it was allowed. The place allocated for the school was sold out later," narrates a resident of the area, speaking on condition of anonymity.
A few blocks away, another madressah, named Jamia Mahadul Jameel, located in Sector 17/A was expanded from Masjid Hadi-i-Alam to the adjacent plot allocated for park by erecting a boundary around it.
Both these examples are from formal settlements in Karachi, which still have a modicum of government administration. But in informal settlements around the city, land-grabbing mafias have occupied land through nominally legal, quasi-legal and illegal means. One of those methods is by the construction of illegal mosques and madressahs; away from the public gaze, land across Karachi has been grabbed by madressahs of various sects.
Of the community, for the community, by the community
Mosques have always been described as community organisations, designed and built to involve the neighbourhood in the management of its affairs. Many madressahs in Karachi arrived as mosques too, run and administered by mosque committees.
Locals of a neighbourhood would constitute the committee, with the purpose of getting the mosque registered as a trust with the Auqaf Department. Prayer leaders, or peshimams, as well as muezzins were simple employees of the mosque with no role in the administration; both were paid salaries by the mosque committee for their jobs.
"The well-known madressah of Jamia Uloom Islamia, New Town, commonly known as Jamia Binori Town, used to be a mosque," narrated a lawyer who requesting anonymity. "The founder of the madressah, Maulana Yousuf Binori, was just an employee of the mosque committee, but he went on to build a madressah too. He then claimed the madressah's ownership."
This claim gave birth to a decade-long legal dispute between the mosque committee and the madressah administration.
"There was no dispute over the madressah; the mosque committee was insisting that the authority to appoint the peshimam rests with them and cannot be exercised by the madressah. This principle is practiced even today," says Qari Fazal Shah, a leader of the Jamiat Ulema-i-Islam-Fazl (JUI-F), who was part of the arbitration committee to resolve the dispute.
Matters came to a head when local representatives of the Muttahida Qaumi Movement (MQM) got dragged into the dispute.
"Some people associated with the MQM became involved with the dispute between the mosque committee and the madressah. But all issues between the MQM and the madressah were settled after our delegation met Farooq Sattar, who then stopped his party workers from interfering in a religious dispute," recalls Shah.
While Jamia Binori Town officials have no qualms about admitting that much of their funding is received from local and foreign donors, the seminary also earns revenue by renting out the many shops constructed along its outer boundary wall. This dynamic allows the mosque and seminary to build clout and business relationships in the area.
Not that all money is unaccounted for: Jamia Binori Town officials explain that all monetary exchange is overseen and checked by a trustees board.The fissure between the mosque committee and the madressah administration grew to such an extent that there was talk of moving the seminary away from the Jamia Binori Town premises. Such a plan was even deemed workable; when madressahs built alongside mosques in formally developed settlements run out of room for horizontal or vertical expansion, clerics would acquire land at the outskirts of the city to build madressah campuses there.
The burgeoning of madressahs at the outskirts of the city meant that trained and taught peshimams were readily available for hire to lead prayers elsewhere in the city. It is for this reason that most prayer leaders in posh localities of the city and in many cantonment areas belong to the Deobandi sect, have their own madressahs, teach there, or have been deputed by those madressahs.
"These peshimams are efficient in making contacts and connections with businessmen living in these posh localities. They trace guilt-ridden individuals among the devotees, and coax them to donate hundreds of thousands of rupees for madressahs and mosques," argues journalist Taha Siddiqui.
Mufti Zarwali Khan, principal of Jamia Ahsan ul Uloom, Gulshan-i-Iqbal Town, once proudly boasted in one of his dars (lecture) that a businessman, on his advice, had built a large mosque in the scarcely-populated locality of Maripur, Kemari Town by spending millions of rupees. To get the mosque filled with devotees, he erected a madressah there as well.
The mosque, therefore, left the purview of the community. Slowly but surely, the peshimam's power and influence grew. When disputes now rise between a committee of residents and the prayer leader, the imam often dominates through much manoeuvring and arm-twisting.
"In one such case, a dispute rose between the peshimam and the committee of a mosque in Sultanabad," narrates a lawyer currently in litigation on this issue. "The imam managed to constitute a parallel committee of cherry-picked devotees and had it registered through backdating."
He refused to give details of the mosque and the parties involved.
Exit community, enter land-grabber
During the days when the Muttahida Majlis-i-Amal (MMA) had representation in the Sindh Assembly, elements from JUI-F allegedly managed to establish connections with notorious land-grabbers in Baldia, Kemari and Gadap Town. These grassroots relationships allowed them to multiply the number of madressahs in these areas, and acquire more land for the already established ones.
"These clerics invested in the booming property business on behalf of others in a few cases, and were also able to acquire lands for personal use, as well as to build mosques and madressahs on it," recalls a local broker from Baldia Town, speaking on condition of anonymity.
When clerics build mosques and madressahs on lands acquired through personal connections, they exercise unbridled power — to the extent that locals living around these mosques with madressahs often complain of alienation from the affairs of their mosque.
"When I bought a plot here, it took me three years to turn it into a place for living. But a mosque and madressah were already built here," narrates a resident of Muhammad Khan Colony, a locality bordering Ittehad Town.
"We cannot object or question the imam for any activities carried out, as he singlehandedly raises funds required for the construction and expansion of the mosque and madressah from his contacts in the business and traders communities," says another resident.
"Our only role is to attend one or two prayers a day," explains a labourer living in the area. "We go to pray when we are off from jobs, and sometimes contribute a paltry amount in donations at Jumma or Eid prayers."
Not that these sums are enough for the mosque. As a member of a nearby mosque committee argued: "Donations from those attending Friday prayers are hardly enough to pay the mosque's electricity bills, so we have to rely on other sources to meet our expenses."
In situations where attempts to illegally acquire land in the name of a mosque or madressah were thwarted, some seminaries responded with creating an "other" — saying that those who thwart their plans must be some version of an "anti-Islam" voice.
In SITE Town, for example, an officer with administrative authority once obstructed Jamia Binoria Al Alamia's attempts to grab a plot. Commercial plots worth millions were allegedly being acquired by various forces at the time, with the madressah also notorious in the area as being among the offenders and beneficiaries.
While the officer must have believed the law sided with him, graffiti appeared overnight on walls across the area, claiming the officer was an "Ahmadi" and demanding his removal from the position. Fearing persecution, the officer "apologised" for his mistake. A ceremony was then held in his honour — some jokingly called it a "conversion ceremony" — to validate the officer's Muslim credentials. In his speech, one of the teachers of Jamia Binoria disclosed that the family roots of the officer could be traced back to one of the rightly guided caliphs.
Battle because of the mosque
Mosques located in commercial and business localities have a great advantage: traders and businessmen readily contribute to the income of the mosques and its peshimam. Rent received from shops constructed along their boundary walls and other space leased out makes the mosque financially stable, and thereby, makes it easier to turn the mosque into a madressah.

Jamia Mahadul Jameel staff have erected a boundary wall on land that did not belong to the seminary.
Taking control of such lucrative mosques is crucial and often becomes a battle for power between competitors, played out on the streets of Karachi and killing many in its wake. The violent conflict between the Sunni Tehrik and the Ahle Sunnat Wal Jamat (ASWJ) is a prime example.
It is alleged that the founder of Sunni Tehrik, Allama Saleem Qadri, a Sunni Barelvi hardliner, was assassinated by militants of the banned sectarian outfit, Sipah Sahaba Pakistan (SSP), now renamed as the ASWJ, after a clash erupted over the control of a mosque situated in Bahadurabad.
Sunni Tehrik spokesman Faheem Sheikh denies this, but argued that the Sunni Tehrik was founded to reclaim and recover dozens of mosques in Karachi that had been established by members of the Barelvi sect but 'captured' by Deobandi organisations. In many instances, Deobandis invaded these mosques by using militants from banned outfits.
"Allama Saleem Qadri was against sectarian jihadi organisations involved in acts of terrorism and violence against other sects. He was punished for speaking against them," says Sheikh. "A few years later, the first-tier leadership of Sunni Tehrik and other Barelvi clerics were killed in a suicide attack by these militants during an event at Nishtar Park on the day of Eid Miladun Nabi."
Noor Masjid in Jubilee Market and Qadeemi Masjid in Jamia Cloth Market are among the other lucrative mosques located close to trade centres, which have witnessed violent encounters between these groups.
Jamia Binoria Al Alamia in SITE Town is another example of a madressah established at the centre of commercial activities. The madressah was first established as a campus of the well-known Jamia Binori Town, Jamshed Road but it later became a separate institution, owned and administered by Mufti Muhammad Naeem.
Owing to the confusion of similar names, many people mistook it as the original madressah of Binori Town and referred to Mufti Naeem as its principal. Being a beneficiary of this confusion, the madressah contributed to this misunderstanding. It kept receiving funding from other countries that was meant for Jamia Binori Town.
The writer is a freelance journalist and researcher based in Karachi. He can be reached at aliarqam80@gmail.com. You can also interact with him on Twitter @aliarqam
Shikarpur's sardar-madressa nexus
The antiquated system of 'sardari' has found one last partner to extend its power: sectarian madressas
Alexander Burnes, the 19th century Scottish traveller and explorer, had a fascinating impression of the Shikarpuri. He was in Kabul, where he met Shikarpuri bankers who offered to provide him with hundis payable in Bukhara (Uzbekistan), Astrakhan (Russia), Nijni-Novgorod (Russia) or St Macaire (France). Burnes took up their offer on Bukhara, and as he writes, "to [his] complete satisfaction."
Burnes didn't know at the time, but Shikarpur's ancient trade and commerce network connected more than just Shikarpur and Kabul; it was the preferred route for merchants travelling from South Asia to Central Asia and vice versa throughout the 18th and 19th centuries.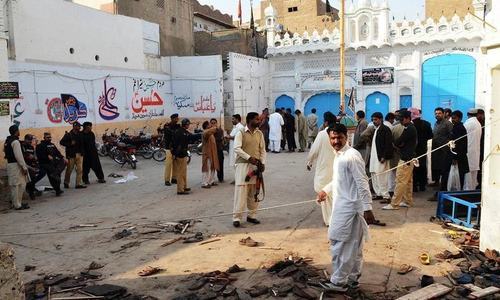 January 30, 2015: Security officials stand outside Shikarpur's Imambargah Karbala Maula, following a blast which claimed the lives of over 60 people and injured over 80.
Shikarpur still remains a link between Afghanistan and this part of the world, but for the wrong reasons. "The city is a known smuggling route between Afghanistan and Pakistan," boomed Interior Minister Chaudhry Nisar Ali Khan in the National Assembly. "Terrorists from Afghanistan and Khyber Pakhtunkhwa pass through Shikarpur to reach Karachi."
It emerged from the minister's statement that the city's ancient trade and commerce network has now been replaced by a terror network. Shikarpur that once exported a variety of goods to Central Asia now apparently imports terrorists from the region: per police claims, the January 30 blast in Shikarpur's Imambargah Karbala Maula, which claimed the lives of over 60 people and injured over 80, was carried out by an Uzbek national. So far, four suicide bombers have blown themselves up in the district; most of them have been suspected to be Uzbeks from Central Asia.
But why would Uzbek militants head to Shikarpur, once the seat of secular and tolerant education?
Din Mohammed Shaikh, former district coordinator for the Human Rights Commission of Pakistan (HRCP) and a resident of the city, argues that most of these "aliens" arrive in Shikarpur because of some connection with the city's local madressas.
"We have been noticing the increasing number of aliens in the area, who come in contact mostly with local madressas and live inside them," says Shaikh.
Geographically, the district of Shikarpur borders Balochistan on the west and is connected to southern Punjab through Kashmore in the north. Till the early 1980s, there were only three madressas in Shikarpur. Perhaps nobody really ever felt the need for madressa education either, as modern education upheld the legacy of peace and harmony that was lived and practiced by Bhittai, Shah Inayat Shaheed, Sachal Sarmast and Sami Chen Rai.
"With the collapse of modern education system during the 1980s, the city saw the mushrooming of madressas, which not only offered admission to outsiders but also doubled up as musafirkhanas (rest houses) for outsiders to the area," narrates Shaikh.
"Today, there are about 200 madressas in Shikarpur district imparting religious education only in Arabic, Of the 200 madressas, 74 are unregistered," Shaikh says while quoting a survey carried out by an NGO.
"An estimated 10,000 students are enrolled at these madressas, some 3,000 of them belong to other provinces while those from Sindh belong to upper Sindh districts," he continues. "Within three decades, madressas have grown from three to 200. In comparison, there are only 150 formal schools, four colleges and one university campus in Shikarpur city."
The angst is not without reason: going by the growth pattern of madressas in the district, the number of formal schools is widely expected to be further dwarfed by the number of seminaries in the near future. With the closure of hundreds of government schools and the problem of goosro (absentee) teachers, parents prefer sending their children to madressas in the hopes of "free" education, clothing and food.
Members of Sindhi civil society argue that this phenomenon is a reflection of a larger clash: between old institutions, such as the sardari system and madressas, and new institutions, such as the formal education system and the business community. Since Sindh's sardars are reluctant to let go of their clout, they have found new allies in madressa maulvis.
"It looks like the government deliberately wants to revive old institutions by strengthening the medieval jirga justice system and madressa education," says Javed Qazi, a civil society activist from Karachi who led a delegation to Shikarpur after the Imambargah Karbala Maula tragedy.
"What we are seeing is a new partnership being cultivated between the sardars of Shikarpur and the maulvis. The sardars' old partners used to be the Barelvi shrines, but due to the non-expansionist nature of Sindh's shrines, this partnership could not match the power-grabbing greed of Sindhi sardars," argues Qazi. "For that reason, now we see new alignments in Sindhi society, with sardars establishing ties with Wahabi madressas. Both the old institutions are promoting each others' interests in the garb of tribalism and religion."
The government is largely absent from running madressa operations, but some 40 registered madressas are funded by the Sindh government from its Zakat fund. Government officials, locals claim, don't bother checking up on the condition of the government-funded madressas or even the quality of education and syllabus being taught.
Most madressas are run by Deobandi parties: the number of Jamiat Ulema Islam (JUI-F)-run madressas is estimated to be around 125 in Shikarpur while the Jamaat-i-Islami runs 25 madressas. There are four seminaries from the Shia school of thought. Some madressas are run by clerics of the Ahl-i-Sunnat and Ahl-i-Hadith schools of thoughts.
Almost all madressas have mosques inside their compounds but the biggest problem is that mosques have all been tagged with a particular school of thought. Because of such associations, a common man dare not go inside "the house of God" which is operated by a rival sect.
"As compared to other parts of Sindh, Shikarpur has undergone a complete transformation and civil society has lost its say," says a local resident, while talking on condition of anonymity. "A madressa administrator is more powerful if he has the blessings of the area sardar. The nexus between clan and sect has grown so strong that a Sunni sardar of Shikarpur allegedly chose to kill off his rival Shia sardar by sending a suicide bomber to attack him."
With politics and religion now tied in a relationship, explains Shikarpuri columnist Mumtaz Mangi, it soon became clear that most madressas in Shikarpur were constructed on grabbed land. "Madressas are operating like a mafia and grabbing empty government plots and open spaces along main roads. They are very good at collecting donations in the name of constructing a new madressa," he says.
"Government authorities seem reluctant to control the expansion of madressas, since policemen were involved in grabbing land for many madressas," alleges Mangi.
"Because of no government checks or monitoring system, some people with criminal backgrounds have also now established madressas and shelter their gangsters inside them. They blackmail traders and extort money from them in the name of providing food to Talibs; but in fact, Talibs are sent to beg for food from houses. Donations and zakat money are gobbled up by madressa handlers," Mangi explains.
Inside the madressas, only sect-based education is imparted to students while no employable skills are taught. In turn, those who graduate from one seminary tend to set up another sect-based seminary, since that is the only job they know.
Because only religious education is imparted at madressas, the Talibs began considering themselves as the protectors of faith, and put checks on citizens as if they were state actors. This bred intolerance in society and disturbed any notions of peaceful coexistence, thereby also radicalising young people in the city.
Soon enough, Shikarpur began to see the social impact of this unchecked burgeoning of madressas.
"The city has often witnessed clashes over who becomes the peshimam. Those backed by powerful clans are sure to take over mosques," argues Qazi. "Because of a lack of skills and unemployment, madressa-educated peshimams defend their jobs at any cost and often indulge in violence to do so. It's a wrong assumption that madressas serve food and clothes to Talibs. Instead, most madressa Talibs depend on the generosity of the people of Shikarpur for food, cloth and medicines."
Then there is policing of cultural activities and citizens' personal lives.
"The frightening part is that Talibs have often been used to attack musical events and bodybuilding contests, which once were a regular feature of city life. The historical Mina Bazaar for women has been shut too after threats from madressa Talibs," says Mangi.
Shaikh agrees, but adds that young people in Shikarpur are fast becoming radicalised because of the social engineering brought about by madressas. The regime of fear is such that residents of the city now believe that bands of club-wielding Talibs are ever ready to attack any social event they deem as un-Islamic.
"For that reason no musical programme has been held in the city for the last several years. The city's Mina Bazaar has been closed for an indefinite period. Even nationalist parties like Qaumi Awami Tehrik of Palijo, Jeay Sindh groups and others have stopped holding Jashan-i-Latif, which they once used to hold every year," says Shaikh.
The absence of cultural activities by Sindhi nationalist groups and the ruling party's alleged involvement in grabbing power and money has created a vacuum: religious parties find Shikarpur to be an empty field, on which more madressas can be constructed, and over which they can establish their writ. It would be no exaggeration to say that extremists have created a pocket of terror in the heart of Sindh, with no action by the government and not much resistance from the civil society or political parties either.
The writer is a member of staff.
He tweets @manzoor_chandio
Balochistan: Seminaries instead of schools
As the state education system fails to deliver, madressas fill the vacuum
The madressah network, which mushroomed in the aftermath of the USSR's invasion of neighbouring Afghanistan, now serves as an alternate schooling system in Balochistan
Pushed by a combination of religious, economic, social and political factors, most of the marginalised and poor families of Balochistan send their children to madressahs. Some tribal elites also do the same, albeit out of religious reasons.
A large number of children and young people are enrolled in madressahs across the province, but the authorities have little or no data regarding the students, finances and teachers of these religious schools.
Despite the announcement of the National Action Plan (NAP) in the aftermath of the tragic Army Public School attack of Dec 16, the Madressah network in Balochistan is yet to be scrutinised. Thousands of seminaries operate in the province without registration.
According to Home Secretary Balochistan Akbar Hussain Durrani, 2,441 madressahs were registered across the province with the Industries department. "An estimated 3,000 madressahs are not registered," said Durrani. However, independent sources put the number of non-registered madrerssahs as being higher than what he claims.
Yet where the religious seminaries are mushrooming across the province, half of Balochistan's population remains deprived of regular schools. Out of 22,000 settlements, as per the controversial census of 1998, there are only slightly more than 12,000 primary, middle and high schools in the province.
"We need the establishment of 10,000 new schools in order to enrol out of school children," says Sardar Raza Muhammad Bareech, the Adviser to Balochistan Chief Minister on Education.
The Balochistan Assembly has already adopted the Societies Registration (Balochistan Amendment) Act 2010 in which no seminary can operate without registration. The bill tabled by the then PPP Information Minister Younas Mullazai was unanimously adopted by the Balochistan Assembly.
The Jamiat Ulema-i-Islam-Fazl (JuI-F) had also supported the Societies Registration Bill, declaring registration of seminaries essential.
However, the Amir of Jamiat Ulema-i-Islam (Ideological), Maulana Asmatullah, has termed the registration of seminaries a conspiracy against Islam. "These tactics are aimed at removing the Islamic identity of the country," Maulana Asmatullah said.
Regardless, during the last four years only 2,441 madressahs were registered. Most of these were registered in Quetta, Khuzdar, Pishin and Noshki whereas there was less registration in other districts of the province.
"We have established District Intelligence Coordination Committees (DICC) to conduct the ground verification of madressahs," Akbar Hussain Durrani told Dawn.
The DICC comprises district officers and also intelligence personnel.
"Out of 2,441 registered madressahs, we have traced and confirmed 1,641 madressahs," claimed Durrani.
According to the Home and Tribal Affairs Department Balochistan, only 5,626 foreigners, 99 per cent of whom were Afghan nationals, were studying in seminaries across the province. However, independent sources put the number of foreigners as much higher than what is being quoted by the Home Department.
"We also have reports that 30 madressahs have been receiving foreign funding," the Home Secretary said.
Besides foreign funding, local charities remain a main source of income for madressahs. Tribal elites and rich religious families donate millions of rupees every year to specific madressahs as Zakat.
They withdraw their money from banks prior to Ramazan and prefer to pay Zakat directly to Madressahs rather than to the government. "We have no faith in the charity system of the country," a Quetta-based billionaire businessman who declined to be named told Dawn.
A generation of Afghans has grown up in Balochistan and are reluctant to return to their home country as they have cultivated good ties with the local people.
However, the Balochistan government and security agencies have launched a crack-down against Afghan refugees living in Balochistan. Since the announcement of the NAP, security forces have arrested more than 3,000 suspects affiliated with different militant groups. They claim that most of them are Afghan nationals.
A few days back, security forces picked up four Afghan clergymen under the foreigner's act from the Katwai refugee camp in Loralai district.
Apart from male madressahs, during the last decade many female madressahs have also been established in Pakhtun dominated areas of Balochistan. "There are more than 30 female madressahs in Zhob alone now," says Hafeezullah Sherani, a journalist working with Dawn News.
Source:
http://www.dawn.com/news/1167639/the-madressa-mix-beneath-the-surface
Comments
comments