Pakistani Deobandi clerics on pubic campaign against 'victimisation' by Pakistan army and government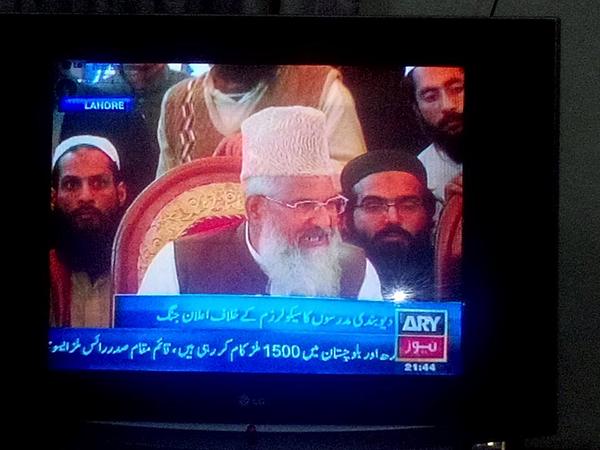 LAHORE: Seminary and party leaders belonging to Deobandi school of thought on Wednesday declared a war on secularism in Pakistan, ARY News reported.
Speaking in a session attended by 20 political groups belonging to Deobandi school of thought, Maulana Sami-ul- Haq claimed that terrorism has nothing to do with any sect.
The renowned cleric maintained that all religious forces are united under the leadership of JUI-F chief Maulana Fazlur Rehman "to fight a conspiracy to turn Pakistan into a secular state".
Ahle Suunat Wal Jamaat (ASWJ) group chief Maulana Ahmed Ludhianvi said that if a single worker of his party will be found involved in anti-State or anti-Army activities, he will present himself before the law.
The session jointly expressed concern over Peshawar, Shikarpur and Lahore Imambargah blasts and denied links to any terrorism related activity.
Maulana Ata-ul Momin Bokhari told media that the clergy has decided to approach all religious forces regardless of their sectarian affiliation.
The call for unity came amid Pakistan government's implementation of National Action Plan against terrorism which calls for blocking financial help for terrorists and repatriating Afghan refugees among other goals.
As a part of the implementation effort, a ban has recently been imposed on admission of foreign students in religious seminaries across Pakistan.
Yesterday, a top Deobandi seminary board meeting condemned the ban and urged government to lift it as soon as possible.
Source:
http://arynews.tv/en/deoband-clerics-declare-war-secularism-pakistan/
LAHORE – Deobandi school of thought scholars have declared to 'go to the masses' against what they call the victimisation of seminaries and scholars by the government and law and order agencies in the wake of terrorist activities in the country.
"The government is not ready to listen to us instead a negative campaign has been started against mosques, seminaries and scholars especially after the terror attack on Army Public School Peshawar which was the brutal and inhuman act.
We condemned all terror related activities in country but will not allow victimising of religion in the name of terrorism.
Therefore, we decided to present our case before the public and are holding a big gathering of scholars and students at Jamia Ashrafia Lahore on March 15 followed by another gathering on March 19 at Liaqat Bagh Rawalpindi to peacefully covey our message to the government for stopping ill-treatment with those who are associated with the religion," announced Wafaqul Madaris Al-arbia Pakistan General Secretary Qari Hanif Jalandhri in a press conference at Lahore Press Club on Monday.
He was accompanied by Maulana Tahir Ashrafi, Pir Saifullah Khalid, Maulana Asad Ubaid, Qari Khalil-ur-Rehman, Maulana Amjad Khan and other scholars.
They were representing Pakistan Ulma Council, Jamiat Mashaikh Ahle-Suunat, International Khatme-Nabowat Movement, Aalmi Majlis-e-Khatm-e-Nabowat, JUI-F and other organisations belonging of Deobandi school of thought.
The Wafaqul Madaris is the largest federation of Islamic seminaries in the world representing Deobandi school of thought.
The other federations are Tanzeemul Madaris Pakistan (Brelvi school of thought), Wafaqul Madaris Salfia (Ahl-Hadith school of thought), Wafaqul Madaris Shia and Jamat-e-Islami led Rabtatul Madaris.
The five Wafaqs are the umbrella organisations of thousands of seminaries across the country.
The Deobandi scholars already met at an outstanding meeting in Lahore on Sunday to discuss their agenda regarding what they termed the threats to religious education and propaganda against scholars.
Addressing the press conference, Qari Hanif held the 'campaign against the seminaries and mosques' in Pakistan had been started on international pressure of Islam against lobbies.
He added that they 'would protect the Islamic identity of the country at every cost.
'
The gathering also condemned the terrorist activities in the country and said those who are making attacks on innocent lives have had no link with Islam.
They demanded of the government to make vigilant the law and order agencies to stop these terror activities.
They also believed that foreign hands were involved in the terrorist activities in Pakistan and the government must exposed the country's enemies.
"Islam has no link with terrorism and religious seminaries are promoting education and peace," said Qari Jalandhri.
Linking religious seminaries, scholars and mosques with terrorism and the raiding on them by government agencies without any proof was unbearable, he further said.
Qari Hanif reiterated that the government must identify the seminaries involved in arm training of the students or terror activities instead of illegal raiding on every seminary in Pakistan.
He said that Prime Minister Nawaz Sharif and Chief of Army Staff General Raheel Sharif must call a meeting of the religious scholars to listen their reservations.
"We believe in dialogue, we believe in love and peace," held the soft spoken Hanfi scholar.
He mentioned that there were reports that the government was deporting the foreign students of seminaries whom visas were expired and termed it anti-education activities.
The students' applications for visas extension were already pending with the interior minister and the government must allow them to complete their religious education here, he demanded.
The gathering also announced holding meetings with the scholars of other school of thought to farm a united strategy for 'protecting Islamic identity of Pakistan.
Source:
http://nation.com.pk/lahore/24-Feb-2015/ulema-on-pubic-campaign-against-victimisation
Comments
comments