Pakistan's Geo TV enables further genocide of Shia Muslims by promoting leader of an ISIS-aligned banned Deobandi terrorist outfit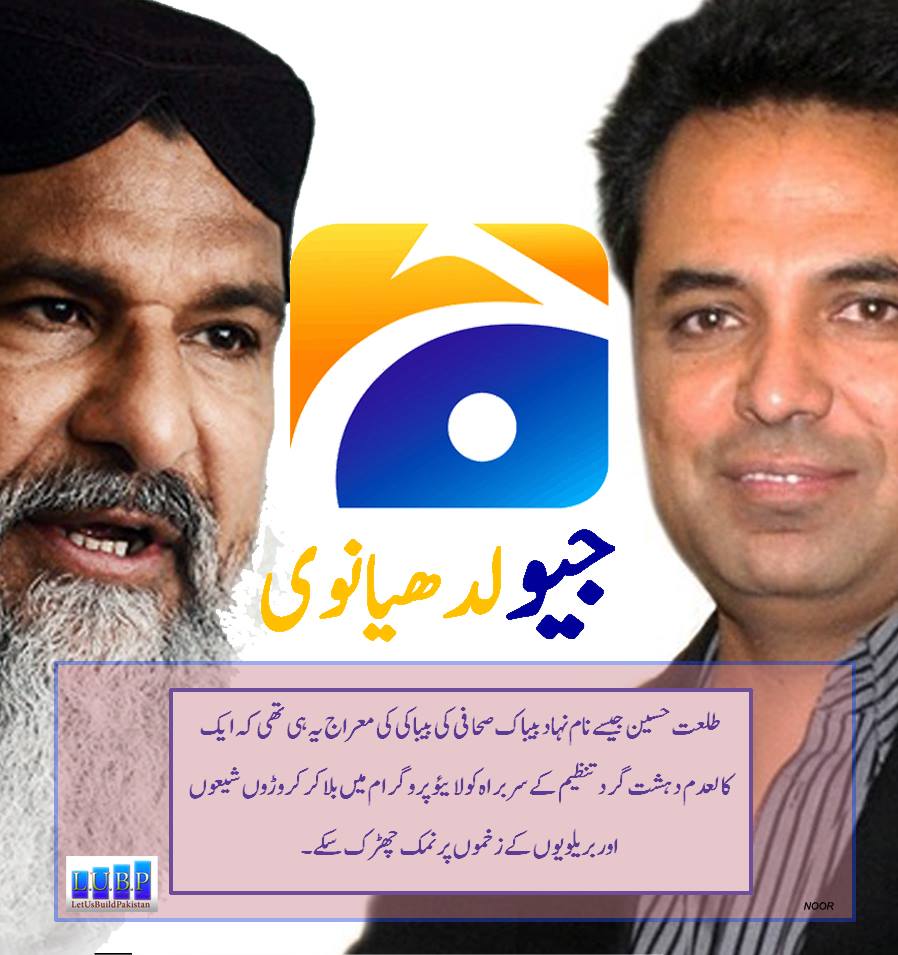 The "Anti-Establishment" TV channel, GEO has just aired a program that justifies Shia Genocide. During this segment, a GEO anchor Talat Hussain allowed his host, the chief of the ISIS-affiliated LeJ-ASWJ, Ahmad Ludhyanvi to declare Shias as apostates.
In the past, GEO anchors and journalists like Najam Sethi, Saleem Safi and Hamid Mir have also given unchallenged and uncontested airtime to Deobandi terrorists and hate mongers like ASWJ-LeJ chief, Ahmad Ludhyanvi.
However, as per a powerful section of Pakistan's Sufyani "Liberals" GEO is "anti establishment" because it once very obliquely criticised the ISI. However, GEO has always been consistently supportive of ISI's various offspring like the Taliban, ASWJ-LeJ, JuD/LeT etc.
The GEO channel also has a consistent record of promoting hatred and violence against Ahmadi muslims.
In the last month, a younger segment of Civil Society led by Jibran Nasir, Khurram Zaki and others broke away from the vague and obfuscatory style of the older, more jaded and far more co-opted compatriots. It has been directly condemning ASWJ by name along with its leaders.
However, that has not been much of a bother to the Saudi establishment proxy, the "anti-establishment" PML N and to the "secular" PPP -both of which are now openly supporting ASWJ-LeJ.
The older, more financially connected Sufyani "liberal" intelligensia of Pakistan has done its best to dilute, deflect and hide the crimes of Deobandi terror groups like ASWJ-LeJ by misrepresenting Shia Genocide, Ahmadi persecution and Sunni-Sufi massacres by ISIS-affiliated Deobandi terrorists as "Sunni vs Shia".
Some of these "liberals" like the ones connected to Aman Ki Asha (also informally known as General Pasha's (former ISI chief) Aman) are the direct financial beneficiaries of hate mongering media channels like GEO. None of these liberals have in the past been critical of the central role played by JANG media empire in promoting the genocide of Shias. On the contrary, JANG/GEO has a consistent record of providing media space to Deobandi Jhangvi hate groups like ASWJ.
Rights activists and Civil society are requested to raise their protest against this blatant act of hate mongering and the promotion of Shia Genocide by GEO.
SILENCE IS NOT AN OPTION!
Comments
comments