Shamelessly, Najam Sethi, head of PCB executive committee says that criticism against Pakistan cricket team is unfair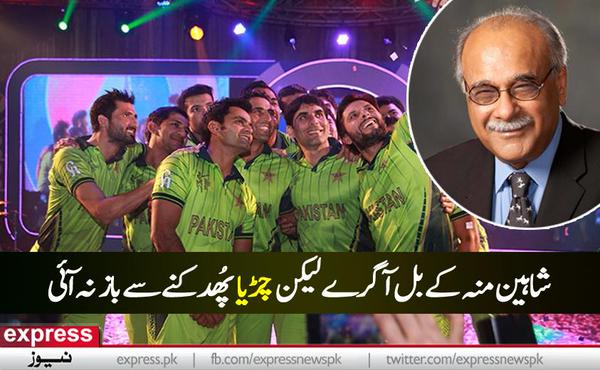 Karachi: A senior official of the Pakistan Cricket Board has lamented that the culture of criticism and scorn being directed at the national team after a bad performance is not visible in any other cricket playing nation.(Full Coverage)
"I can understand the people's disappointment at the team's performance in the World Cup matches but at same time it does not justify the sort of criticism against the players," Najam Sethi told reporters in Lahore on Sunday.(Win or go Home: Akram Tells Pakistan)
Sethi, who is the designated president of the International Cricket Council and heads the PCB Executive Committee, pointed out that in no other country were the players criticised as in Pakistan.
"It does not help the morale of the players or make them positive. At this time the World Cup is still not over and we need to support the team as it is still not out of the race," he noted.(Do-or-Die for Pakistan: Misbah)
Sethi said that while he could understand the frustration of the fans in Pakistan one needed to be a bit patient with the team.

"We have some good players and we can bounce back. But the media and people need to support the team. Other teams also fare badly but they are not treated as we treat our players," he added.
The former PCB chairman said given the problems Pakistan cricket had faced in recent years, fans should not have high expectations from the team.
"Don't forget this same team has won us many matches and made us proud. We need to give them some space and support. We have players who have performed in the past."
Outlining reasons for the team's loss, he said that Pakistan played less international matches than the other countries participating in the game's biggest competition.
Sethi also insisted that the impression being created in the media and by some former players that he was calling the shots in the PCB were not correct.
"The board has a system of working now and it is wrong to say I am still taking decisions behind the scenes," he stated.
Source:
http://sports.ndtv.com/icc-cricket-world-cup-2015/news/237969-world-cup-2015-criticism-against-pakistan-team-unfair-says-pcb-official
Comments
comments