Peshawar mosque attack: Abbas Ali – the selfless martyr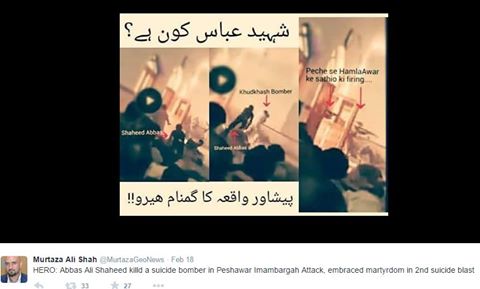 PESHAWAR: Sensing the danger to his fellow worshippers, Abbas Ali did not think twice before he grappled with one of the terrorists who carried out the deadly attack on the Imamia Mosque.
"I was holding Abbas' hand tightly when he rushed towards one of the attackers and grabbed him by the throat. As a result, his [explosive-laden] vest failed to explode," his father Mohib Ali said. "He was shot by another terrorist and died on the spot."
Mohib said he and Abbas went to the Imamia Mosque as part of their weekly Friday routine. He added they were inside the hall when the firing started. "We had no idea it was an Army Public School-style attack."
"I took him by the hand and told everyone to lie on the ground," he said, adding that the terrorists threw a hand grenade inside the hall during the commotion. The explosive was thrown back by one of the worshippers. The three assailants then opened indiscriminate fire before detonating their vests, Mohib said. That is when Abbas sprang into action and saved a number of lives.
Though remorseful over his son's loss, Mohib is proud. "He was still holding the attacker when he died," he recalled. "He was my first born and a brave man," he said.
"Just four days ago, our grandparents arrived in the city. Our grandfather insisted that we should go with him to Dolat Khel village where he currently resides," said Abbas's brother Javed. "He made the journey back to the village, but he was wrapped in a shroud," he said.
Source:
http://tribune.com.pk/story/839036/the-selfless-martyr-abbas-ali-son-brother-hero/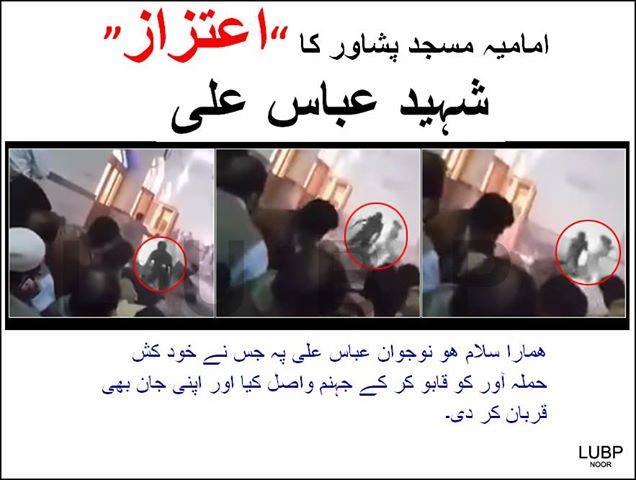 Comments
comments