30 major terror attacks in Lahore since 2004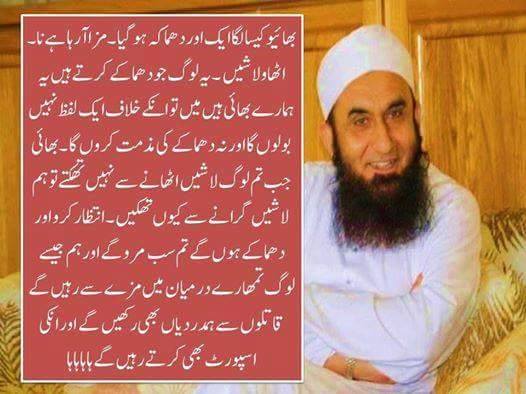 LAHORE: The deadly suicide attack at the heavily-fortified Police Lines in Lahore's densely populated Qilla Gujjar Singh locality on Tuesday happens to be the 30th major terror strike on the city since 2004.
But before we proceed on to see the details of the 30 major terror hits in Lahore during the last one decade, it is imperative to recall that on March 30, 1987, a globally-acclaimed Sunni religious scholar Allama Ehsan Elahi Zaheer had succumbed to his injuries after battling with death for 22 hours at a Riyadh hospital.
Allama Zaheer who was seriously injured in a Lahore bomb blast and after initial treatment at Lahore's Mayo hospital, was transferred for further medical treatment in Saudi Arabia. On December 19, 1990, Sadiq Ganji, the then Director General of Iranian Cultural Centre was also shot dead in Lahore.
And then in January, 1997, the main leader of the banned Deobandi Sipah-e-Sahaba or Deobandi Lashkar-e-Jhangvi (ASWJ) Zia-ur-Rehman Farooqi was killed in a bomb blast near Lahore Sessions Court.Here follow the brief details of the major terror hits in Lahore during the last decade since 2004:
-On May 14, 2004, six members of a Shia family were shot dead in city's Mughulpura locality.
-On October 10, 2004, an explosion by a suicide bomber at a Shia mosque had killed at least four people and had left eight injured.
-On September 22, 2005, at least six people, including a woman, were killed and 27 injured in two bomb blasts in Lahore city. Police said the bombs went off within an interval of one hour and a half.
-On January 10, 2008, when 24 people were killed and 73 injured in a suicide attack when the cops posted outside the Lahore High Court were deliberately targeted, just minutes before the scheduled lawyers' protest against the government. This attack was first of its kind in Lahore since the start of the United States-led War on Terror.
-On March 4, 2008, eight persons were killed and 24 others injured when two suicide bombers blew themselves up in the parking area of the Pakistan Navy War College on The Mall. This attack on War College was carried out by two suicide attackers, the first one to clear the way for the second one; and the second one to do the damage.
-On March 11, 2008, at least 24 people were instantly killed and more than 200 wounded in twin suicide bombings in Lahore. One of the attacks had ripped apart the FIA building killing 21, including 16 policemen. The same day, another attack had hit the posh locality of Model Town, quite close to the Bilawal House, associated with PPP leaders Benazir Bhutto and her husband Asif Zardari.
-On August 13, 2008, eight people, including two policemen, were killed and over 20 (including 12 policemen) were injured after an alleged suicide bomber blew himself up near a police station in Lahore on the eve of Independence Day celebrations.
This was the first time a Pakistani naval institution was targeted by the militants, although Army had been targeted at least eight times outside the war zone and Air Force was hit twice by then.
-On November 22, 2008, at least three people including a teenager were injured in a series of explosions near the Alhamra Cultural Complex in Lahore, where the International World Performing Arts Festival was in progress.
-On March 3, 2009, a convoy carrying Sri Lankan cricketers and officials in two buses was fired upon near the Gaddafi Stadium in Lahore. Six members of the Sri Lankan cricket team were injured and over half a dozen Pakistani policemen and two civilians were killed.
-On March 30, 2009, at least eight police recruits and a civilian were killed when about 10 terrorists attacked the Manawan Police Training School with guns and grenades. Terrorists had taken over the main building during a morning parade when 750 unarmed police recruits were present on the compound's parade ground.
Security forces had regained control of the facility in an operation that lasted more than eight hours. About 93 cadets and civilians were injured inthis event. A suspect was captured alive in a field near the school. Three of the attackers blew themselves up to avoid arrest while three others were taken into custody as they tried to escape in police uniforms. Some 95 people had sustained non-fatal injuries.
-On May 27, 2009, suicide bombers had detonated a vehicle loaded with 100 kilograms of explosives near offices of the capital City Police Officer (CCPO) and the Inter-Services Intelligence (ISI) on Queen's Road Lahore. At least 27 people were killed instantly and 326 were wounded. The two-storey building of the Rescue 15 police service was also destroyed. This was the second attack on ISI since the start of the War on Terror. Some 40 vehicles were also destroyed.
-On June 12, 2009, a leading anti-Taliban Sunni cleric Sarfraz Ahmed Naeemi was among the seven assassinated, after a suicide attacker detonated himself at the Jamia Naeemia madrassa situated on the Allama Iqbal Road in city's Garhi Shahu area, shortly after Friday prayers.
-On October 15, 2009, 38 people (including 14 security officials) were killed and 20 injured in three separate attacks in Lahore. All nine attackers were later shot dead by security personnel. A large amount of ammunition and maps of sensitive installations were also recovered.
The attacks were carried out at the FIA building on the Temple Road, the Manawan Police Training School and the Elite Police Academy at the Bedian Road.
-On December 7, 2009, terrorists had struck three provincial headquarters. The highest casualty rate was in Lahore when two powerful bomb blasts, 30 seconds apart, had ripped through the busy Moon Market in Lahore's Allama Iqbal Town, killing nearly 100 people. The blasts, which took place within a radius of 30 metres, had also caused a massive fire in a crowded shopping mall. It had also knocked out the electricity supply.
-On March 8, 2010, a suicide bomb attack had killed at least 13 people in Lahore and wounded more than 60 others. The bomber had reportedly rammed his explosive-laden vehicle into a building that housed an anti-terrorist wing of the Federal Investigation Agency. The explosion was so deadly that it had brought down the building that was targeted. A nearby religious school was also known to have been damaged in this bombing.
– On March 12, 2010, two suicide bomb attacks in Lahore had resulted in the deaths of at least 45 people, including at least nine soldiers, and had wounded 100 others. Both these bomb attacks had reportedly targeted military vehicles, as they were passing through a crowded area. The blasts occurred within 15-20 seconds of each other.
These two blasts had occurred very close to Lahore Cantonment's RA bazaar, which is in a busy residential and shopping area housing numerous Army facilities.
-On May 28, 2010, two Ahmedi worship places in city's Garhi Shahu and Model Town localities—-15 kilometres apart—- were attacked by terrorists. The two attacks were carried out almost simultaneously. Almost 100 people had lost lives in this incident. On July 5, 2010, Pakistani police had arrested six men, members of the banned group "Harkat-ul-Jihad al-Islami," believed to be linked to the attack. The men were in possession of 18,000kg of explosives, 21 grenades, six AK-47 rifles, as well as bomb-making material. Four of the apprehended men were alleged to have been furnished logistical support for the twin attacks against the Ahmedi community.
-On May 31, 2010, at least 8 people were killed and up to 40 others were reportedly injured after at least three armed militants had stormed into a Lahore hospital, and had opened fire indiscriminately upon hospital guards and attendants. The attackers had apparently managed to flee from the scene of this attack, after seizing hostages briefly inside the hospital complex. Some reports have even claimed that the militants were dressed in police uniform.
There was speculation in media that the militants had intended to reach a captured militant who had been detained by the authorities in the Ahmedi worship place attacks, which had occurred just three days earlier.
-On June 3, 2010, two low intensity bomb explosions had occurred in Lahore, injuring five people. A stampede had reportedly ensued after these blasts as a large numbers of people were present at the Urs function at Duri Buri Darbaar.
-On June 26, 2010, a series of consecutive bomb explosions had occurred in Lahore, injuring seven people.
-On July 1, 2010, at least 50 people had lost lives and 200 others were hurt, after two suicide bombers had attacked the shrine of globally-renowned saint Hazrat Data Sahib in Lahore. It was reported that the first suicide bomber had struck in the underground section of the Data Darbar Complex, while the second suicide bomber had reportedly chosen the upstairs area of the shrine to strike. Both the suicide bombers had used explosive devices packed with ball bearings, in order to maximise the impact of their suicide attacks.
-On September 1, 2010, at least 38 people were killed and more than 250 others were reportedly injured in a series of three bomb explosions targeting a Shia procession taken out to observe the martyrdom of Hazrat Ali bin Abi Talib (RA).
Following these three bomb blasts, it was later reported that angry members of the general public had vented their anger on local police authorities, torching a police station and a police truck. The first explosion had occured in the Karbala Gamay Shah area at 6:50 pm local time. This was followed by a second explosion about 25 minutes later in Bhatti Chowk and the third blast had rocked the Anarkali market about 10 minutes after the second explosion. Bodies of three suicide bombers were recovered, according to government sources.
– On January 25, 2011, at least 16 people are killed while 70 others were injured in a suicide bomb explosion in a mourning procession of Hazrat Imam Hussain near its concluding point at Kerbala Gamay Shah at Lahore's historic Bhatti Gate.
-On April 24, 2012, a five kilogram bomb was implanted at a Lahore Railway Station platform, resulting in three deaths.
-On July 12, 2012, masked Tehrik-i-Taliban gunmen had attacked a police academy in early morning hours, killing nine police cadets. According to TTP spokesman Ehsanullah, police officers from Khyber Pakhtunkhwa had been specifically targeted in Lahore because of the Khyber Pakhtunkhwa Police's record of "treating Taliban detainees poorly."
-On August 1, 2012, two bomb explosions in Lahore's Fruit Market area had injured 20 people.
-On July 7, 2013, a blast in the Anarkali food Street had killed three people.
-On October 10, 2013, a blast had again occurred outside another Anarkali restaurant, killing one person and injuring 16 others.
-On November 2, 2014, an attack on the Wagah Border had killed more than 60 people, leaving more than 110 injured. Victims included 10 women and eight children. Eight people from one family were also killed in this blast. Lahore's temporary calm and tranquility were thus shattered after a break of 387 days by this incident.
It is imperative to note that the Dr. Tahirul Qadri-led Pakistan Awami Tehreek continues to assert that June 17, 2014 Model Town firing incident, which had witnessed the killing of 14 Pakistan Awami Tehreek activists at the hands of Lahore Police, should also be bracketed in the category of state terrorism.
Whether they are the violent non-state actors, militants or mercenaries employed by third parties to wage proxy wars against the Pakistani security agencies or they are the estranged religious fundamentalists taking on the custodians of country's defence in vengeance for the offensives launched in Swat and Waziristan etc, these groups have ruthlessly struck the armed forces, sensitive agencies, paramilitary forces, police and the Federal Investigation Agency etc. at will.
Throughout Pakistan, terrorists have struck at least 50 times during the last few years. These 50 incidents do not include frequent attacks on the convoys of the armed forces, sensitive installations, check posts, police stations, Frontier Constabulary and Rangers etc. in the conflict zones of North and South Waziristan, Swat and the troubled tribal belt of the country.
While this unending violence has claimed lives of thousands of Pakistani civilians and security officials till date, it has also led to the killing of eminent personalities like former premier Benazir Bhutto, former Punjab governor Salman Taseer, Army's top medic Lt. General Mushtaq Baig, former head of Army's Elite Commando Force (Special Service Group) Major General (R) Ameer Faisal Alavi, Federal Minister Shahbaz Bhatti, Commandant Frontier Constabulary Sifwat Ghayur, Chief Capital City Police Officer of Peshawar Malik Saad Khan, District Police Officer of Bannu, Iqbal Marwat and Karachi's SSP Chaudhry Aslam Khan etc.
If one believes renowned American investigative journalist Gerald Posner's 'revelations,' then the death of former Air Chief Mushaf Ali Mir in an air crash near Kohat on February 20, 2003 was also an act of sabotage, and not an accident.
Mushaf Ali Mir was the brother-in-law of former DG Rangers Punjab, Major General (R) Hussain Mehdi.
By the way, in September 2008, Prime Minister Yusuf Raza Gilani had also escaped a possible assassination attempt when his motorcade had come under sniper fire in Islamabad. It goes without saying that quite a few sitting and former provincial ministers and assembly members like former NWFP minister Ghaniur Rehman, Balochistan's Punjabi Education Minister Muhammad Shafique, ANP politicians Shamsher Khan and Alam Zeb Khan, former PML-Q minister Asfandyar Amirzaib and MQM's provincial legislator Raza Haider etc have also lost their lives at the hands of terrorists during the last 10 years or so.
A good number of former diplomats, including the Czech Ambassador to Pakistan had also fallen preys to terrorists.
The eight American Foreign Service personnel, who died unnaturally in Pakistan include: Sergeant Steven Crowley, US Army Warrant Officer Bryan Ellis, Arnold Raphel (US Ambassador to Pakistan), Brigadier General Herbert Wassom (Chief of the US military group in Pakistan), Gary Durell (a CIA communications technician), Jackie Van Landingham (a consulate secretary), Barbara Green (US Embassy Islamabad) and David Foy (a Facilities Maintenance Officer at the US Consulate Karachi).
In May 2011, gunmen had shot and killed a Saudi diplomat Hassan al-Khatani in Karachi.
Eminent clerics like Mufti Sarfraz Naeemi (June 12, 2007), Jafaria Alliance Pakistan chief Allama Abbas Kumaili's son Allama Ali Akbar Kumaili (September 2014), Allama Taqi Hadi Naqvi (February 27, 2014), Agha Aftab Haider Jaffari (November 6, 2012), Maulana Shams ur Rehman (December 6, 2013), Allama Hassan Turbai (July 14, 2006), Maulana Hassan Jan (September 15, 2007), Professor Dr Ghulam Murtaza Malik (May 7, 2002), Maulana Azam Tariq (October 6, 2003) and Mufti Nizamuddin Shamzai (May 30, 2004) etc. are among the noted religious personalities and leaders of religious-cum-political parties who have fallen victim to terrorism.
The high-profile politicians and government functionaries who have managed to live on despite such attacks on their lives include former prime minister Shaukat Aziz, former Federal Minister Amir Muqam, former Balochistan chief minister Jam Muhammad Yousuf, ex-Balochistan Governor Zulfikar Ali Magsi, ex-Balochistan Chief Minister Nawab Aslam Raisani, former Interior Minister Aftab Ahmed Khan Sherpao, the JUI Chief Fazlur Rehman, the ANP Chief Asfandyar Wali, PML-N MNA Rashid Akbar Nawani (October 6, 2008), former Federal Minister Sheikh Rasheed Ahmed and former Federal Minister Hamid Saeed Kazmi etc.
Source:
http://www.thenews.com.pk/Todays-News-2-302323-30-major-terror-attacks-in-Lahore-since-2004
Comments
comments