Deobandi Saudi lobby in Pakistani establishment planning another genocide of Shia Pashtuns of Parachinar?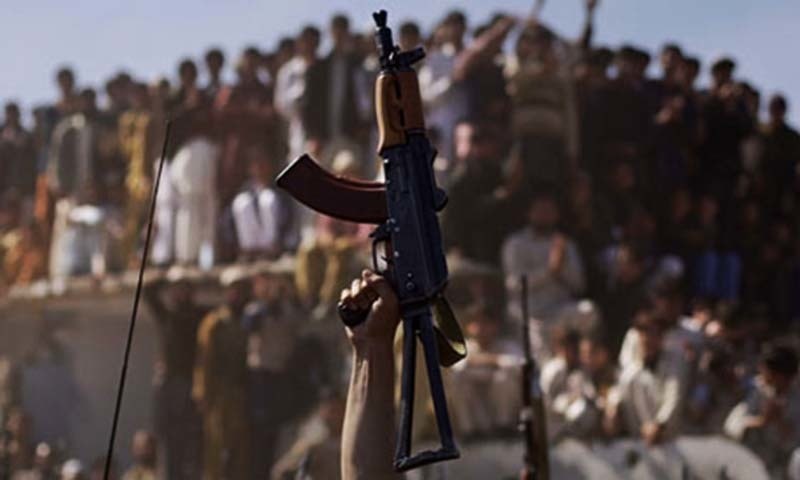 PESHAWAR: As the government has started imparting special arms training to male and female teachers in Khyber Pakhtunkhwa and parts of the adjoining tribal region, the law-enforcement agencies in Kurram Agency have asked people to surrender weapons.
Residents said that the army and paramilitary troops conducted raid in Bughdy village in the west of Parachinar four days ago and collected firearms from houses.
An elder of the area said that plenty of ammunition and several weapons were taken away from a residential compound.
Haji Gul Akbar, head of Anjuman-i-Hussainia, a body that represents all sub clans of Turi tribe, confirmed the raid in the Bughdy village.
He said that the matter had been taken up with political agent Amjad Ali Khan.
"The political agent appreciated support of Turi tribe and assured its elders that all seized weapons would be returned to them," he said.
Bughdy, a hamlet of houses, lies astride the border along Afghanistan's Paktia province and this long stretch from Piwar Kotal down to Kherlachi belongs to Turi tribe.
Gul Akbar said that last year, the militants sneaked into Pakistani territory from Afghanistan and attacked a border post of security forces near Bughdy.
Paramilitary forces suffered some casualties in the attack and residents of Bughdy provided backup support to the paramilitary troops besieged in the post.
Not only bodies of Frontier Corps soldiers were retrieved from the post but one attacker was captured as well.
Elders in parts of lower Kurram have been asked three days ago to hand over heavy weapons otherwise security forces will conduct operation to seize them.
Tribesmen say disarming them would make them vulnerable to militant attacks. Elders in lower Kurram will meet in few days to find out a solution to the problem, said an elder.
Najeeb Turi, an elder of lower Kurram, told Dawn by the telephone that residents of Bilyameen, Alizai, Enzari and surrounding villages had been told to surrender weapons.
"A junior commissioned officer conveyed a message of the colonel commandant of Kurram Militia to the people hand over every type of heavy weapons and ammunition immediately," he said.
"Disarming people in Kurram at a time when the security forces are moving against militants in other areas looks very strange and the decision has scared the people. It means that our hands and feet are tied and we are left to be slaughtered like chickens," he said.
When approached, Fata secretary (law and order) Shakeel Qadir said that the government had standing order that people would not be allowed to keep heavy weapons.
He said that the argument that the people of border areas can keep heavy weapons does not hold ground as the border security is responsibility of the state.
The secretary said that the government had set up village defence committees in Bajaur and Mohmand agencies to support security forces in case of any incursion or adventure from across the border.
Interestingly, the Khyber Pakhtunkhwa government in the aftermath of the December 16, 2014 bloody attack on the Army Public School and College Peshawar has started arms training for female teachers.
Similarly, army instructors taught female teachers in Ghalanai (Mohmand Agency) how to load AK-47 assault rifle and pistol.
Also, the Peshawar High Court has directed the provincial government to issue licences of prohibited bore weapons to lawyers in Peshawar for self defence.
Geographically and demographically, Kurram Agency is different and very sensitive compared to other Fata agencies.
The area has a long history of sectarian conflicts and in the past, armed groups from across the border remained involved in clashes among local tribes.
Kurram shares border with three Afghan provinces, which are very unstable.
Recently, the deserters of outlawed Tehreek-i-Taliban Pakistan have announced allegiance to the Islamic State occupying huge stretch in Iraq and Syria and announced commanders for Kurram Agency, adjacent to Hangu district, and Khyber Agency.
The creation of the IS chain of command for Pakistan has increased worry of the people in Kurram and the government should not take any step that can destabilise the area further, said Najeeb Turi.
Upper and lower areas of Kurram Valley remained cut off from the rest of the country for more than three years after clashes broke out in 2007.
These clashes resulted in widespread damages, while hundreds of people were killed and wounded.
Haji Gul Akbar said that the political administration on one hand was seeking help from the people of Kurram but on the other, they were being disarmed.
"I told the political agent that Turi and Bangash tribes have not only defended their territory during the last 10 years but also protected the state's property from the Taliban militants," he said.
He said that inhabitants of Kurram Agency had shown loyalty to Pakistan and were never involved in anti-state activities.
"When Kurram Valley was under siege for more than three years, nobody helped us. People defended themselves by rendering sacrifices of around 3000 people," he said.
Source:
http://www.dawn.com/news/1163759
Comments
comments