Pakistan's "Independent Judiciary" – Syed Riaz Al-Malik Hajjaji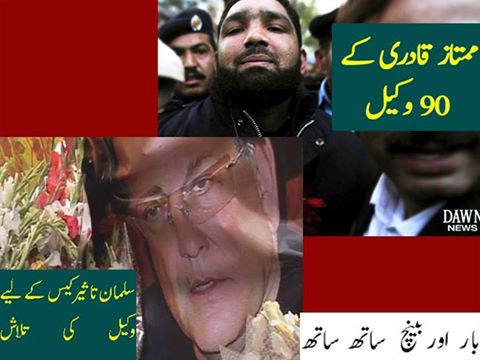 Pakistan's "Independent Judiciary" – where the murderer Mumtaz Qadri has 90 lawyers to defend him including the former Chief Justice LHC and PML N stalwart, Khawaja Sharif.
Meanwhile the PML N government Federal government cannot even provide a prosecutor for the case or even manage to secure the files against the murderer of PPP Governor Punjab Shaheed Salman Taseer. It must also be mentioned that it was PML N that had interfered with Salman Taseer's security detail days before his murder. A prominent PML N-ASWJ MNA Abid Dogar Deobandi had placed head money reward on Salman Taseer days before the Governor was brutally gunned down.
And PML N lawyer and human rights activists, Asma Jahangir is even today campaigning for these courts. If her recent statements are any indication of her priorities, Mumtaz Qadri should also be released because prosecuting him would be akin to "revenge"
If someone wanted to study how the Liars Movement destroyed an already decrepit judiciary in Pakistan, this is one of the most glaring cases.
Comments
comments